Priyanka Chopra is busy promoting Baywatch.
Her mommy has been busy as well, announcing 6 films at Cannes.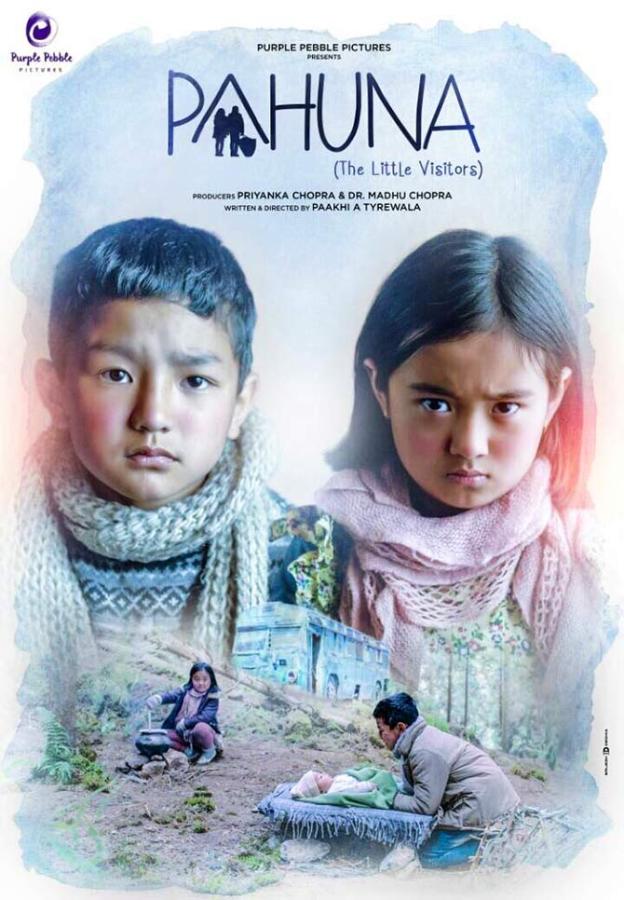 IMAGE: The poster for Pahuna, written and directed by Paakhi A Tyrewala.
Priyanka Chopra's production company, Purple Pebble Pictures, has registered its presence at Cannes with a slate of half a dozen films that are in the works.
Represented in Cannes by the actress' mother, Dr Madhu Chopra, who helms the company as managing director, Purple Pebble Pictures unveiled the first look of its Sikkimese film, Pahuna, written and directed by Paakhi A Tyrewala. It will release in October.
"We've been enthused by the success of Ventilator to step out into the big wide world of global independent cinema," Dr Chopra told an event hosted by the India Pavilion in Cannes to unveil the first look of Pahuna.
The film, which unfolds entirely in Sikkim and uses local talents in the junior crew, is about three children who are separated from their parents while fleeing the Maoist violence in Nepal.
"It was a logistical challenge shooting in Sikkim because the state does not have a film industry, but the government went out of its way to support the project," Dr Chopra said.
"The film is currently in post-production. It should be ready for release before Dussehra. We will have the premiere in Sikkim," Dr Chopra added
Explaining the rationale behind the banner's regional language forays, Dr Chopra said, "Stories from the various Indian states are routinely turned into Hindi films. Bollywood benefits commercially in the bargain. Our core idea is to narrate these tales in the languages that they stem from."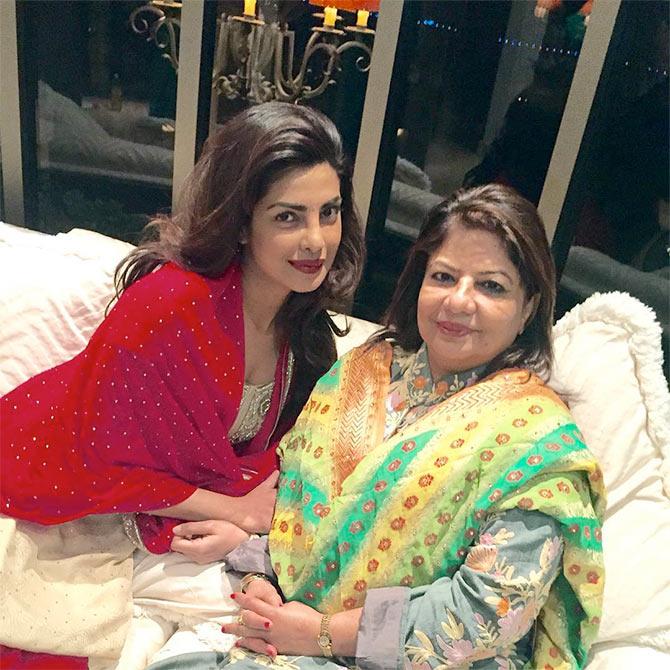 IMAGE: Priyanka Chopra with her mother Dr Madhu Chopra. Photograph: Kind courtesy Priyanka Chopra/Instagram
Among the other films Priyanka's production house has in the pipeline is Nalini, a Bengali-Marathi bilingual inspired by a little-known romantic chapter in Rabindranath Tagore's early life.
To be directed by Ujjwal Chatterjee and scripted by his wife Sagarika, Nalini will present a 17-year-old Rabindranath, who found his first love in Maharashtra when his father sent him to his elder brother Satyendranath's home to learn English.
"We are looking for a young actor to play the teenage Tagore while we are close to casting Jisshu Sengupta in the role of the poet's older avatar," Dr Chopra said.
Also up ahead is a film set in Goa, Little Joe, Kahaan Ho?, about a boy who deals with his loneliness sitting by the sea and sketching. A German tourist spots his talent and a bond develops between the two.
The film, pitched as a tribute to the art of the celebrated cartoonist Mario Miranda, is directed by first-timer Suvrata Nasnodkar, who has her roots in Goa. She cut her teeth as an assistant to Prakash Jha.
Purple Pebble Pictures also has a Bhojpuri film Bam Bam Bol Raha Hain Kashi and another Marathi production, Kai Re, Rascala, lined up for release over the next year.
The sixth film Dr Chopra spoke about with special interest is the Bengali Brishtir Opekhaye (Waiting for Rain).
"It is based on Shirshendu Mukhopadhyay's book. We have just brought the rights from the writer and cast Rahul Bose and Rituparna Sengupta."