'They wanted a character, who could speak both Tamil and Hindi. That's how I got on board.'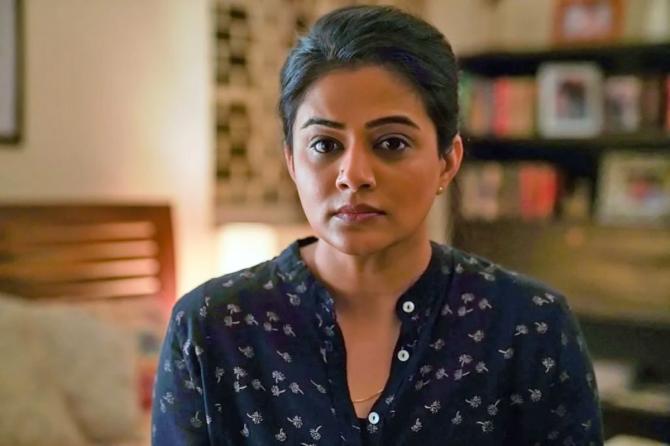 Priyamani's character in the Web series The Family Man has received mixed reviews.
In the series, she plays Suchi, a modern woman, who balances a career and two kids while her husband risks his life to save the country.
While audiences have loved the way she multitasks and puts her family above everything else, she has also been receiving mixed reactions for her friendship with her co-worker Arvind (played by Sharad Kelkar).
Off screen, Priyamani, who is happily married to Mustafa Raj, is making the most of her lockdown at home.
In fact, she loves spending time with her husband and often misses her mom's "home cooked food."
The National Award-winning actor, who grew up in Bangalore and started her film career in 2003, fluently speaks six languages -- Hindi, Tamil, Telugu, Kannada, Malayalam, English.
In a telephonic conversation with Divya Nair/Rediff.com, Priyamani says, "Obviously, I got noticed (post The Family Man) and I have been getting better and a lot more offers in Bollywood now. But I am not jumping at anything right away."
When you signed up for the first season of The Family Man, did you really think it will be such a massive success?
When Raj and DK narrated the story, I really liked the character.
They wanted a character, who could speak both Tamil and Hindi. That's how I got on board.
At that point, frankly, I didn't expect much.
We were already shooting season 2 when season 1 released.
But when I saw the trailer of season 1, I realised this is something really interesting.
It's not the regular thriller, crime or cop genre.
There is a fresh air of action, drama and comedy happening in it. And the best thing is all these elements are placed so well in the story.
That is what I think clicked with the audience as well.
People could relate to and identify with the characters -- what they are going through in every scene and even the dialogues are very real, things you say and do every day in our homes.
We are really happy with the way it was received.
We are all overwhelmed right now.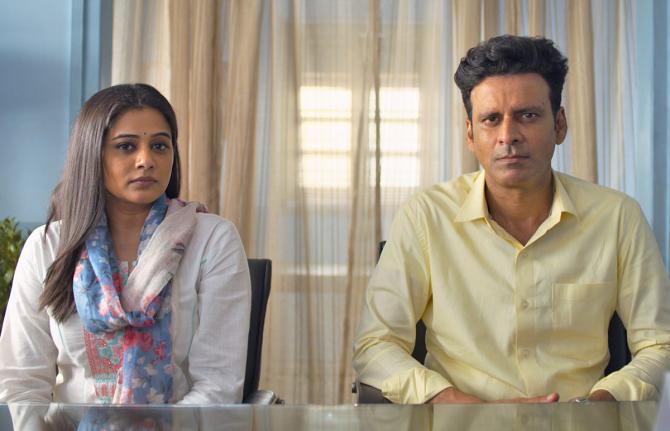 How was it working with Manoj Bajpayee and the rest of the team?
It was a fantastic experience working with Manoj Sir.
He is such an amazing actor.
I couldn't have asked for a better co-star for my OTT debut.
The entire team and crew of The Family Man is so talented -- the actors, writers, directors...
So for Amazon Prime Video to come onboard and take up this project, I think it's really great.
I am really happy I could be a part of a series like this.
Does that mean you are getting better offers now?
Definitely, it has opened up opportunities.
But it is not just because of The Family Man.
I have also worked on another series called His Storyy for ALTBalaji. It's a different story and character.
Obviously, I got noticed (post The Family Man) and I have been getting better and a lot more offers in Bollywood now. But I am not jumping at anything right away.
I am just looking at the opportunities and will soon figure out what is best for me.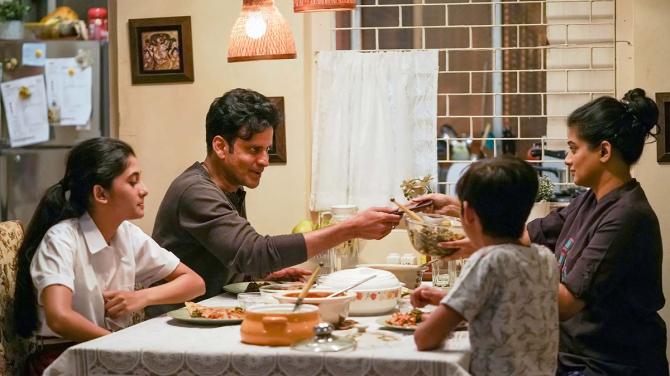 So what do you look for before signing a project?
Basically, I am interested in the story -- the director's vision of the story.
Whether it is 10 minutes or two hours, I have to be completely glued in, otherwise I am out.
What kind of homework do you do before you come to the sets?
I am an instinctive actor.
So far, I have not done any homework or preparation for any roles I have played.
Looking back, I feel, it also depends on the role and the director I am working with.
If the director wants me to do some homework, I would do it, but I have not been asked yet.
I just go with the script and the flow at the moment.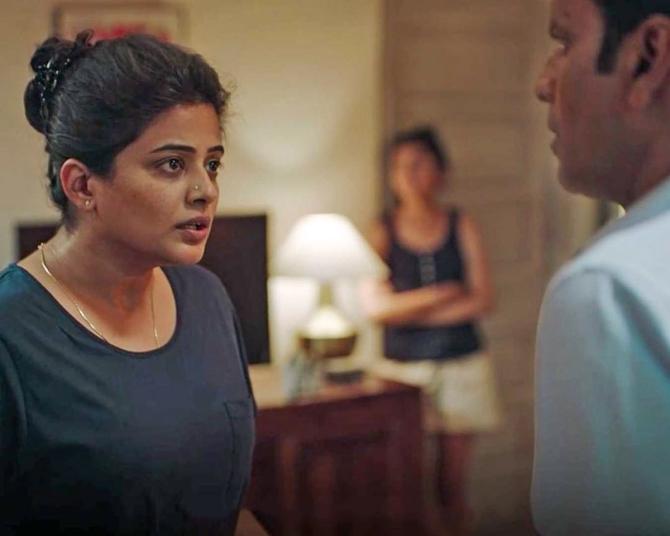 What's the most challenging role you'played in your career?
I did a Tamil film called Paruthiveeran (which won her the National Award for Best Actor).
Then there was Chaarulatha in which I play conjoined twins Chaaru and Latha.
Of course, the Malayalam film Thirakkatha where I played the life of an actor from 1980 to 2000.
So far these three films or characters have been physically, mentally, emotionally challenging for me.
Because these roles literally took a lot of me; so much that I got exhausted. But the efforts paid off too.
When you are not shooting, how do you unwind at home?
I am binge-watching Korean dramas right now.
Currently, I am watching three of them and absolutely love them.
What do you like about K-dramas?
I feel the (Korean) culture is relatable. The way they address their parents as Amma and Appa is just like how we (Indians) do.
I recently came across this meme, which said how earlier we used to be obsessed with foreign actors, now it's the same with Korean actors.
Not just the music, serials and dramas, even the K pop actors and idols have taken the world by storm.
In fact, all the actors are so good looking. They are fit and flawless.
In most of these series if you see, they eat so much but surprisingly, they don't put on any weight. (laughs)
Also, the girls have shiny, long hair; their skin looks so soft.
Most of these series are also very engaging.
Usually, the pace picks up from the first, second or third episode. When you are watching, you would not expect the sudden turn of events.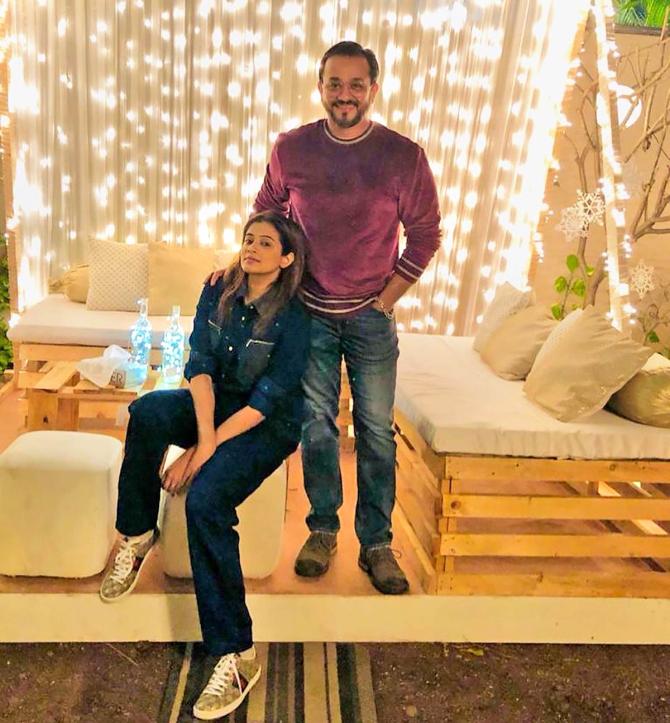 How did you spend time in the lockdown?
I watched a lot of new series and movies on OTT.
Since the house help wasn't allowed, we were also doing a lot of household chores ourselves.
Mustafa and I would figure out what is needed for the home, and step out to buy groceries and things like that.
We divided the house chores.
If I did jhadu, he would do pocha and we took turns to wash the dishes.
Thank God, we got to spend a lot of time together.
He is someone who always encourages me. He understands my work and interests.
During this lockdown, we absolutely enjoyed doing things together.
Any interesting films you watched recently?
I saw Master.
You have worked with so many actors down south. Who is your favourite?
I like everyone. It's hard to pick a favourite.
I like Vijay, Ajit, Suriya, Vikram... in fact, all of them.
Each one has a distinct style, the way they do a film, approach a character.
But if I have to pick one, I'd say Vijay Sethupathi takes the cake. His selection of films has been phenomenal and the way he portrays a certain character is very good.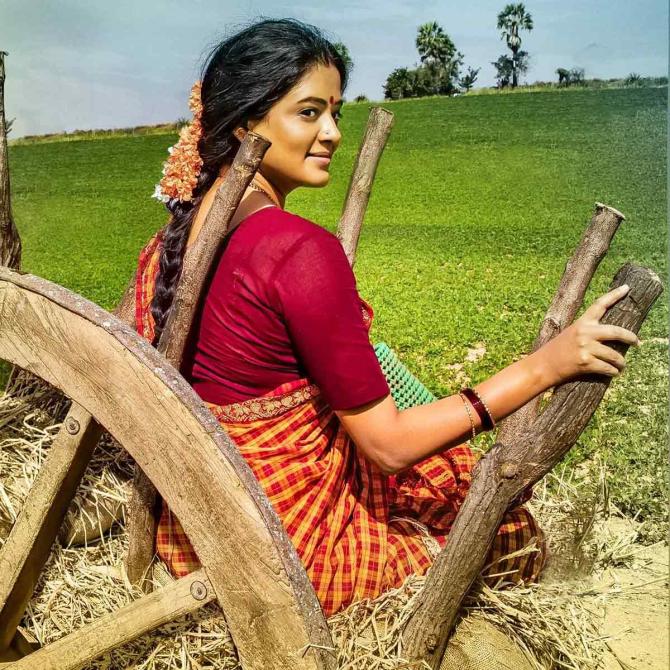 Tell us about your next release Narappa, which is a remake of Asuran.
The shooting is over and we are just waiting for the film to release.
For people who have seen Asuran, it will be a remake.
But those who haven't seen it will feel it is a new film.
Obviously for the Telugu culture, we have changed a little bit.
We changed the dialect. We didn't have the typical Hyderabad slang; we tried the Anantpur slang.
It's definitely going to be a treat for Venky (Venkatesh) sir's fans.
I don't think he has done a character like this in his career. The look, the character and everything is new.
I am really happy and honoured to have worked with Venky Sir on a film like this.