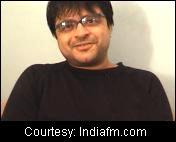 W
hen
Pritam Chakrobarty
came to Mumbai from Kolkata in 1997, he had no place to stay.
Seven years later, he owns three flats in Mumbai and is one of Bollywood's most successful music directors after his chartbusting score for Yash Raj Films'
Mere Yaar Ki Shaadi
Hai
and
Dhoom
.
All the songs from his latest film Dhoom -- whether it is Dhoom macha le, Shikdum or Dilbara -- are soaring up the charts.

"It seems my life would have had a lot of struggle, but it was not so. I was fortunate to get work regularly because of my friends, who were senior colleagues at the FTII (Film and Television Institute of India). They keep giving me work," says Pritam.

But films did not happen immediately.
Pritam started his career by composing jingles for ads and television serials.

Son of Kolkata music teacher Prabodh Chakraborty, Pritam has always wanted to be a composer. But his parents felt otherwise. Since he was good at studies, they wanted him to become either a doctor or an engineer. Or even land a government job.

"But I never wanted to do that. Music was in my genes and I wanted to make it big in music. Luckily, my parents agreed after I persuaded them," says Pritam.

After finishing a course in music, he did "all the work that came to me."
"I was very happy with what I was doing," he says. "Then I got the chance to score music for Shah Rukh Khan's Santro ad (the television advertisement for the Hyundai Santro featuring SRK). Soon, work started pouring and there was no looking back."

Pritam got his movie break when he scored music for Sanjay Gadhvi's directorial debut, the little noticed Tere Liye.
He shared the credits along with another composer, Jeet.

The duo also scored music for Gadhvi's next film, Mere Yaar Ki Shaadi Hai for Yash Raj Films in 2002. After the film was released, the duo split.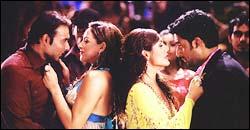 Ask why, and he replies quickly, "It's how two companies merge and part ways. We were two individual music directors who had teamed up. Jeet was not my brother or an old friend. We just decided to be on our own. He went his way and I went mine, with mutual consent."

Pritam then concentrated on television serials and composed music for serials like Astitva: Ek Prem Kahani for Zee and Yeh Meri Life Hai for Sony, among others.

"After 2001," he says, "the film industry went through a bad phase. A lot of projects were announced but they did not materialise. The music industry also started doing badly and things got worse. But I was not disappointed as I had enough of serials and advertising work with me."

His biggest drawback, he says, is marketing himself.

"I cannot go to producers and tell them I need work. I only do work that I get. I am an introvert and so do not get much work in films. That is a bad habit, but that is how I am."

"Besides, I am not filmi. That is another problem. But I don't want to put all my eggs in one basket. I enjoy advertising and serials, and so, I do more of those than films."

Speaking about his Dhoom experience, he says, "Before I started work on the film, I was told the most important thing in the film was action. After that, came comedy, and then music. Gadhvi told me his film was 'zip zap zoom' and the music had to be like that. I stuck to that brief. Luckily, the music has been liked by everyone."

"The biggest problem of doing a Yash Raj film is their legacy of music," he says. "Their music has always been remembered. So that puts added pressure on you. You have to match the standards."

Pritam believes Mumbai has treated him very well. "When I came here, I did not know many people. But now I have made many good friends. Sometimes I feel lonely because I am single. But then I visit my friends. I have been avoiding marriage for a while, but I think that will happen soon because my mother is really pestering me now!"

His next movie project is Pritish Nandy Communications' Ashq. "In the last few years, I have seen people announce films but never complete it. That is why I do not want to talk about my other films, until they complete their shooting schedules."