Coming up: Aarambh: 'Biggest Indian TV show ever'.
Karthika Nair is all charged up about her television debut, Aarambh on the Star Plus channel.
Mumbai born and raised Karthika -- who has acted in Southside movies Josh, Ko, Kammath & Kammath and Purampokku Engira Podhuvudamai -- tells Rajul Hegde why she couldn't refuse Aarambh, which is written by Baahubali writer K V Vijayendra Prasad and directed by Goldie Behl.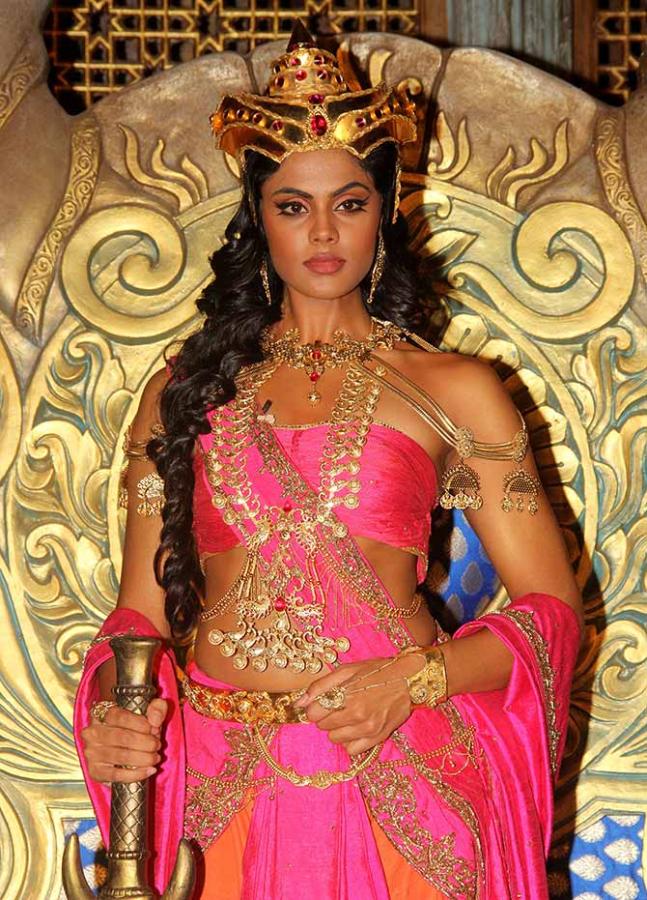 IMAGE: Karthika Nair in Aarambh.
Tell us about yourself...
My mother (actress Radha) stopped working after marriage. We lived in Mumbai and my dad is in the hotel industry.
I was not much exposed to films during childhood.
I got my first film offer when I was in the 10th standard. Since then I have been working, but I did limited films.
I must have done only 10 movies.
I never did movies for money or looked at it as a career option.
It's just that I had an opportunity to act.
I respect it because I am getting to act without even asking for it.
There are a lot of people who are more talented than I am.
Did you miss going to college as you started working young?
I didn't get to attend college much as I was shooting side by side.
If I was missing out on college life I could always enact a college girl in films (smiles).
I can't complain as people my age are now starting careers whereas I have already been here for nine years.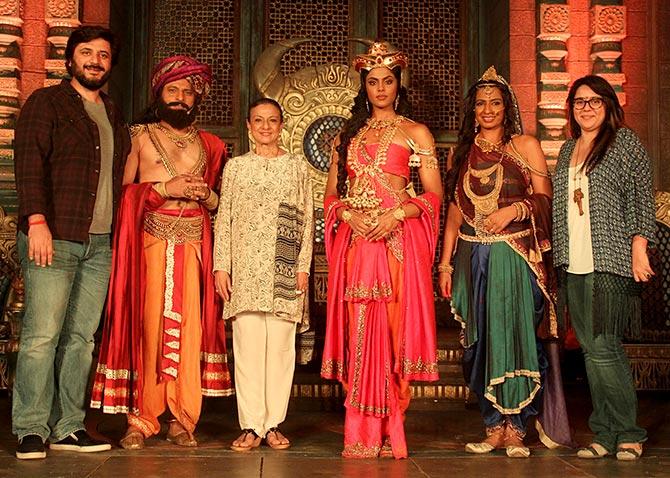 IMAGE: Director Goldie Behl, Joy Sen Gupta, Tanuja, Karthika Nair, Hannssa Singh and Producer Srishti Arya at the launch of Aarambh.
Is Baahubali writer K V Vijayendra Prasad the reason you decided to take up a television show?
Of course!
When you have a strong script and a good director, it's hard to mess up.
I got a call from Goldie's office. I was surprised how they got my number.
I haven't circulated my number in Bollywood. Initially, I said 'no' because when you are doing TV, it's non-stop. It requires a lot of commitment.
You can't take a break and do a film, so I was hesitant.
Go on...
Then Vijayendra sir's office called and said I should at least hear the story.
Baahubali music director Keeravani (a relative of Vijayendra's) was the music director for my first film, so I know Vijayendra sir.
The spin around Princess Devsena's character simply blew me away.
Getting such a female dominated character is a rarity.
I just grabbed the opportunity.
Luckily, it's a finite series and requires only eight months (of work
I am treating it like another project, it's not a transition.
Devsena's character will be compared to Baahubaali's Devsena.
You can't really compare. Film roles are much more limited. In TV, there is a lot more to tell.
How did you prepare?
Rajneesh Duggal (the male lead) and I did a workshop with casting director Mukesh Chhabra.
It was important to look natural, subtle in those costumes, make a smooth transition, and not appear artificial.
This prep allowed us to get into the skins of our individual characters.
I learnt horse riding and sword fighting. All my stunts are real; there was no CG.
We used the crocodile made famous in Hrithik Roshan's Mohenjo-Daro as well.
We are going to make Aarambh the biggest Indian TV show ever.
IMAGE: Karthika Nair in Aarambh.
You are standing on an elephant's trunk in the show much like Baahubali actor Prabhas.
We did the episode long before Prabhas' poster with the elephant trunk came out.
How tough was it to shoot this scene?
I was on top of the trunk. Luckily, the elephant was calm.
The stunt is one of the show's highlights.
My mother was more worried than I was when she got to know about it.
It's not easy to perform battle scenes with jewellery loaded costumes.
Shooting for TV is very exhausting.
Even when I am just sitting in this costume I get exhausted because I am all dressed up.
I have a lot of respect for the television industry. In movies you shoot like ten scenes in a month.