'If Baahubali were to be made in Bollywood, I would take Hrithik Roshan as Baahubali and Deepika Padukone for Devsena.'
Baahubali writer K V Vijayendra Prasad looks back at the epic blockbuster.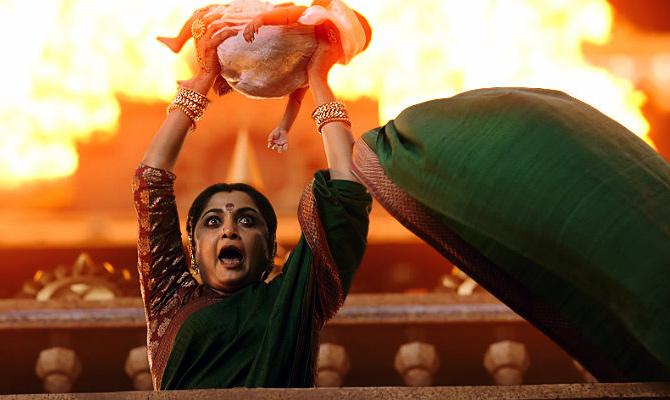 IMAGE: Ramya Krishnan as Sivagami in the Baahubali movies
The Baahubali craze refuses to die down. Karan Johar, who presented the film's Hindi version, tweeted that it has crossed Rs 1,000 crore at the box office, making it the first ever Indian film to do so.
But the man behind it has moved on.
K V Vijayendra Prasad, who wrote the blockbuster movies, has written a television show called Aarambh, to be telecast on Star Plus. It will be directed by Goldie Behl, and star Rajneesh Duggal and Karthika Nair.
The show has a connection to Baahubali -- the female lead character has been named Devsena.
"I just love the name! You can call it a lucky mascot," Prasad says with a smile.
He tells Rediff.com contributor Rajul Hegde more about the show, and his favourite bits about the Baahubali movies, directed by his son SS Rajamouli.
Congratulations! Baahubali: The Conclusion has created an unprecedented record.
Thank you. I am very happy.
Who was your favourite character in Baahubali?
Sivagami. She has so many shades to her character.
Devsena is also a good character but it doesn't have shades as much as Sivagami.
Which is your favourite scene?
The scene when Baahubali gets stabbed by his mama Kattappa. He dies majestically like a king.
Baahubali's appeal is universal. Did you always want to write a script with a Pan-India appeal?
Baahubali is a period film. You cannot restrict to a particular region or language. Since it is set in an old era, Baahubali crosses the threshold of the regional as far as the story is concerned.
People usually talk about the actors, director and music director of a film. Does it make you happy when people talk about the writer?
I am happy that people are talking about writers. It's a bonus, that's all.
It depends upon the visibility. Stars are visible, so they get the credit. The next is the music director because you keep humming their songs.
The writer has the least visibility. I don't grudge it at all, it's bound to happen.
Does anyone look at your feet as much as they look at your face?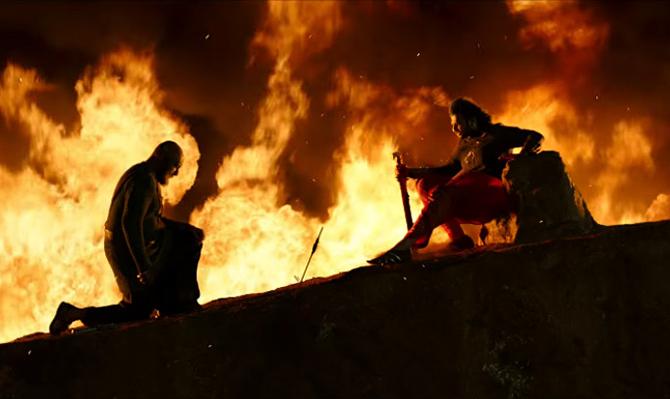 IMAGE: The scene when Kattappa kills Baahubali
What's the best compliment you have received for Baahubali?
It was a backhanded compliment.
The first part released when the Godavari Pushkaralu (a worship of the Godavari river) had just started (in July 2015). My native place is near Godavari (in Andhra Pradesh). I went to the river for a dip early in the morning.
Some villagers had already taken a bath and were changing their clothes behind me. I heard them discuss in Telugu, 'What the hell does the director think? How can he stop the film where Kattappa kills Baahubali?'
They did not recognise me. Actually, they were cursing my son S S Rajamouli and me but it gave me happiness because it had got them hooked to the film so much.
If you had to cast someone from Bollywood for the film, whom would you cast?
Hrithik Roshan as Baahubali and Deepika Padukone for Devsena.
Are you planning any spin-offs?
We are thinking of Web Series, prequels and sequels, like how and where Sivagami was born, how did she come to power. But we will have a new cast. Whenever it happens, Rajamouli will be the creative director.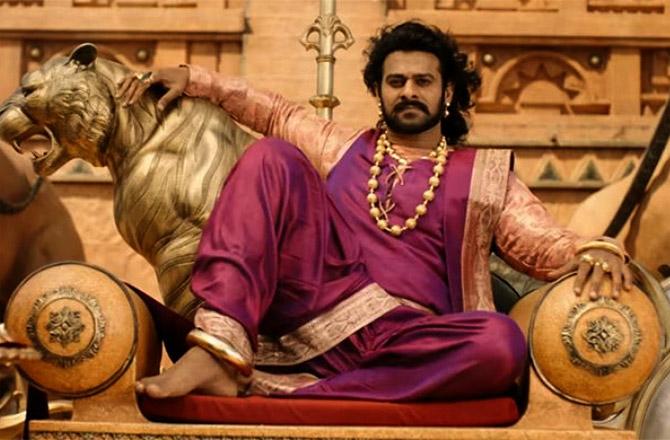 IMAGE: Prabhas as Baahubali
Prabhas has become the first south actor to get his own wax statue at Madame Tussauds, even before popular actors like Rajinikanth and Kamal Hassan.
It's a big thing. I am very happy Baahubali happened.
He was already a superhero in the Telugu film industry but now, he has become a superhero for pan India (smiles).
You have written a story for a television show called Aarambh. What is the story about?
It's a story in which the woman power will enchant the audiences besides the epic theme. The clash between the patriarchal Aryans from the North and the matriarchal Dravidians from the South is the backbone of my story.
Was Aarambh story always meant for a TV series or were you ever plan to make it a film?
It's a huge canvas and the story cannot be told in two-three hours.
Television shows are about a boy and a girl, and I am always uncomfortable with.
A few years ago, I saw Game of Thrones and I loved those wonderful characters and plots. You see a greater story in Mahabharata; it is the mother of all great tales. There are so many lead characters in Mahabharata that you cannot write or talk about one single character.
I longed to do such a show and Game Of Thrones gave me confidence. When people enjoy Game Of Thrones in India, why can't we tell our own story?
So I thought about a plot where not one but six characters are born at the same time. The story will unfold simultaneously. Ultimately, it's an amalgamation of matriarchy and patriarchy societies.
Is there any other story you would like to tell?
Chatrapathi Shivaji's story.
You have also written Bajrangi Bhaijaan, one of the biggest hits of Salman Khan.
Salman is a warm and wonderful human being. During Bajrangi Bhaijaan, I would feel that he wasn't acting most of the time, but just reacting naturally to situations. Once I asked him about it, and he said, 'You are right. Many times, tears roll out naturally.'
What stories in Bollywood have appealed to you?
There are several films I have liked like PINK and Bajirao Mastani.
You plan to collaborate with Sunny Deol for Mera Bharat Mahaan, a patriotic film with Ajay Devgn.
The film with Sunny is not happening. It has been shelved. He wants to concentrate on his son Karan's debut film.
I had pitched a few stories to Ajay Devgn. He had liked Kabir Ka Ayodhya but somehow, things did not move forward.
What are the other Hindi films you are working on?
Jhansi Ki Rani, Rowdy Rathore 2 and Nayak 2.