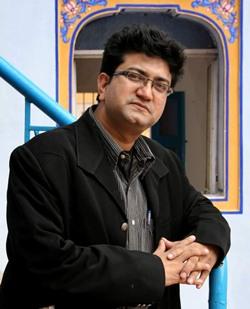 'My parents weren't very ambitious for my career. All they wanted for me was a secure future. So they figured if someone is paying me for my work and I'm not asking them for money, I must be doing something right.'
India's foremost ad guru, award-winning lyricist, and scriptwriter turns 46 today.
A creative adult is the child who survived, says Ursula K Le Guin, American author of novels, short stories, and children's books.

Prasoon Joshi was all of 17 when his first book -- a collection of poems -- was published.
Then, at 38, he was appointed the creative director of McCann-Erickson, one of the biggest advertising agency networks in the world.
As is wont to happen with the career paths of creative greats in the ad world, movies happened too -- he has won three Filmfare awards as a lyricist for Fanaa (2007), Taare Zameen Par (2007), and Bhaag Milkha Bhaag in 2014.
For someone with so many years of experience across various creative fields and the overwhelming acclaim that has come with it, Joshi has somehow retained his child-like enthusiasm and sensitivity for even the minutest of things around him.
"You have to believe that all of us are unparalleled, that we have a unique voice of our own, and we need to tap into that in order to produce authentic work," he stresses consistently and with the conviction of someone who truly believes in the power of his curiosity and the creativity that stems from it, 'one's true, original voice,' he likes to call it.
As Prasoon Joshi celebrates his 44th birthday on September 16, he takes Nishi Tiwari/ Rediff.com through his rather fascinating creative journey so far.
How did your initiation into writing happen? Your first book was published when you were just 17.
I had a lot of time on my hands as a kid because there was no television, or many other avenues for entertainment in smaller towns back then (he spent a considerable number of years as a child in Almora, Uttarakhand, and Garhwal).
Also, my father was the education officer so I had an unfair access to the district library wherever we went. So I would somehow sneak in on Sundays or ask dad to open it and I would go there, sit there and look at all kinds of books.

I remember the Rampur library was particularly beautiful and had a separate section for kids.

I saw a lot of literature there and a lot of poetry too that I started reading.

It was there, I think, when I read Manto for the first time (and other stuff that was too early for my age then) and lots of other stuff.

It definitely made an impact. I was introduced to Hindi and Urdu poets. Books about magical potions and talismans were quite prevalent at that time and I found them very fascinating as a child.
What were you like as a kid?
I think I was a very sensitive child.

That is why when people say that artists leave home and rebel against their parents, I wonder how can you be sensitive AND rebel against people like your parents, who always stand by you and support you?
I always cared about my parents. Both of them were classically trained in music so I witnessed a lot of that and, more importantly, I developed a respect for art forms.
Although my father had recognised the artist in me early on, he insisted that I complete my formal education -- he had seen artists struggling a lot -- so that was his constant concern.
That was the reason I ended up with a Masters in Business Administration. I don't regret doing it because I believe no sort of education in life goes waste.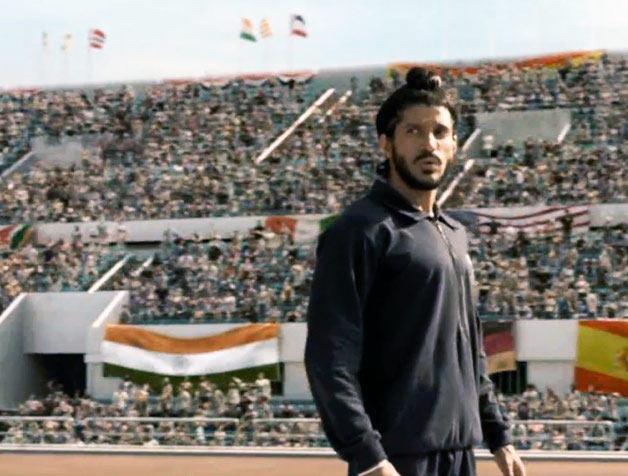 Image: Farhan Akhtar in Bhaag Milkha Bhaag
How did your parents react when you told them, after acquiring the MBA degree, that you wanted to work in advertising?

Fortunately for me, my parents weren't very ambitious for my career. All they wanted for me was a secure future. They didn't have any rigid ideas about that.

They saw that I was making a living out of advertising, and I must thank the ad world for opening up this unique world where ideas and business worked hand in hand, for I was fundamentally an ideas man who had a business management degree.
So my parents figured if someone is paying me for my work and I'm not asking them for money, I must be doing something right.
You have alluded to spirituality several times when you talk about your life as an artist. How spiritual are you as a person?
I don't suffer from the illusion that it (spirituality) has to be achieved through religion. I don't think like that.

Although I come from a family that is quite ritualistic, I don't subscribe to that school of thought.
For me, it can be achieved from anything -- seeing a child smile, writing or reading something that gives me goose bumps, encountering a pure thought, honesty, sacrifice in another human being -- those experiences make me feel spiritual.
Whatever is pure in nature consists a spiritual aspect for me.
It is not measured with how many visits you make to the temple or how much time you spend there.
Your work across the various media you have dabbled in, be it lyrics, advertisements, or poetry, has a certain fluidity to it and is quite evocative at the same time. How does that come about when you're working on an idea?
It is like all life processes -- I just assimilate that thought with everything I work on. Everybody has a different way of doing things.
My way is that I familiarise myself with the project at hand and its objective, talk about its possibilities and then I let things come to me. That is how you give a little bit of yourself to everything you do.

For instance, when I was writing the script of Bhaag Milkha Bhaag, I met Milkhaji (Singh) quite a few times and listened to his life story several times over.
Then, one day, I stopped meeting him, stopped reading everything related to the project, I just wanted to let my imagination fly. I decided it would be a human story and that's the route I took.
I subsequently created many scenes in the film that didn't happen in real life but would have happened. There were many such scenes in the film.
So the film was based on my imagination yet rooted in reality. I sew the seed and let the plant grow.
Milkhaji had a brother, who played a very significant part in his life but I chose to flesh out the sister's part in the film because I have a sister in real life and I felt that I could work better with a sister's character in the story.
If you aim to be authentic, you have to borrow from your life, your sensibilities, and your experiences. That is the only way to ensure authenticity.
You started out with advertising and branched out as a lyricist and scriptwriter. Do you think your days in advertising aided your film writing?
It has definitely helped me.

It taught me to always be industrious, to always be in touch with the likes and dislikes of people -- what they're reading, what they're listening to, etc.
In advertising, we do a lot of consumer research since you have to constantly update your brand. That has helped me in my writing for films too.
The analytical approach I have now is something I learnt during my early days in advertising.
That said, my work in films has helped me bring a lot of poetic sensibilities, storytelling techniques, musical aspects in my ad work too.
Advertising took me all over the world; it brought me that kind of exposure.

I was the chairman of the Cannes (Lions Advertising Festival) jury this year -- the first Asian, in fact, to be asked to chair the panel. It was another rewarding experience for me.
It was a kind of a crash course in what's happening in the world of communication.
In that sense, I've got the best of both the worlds when it comes to experiences -- my small town upbringing -- and by small town I don't mean Lucknow or Kanpur, I mean Garhwal small -- and seeing the world, meeting new people, sharing their ideas and worldviews has been very exciting.

When one dabbles in several creative fields that are largely interconnected, is it possible that one medium becomes more creatively gratifying than the rest?
It's not like a particular medium becomes more gratifying than the other.

It could be an ad you wrote, the headline for an ad, or a poem or haiku you've written that brings you that sense of satisfaction.

When it clicks, you know. When I finished the script of Bhaag Milkha Bhaag and I was reading it, I knew there was something there.
When I wrote the 'Thanda matlab Coca Cola,' I had felt it back then.
There should be no hierarchy to creativity.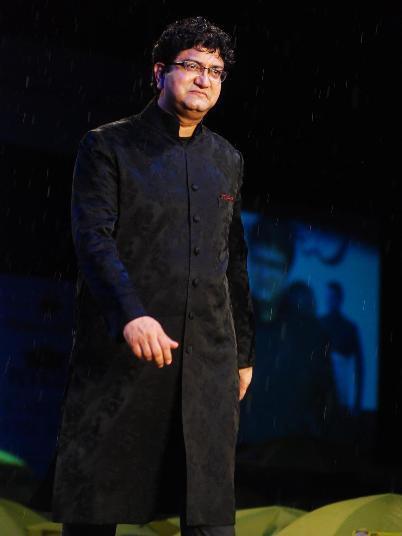 W
hat do you think it is that sets creative people apart from the rest?
You should know the source of ideas.
See, when you are born, nobody congratulates your mother that badhai ho script writer paida hua hai, badhai ho copy writer paida hua hai or Badhai ho lyricist paida hua hai (Congratulations, you've given birth to a scriptwriter/ copywriter/ lyricist).

You are born in a particular milieu and you imbibe everything from it. Someone else will probably explain it in another way but I always believe that one should talk about the way one has seen life.

Whatever thoughts, ideas you get are the product of the atmosphere you are brought up in, the culture you soak into, the relationships you have, the books you read, the music that you find evocative, all these things shape your subconscious and that's what is manifested through your work or through your life.

Now the discipline of an artist's life, you are not born with it. To nurture a talent, you have to work hard and hone your skill. But that is secondary.

First, you have to have soaked enough in life since that is the genesis of a certain kind of thinking. You then take it forward in whichever form or discipline you are pursuing.

It's imperative that you are able to facilitate words if your writing, facilitate rhythm in and music and so on.
Sometimes I feel dissatisfied that even though I have expressed something in words, poetry or in dialogue, I wasn't able to precisely capture what I intended to say.
It takes a lifetime to master your craft so much that you are able to express even the minutest of your thoughts and feelings.
You see something, you try to capture the nuance of that feeling by taking it apart, and start describing it from its simplified, threadbare form.

There is a beautiful line by Pakistani poet Parveen Shakir. When she saw a kid running behind a butterfly, she wrote, "Kal maine pehli baar ek phool ko titli ke peeche bhaagte dekha (For the first time yesterday, I saw a flower chasing a butterfly)," What a beautiful expression that is!
And that's why I have the greatest regard for performing arts -- especially theatre actors -- they utilise their entire being, their body, mind, eyes, to communicate a certain feeling.
In that sense, we will always remain works in progress, students for life, because there is always a degree of separation between what you've written and what you've felt.
You said we are all a product of the milieu we are brought up in. What were your own surroundings like when you were growing up?
The atmosphere I grew up in was culturally very rich.

When I say culturally rich, I mean I imbibed the folk culture of Uttarakhand, Uttar Pradesh, and then the literature which I studied, not in a formatted manner, but in a very interesting way -- I was exposed to kavi sammelans, mushairas, different kinds of street plays, a lot of this exposure happened but in a very unstructured fashion.
And nature! If you read my writings, you'll find that I referenced a lot from there too, precisely, again, because I was growing up amidst the scenic beauty of the Himalayas, where even a whiff of wind and the sound it makes, or the first rays of sunlight and the way it travels, these aren't the luxuries you're accorded if you grow up in a bustling city, in an apartment.

Also, there is the luxury of time, and few distractions.

I could watch the sun light travel from one mountain peak to another from my window for hours.

So these things are subconsciously tiptoeing into your view and making themselves a part of you.

You have little else to do but soak into your ambient smells and sounds. That's how, I believe, the ghost stories in villages originated. There's no electricity and your area is sparsely populated, that fuels your imagination.

Another thing I have observed in smaller towns is that the women are very strong. For instance, my grandmother was widowed at 19, and she was illiterate, but she retired from her job as a school principal.
She subsequently educated herself and brought her daughter up.
So these things stay with you and reflect in your work later on. So I didn't really format myself to work in a certain way.