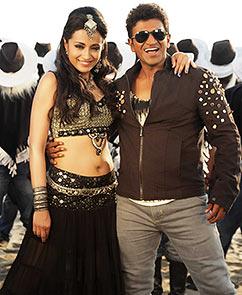 Top Kannada actor Puneeth Rajkumar's latest film Power has created a new record in the history of Kannada cinema.
The film has released in more than 250 theatres, and has collected more than Rs 15 crore in its two-week run at the box office.
Power, which had title changes after courting a few controversies, had maintained a low profile during its making.
Publicity was low-key despite a star cast like Sivaji Prabhu, Kelly Dorjee, Rangayana Raghu, Tilak Shekar, Adi Lokesh, Jaijagadish, Shobhraj, Sadhu Kokila, Doddanna, Shashi Kumar, Harish Raj, Nayana, and Neetu Chandra in an item song.
The film's music has also become a hit, selling 2.5 lakh units. The music composer is S Thaman.
The filmmakers have tied up with a telecom service provider for music downloads and co-branding.
Power is a remake of the Telugu hit Dookudu that starred Mahesh Babu.
Mahesh Babu had launched the audio of Power in Bellary some months ago.
"I am overwhelmed by the response and the opening that our film has got from audiences," Puneet says. "I never expected the film to take such an opening. I am also happy that families are coming to watch the movie in the theatres despite the film being a remake."
While interacting with the media after the release of the film, he said there were several changes in the Kannada version. "The length of the movie was shortened and dialogues were tweaked to suit our sensibilities and tastes. The comedy sequences have turned out to be a hit with audiences," he said.
Puneeth said his fights, stunts and dancing skills were much appreciated and thanked those who taught him these skills.
The film marks the debut of actress Trisha Krishnan in Kannada cinema.
Puneeth has sung the song Guruvara Sanje, which has topped the charts. "I simply love singing. The Guruvara Sanje song has a good tune and lyrics," he said.
Power elicited an unprecedented response from the film-going public. The first show was reportedly screened at 2.30 am in Bellary! There were shows scheduled for 5 am on the opening day in Davangere.
The film is directed by K Madesh and co-produced by Ram Achanta, Gopichand Achanta and Anil Sunkara with Praveen Kolla.
This is the first Kannada movie from the Telugu company 14 Reels Entertainment, which produced the original Telugu hit Dookudu.
The film has been shot in Spain as well with Krishna Kumar as its cinematographer.