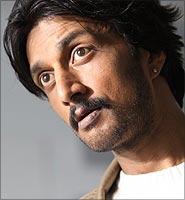 After Shivarajkumar, who acted in Kannada film Sugreeva, which was shot in 18 hours flat with ten directors at the helm of affairs, it is Sudeep's turn to be part of a record-breaking film which has been shot in just 12 hours.

Sudeep plays a police officer in Police Story 3, directed by famed action director Thriller Manju and five others.

Speaking of Sudeep's selection, Manju says, "Not only did Sudeep's personality suit the role, but I was floored by his dedication in Veeramadakari in which I worked with him. Since then I've wanted to direct him and this film presented me with that chance."

While Sudeep will be seen just in a few scenes, Manju himself, together with some first-time actors, will be in the lead. The story sees Manju training youngsters who are aspiring to become police officers. 
"The film will highlight the importance of the police force in a city like Bangalore," says Manju. As to why he has decided to appear on-screen now after being in charge of the behind-the-scenes action in the two earlier films, Manju says, "Three is my lucky number and the script suited my image so I decided to act in this film."

Police Story 1 and 2 were directed by Manju with Sai Kumar in the lead. In fact it was Police Story 1 (1996) that earned Sai Kumar the title of 'Dialogue King'. The sequel, though, was not well received.

The third part has created enough buzz. Though it has been shot in just 12 hours, there has been no compromise on songs or comedy; there is even an item song.

The comedy track has been directed by Sadhu Khokila, a comedian himself. G G Krishna, Vasu, Shankar and Anand P Raju are the other directors. The film has six cameramen, seven villains, Shobraj being among them, and Neha Patil and Bhavya are the leading ladies. Alongside, there are 70 recognised artistes, over 100 junior artistes and about 50 black belt Karatekas in the film.

The film was shot between 6 am and 6 pm at the Bangalore Palace, and though rain interrupted the schedule, extra time had been factored in. "Ten hours was enough to shoot the film, we hmmad given ourselves an extra two hours," Manju says.

The post production work will be completed in 11 days and the plan is to release the film in a month's time. It will be released in other languages as well.