Here's looking at Bollywood's tryst with luxury cruise liners.
Planes, planets or palaces, they all tell stories. The creative world of filmmaking counts on it.
Every now and then, viewers get a breather from the same old city humdrum in the garb of pristine views and majestic settings.
Taking the initiative, director Zoya Akhtar is ready to get audiences on board a luxury cruise liner featuring Anil Kapoor, Shefali Shah, Farhan Akhtar, Priyanka Chopra, Anushka Sharma, Ranveer Singh and an adorable mastiff in her summer offering, Dil Dhadakne Do.
Given what a visual treat her last movie Zindagi Na Milegi Dobara, exploring the scenic vistas of Spain, turned out to be one can't help but feel hopeful.
Meanwhile, we flow you through some of Bollywood's most memorable cruise moments from not too long ago.
U Me Aur Hum
Image: Ajay Devgn and Kajol in U Me Aur Hum
In The Notebook-inspired romance debutant director Ajay Devgn and Kajol meet, fall in love on a fancy cruise and vow to celebrate their silver anniversary in one as well.
Over the decades, their love goes through a lot of ups and down, mostly because of her Alzheimer ailment, but like a strong ship; it endures all kinds of rough weather.
Despite Kajol's rock-solid performance, the melodrama didn't get much love from the audience.
Mann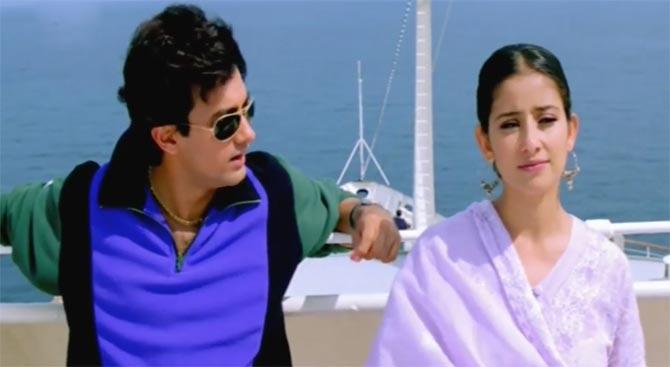 Image: Aamir Khan and Manisha Koirala in Mann
Mann takes blatant inspiration from Hollywood classic, An Affair To Remember.
Here too, Aamir Khan's womanizer finds true love in an angelic Manisha Koirala while they are sailing on a grand cruise. Just when they're about to confirm their feelings for another, Koirala loses her legs in a road accident and Khan misunderstands her no-show for rejection.
Audiences too didn't care much for this tearjerker with a super-hit soundtrack.
Ajnabee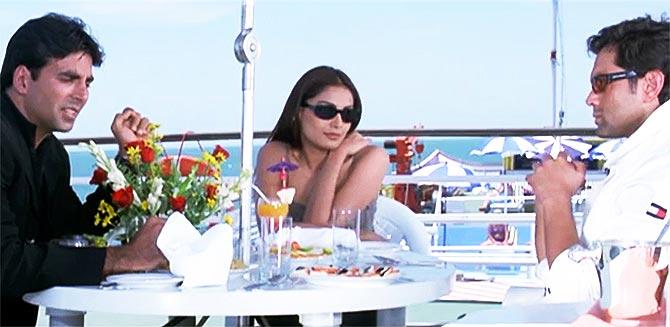 Image: Akshay Kumar, Bipasha Basu and Bobby Deol in Ajnabee
Ripping off the bold Consenting Adults, Ajnabee is best remembered for Kareena Kapoor-Bipasha Basu's off-screen catfight and the all-important password – Everything is planned.
As expected from a typical Abbas-Mustan climax, Akshay Kumar and Bipasha expose their wicked side blaming Bobby Deol for all the embezzlement and escape to Singapore on a cruise ship. Action by the sea ensues until Ajnabee finally hits the shore.
Kaho Naa…Pyaar Hai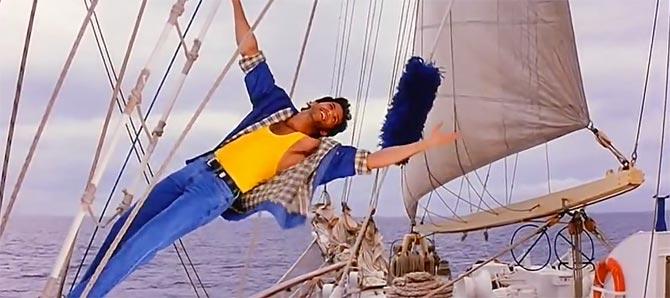 Image: Hrithik Roshan in Kaho Naa…Pyaar Hai
Cruise works as a perfect plot device to trigger romance between a desi Dylan (Hrithik Roshan) and Ms Moneybags (Amisha Patel) in their debut Kaho Naa…Pyaar Hai.
The duo engage in all sorts of fun and flirtation dancing to Pyar Ki Kashti mein before finding themselves stranded on a isolated Thai beach.
Humraaz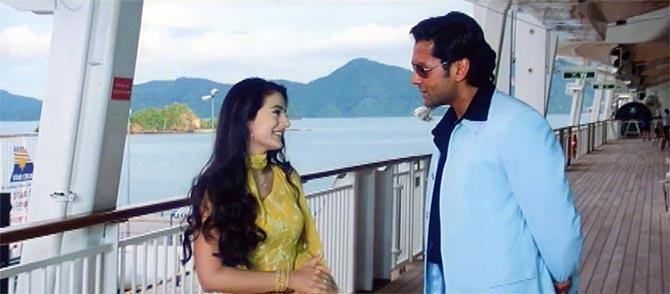 Image: Ameesha Patel and Bobby Deol in Humraaz
Yet another Abbas Mustan twist-within-twist thriller stars Akshaye Khanna and Amisha Patel as dancers engaged in a relationship that takes a dark turn after they are commissioned to perform on a luxury ship.
Here's the catch, the ship belongs to Bobby Deol's wealthy tycoon, blissfully unaware Patel's coy tactics are a scheme masterminded by her boyfriend to lure him in a romance and steal all the money.
Doesn't quite achieve all its targets but Humraaz sure made money at the box-office.
Dil Hai Ki Manta Nahin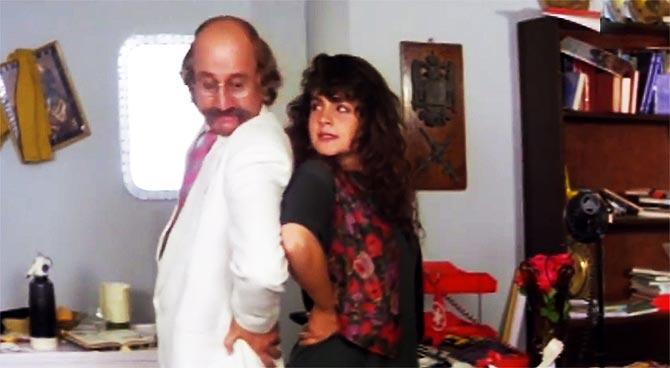 Image: Anupam Kher and Pooja Bhatt in Dil Hai Ki Manta Nahin
Mahesh Bhatt's breezy Dil Hai Ki Manta Nahin is mostly an on-the-road romance between a stubborn rich brat and a snooty, snoopy reporter.
But before Pooja Bhatt finds her ideal traveling companion in Aamir Khan, the rich heiress has a delightful tiff with her displeased daddy Anupam Kher on a ship compelling her to dive into the sea and flee.
Exactly how it transpired in Frank Capra's It Happened One Night as well.
Thank You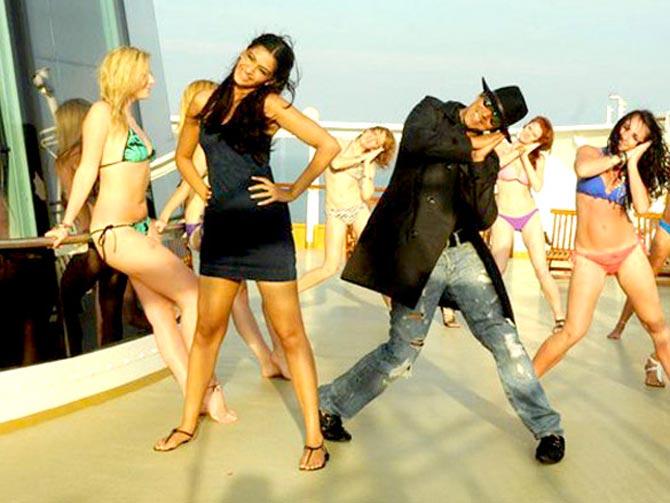 Image: Sonam Kapoor and Akshay Kumar in Thank You
Anees Bazmee's Thank You is as witless as it gets. In the farce, Akshay Kumar turns private eye on unfaithful hubbies as a penance for previously cheating his now deceased wife.
And so he does all sorts of nonsense to reunite his client Sonam Kapoor with her respective joker Bobby Deol using the classic weapon of jealousy. Read shake butts on an extravagant cruise liner against the elaborately choreographed Full Volume.
Bhootnath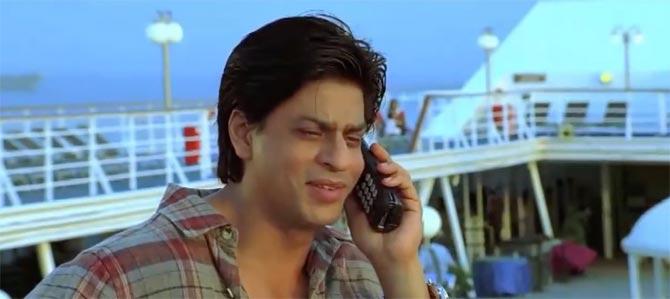 Image: Shah Rukh Khan in Bhootnath
When all of ghost Amitabh Bachchan's attempts to frighten a little kid inhabiting his house misfire, he befriends him. This forms the crux of their childish escapades in Bhoothnath.
Why it's mentioned here is because the precocious kid's daddy, played by Shah Rukh Khan in an extended cameo, works on a cruise liner.
And usually when we see the dimpled star, he's chatting to his son from the sea-based office.
Jo Bole So Nihaal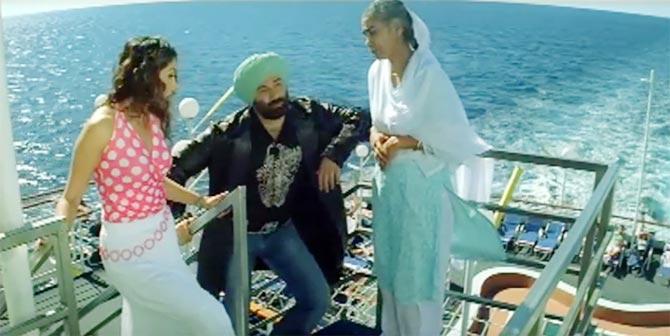 Image: Sunny Deol in Jo Bole So Nihaal
Remember Sunny Deol's Sikh avatar in the eminently forgettable Jo Bole So Nihaal?
Marred in controversy over title and such, the comedy is not even remotely entertaining and deserves special mention under the action star's most embarrassing fare.
Except there's an entire sequence filmed on a cruise ship where Sunny plays a game of muddled identities in a flop bid to make us laugh.
Bheja Fry 2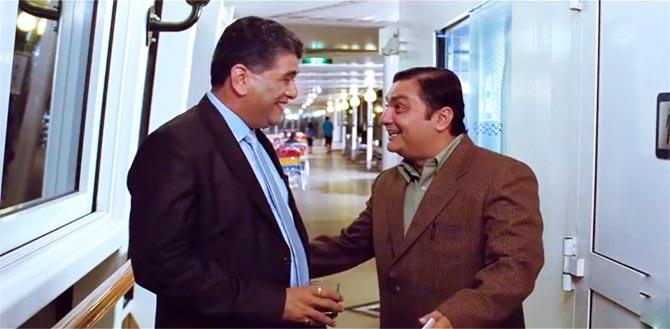 Image: Vinay Pathak in Bheja Fry 2
The lackluster follow-up to the silly but engaging Bheja Fry doesn't quite match up. Vinay Pathak tries to make the most of it as a man who lands the golden ticket of a lavish cruise trip at a reality show.
His adventures on the same and interactions with Kay Kay Menon's crooked businessman on a marooned island offer ample opportunity for humor that's never quite utilised.