Mumbai last week. Toronto Friday and Saturday. Amman Sunday.
Doesn't she ever feel tired?
Last week, she called on Dilip Kumar in Mumbai, then posted a picture hanging out with friends on the city's Marine Drive.
Next we heard she was wowing audiences at the Toronto International Film Festival where she was a special guest at a TIFF soiree, and then at the premiere of her Sikkimese film Pahuna.
Soon after TIFF, Priyanka flew to Amman, Jordan.
As a UNICEF goodwill ambassador, she is part of UNICEF's initiative to educate Syrian children in Jordan who have sought refuge from the horrific civil war in their country.
Some folks India side though complained about Priyanka's Amman journey.
She must be used to this now given that she is trolled for all sorts of things (remember how they had a peeve about PeeCee wearing a skirt when she met NaMo in Berlin?)
When Ravindra Gautam posted 'I would request @priyankachopra that do visit rural areas of India where malnourished kids waiting for food. #MissionForChildren', Priyanka struck back sternly, saying, 'Ive worked w/ @UNICEFIndia for 12 yrs&visited many such places. What have u done @RavindraGautam_ ?Y is 1 childs prob less imp than another?'
Check out pictures from Priyanka's visit to Jordan: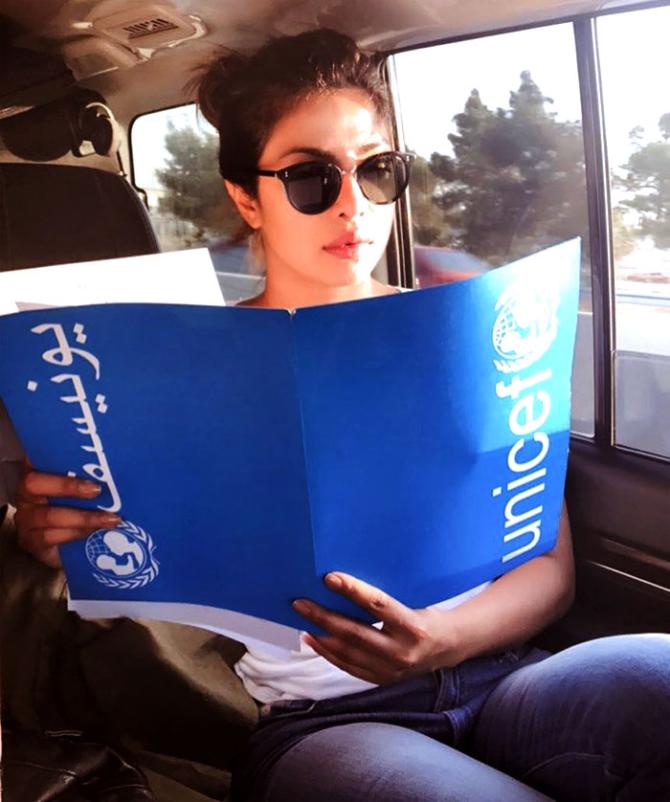 Priyanka Chopra's journey to Jordan began thus: 'Let's take this trip together... let's open our eyes and our hearts to the #ChildrenUprooted in the Syrian Refugee crisis. This will be our #MissionForChildren.'
'Let's show them that the world cares and help them find a way forward.. come along with me.. I'll update as much as I can and in as much detail as I can...'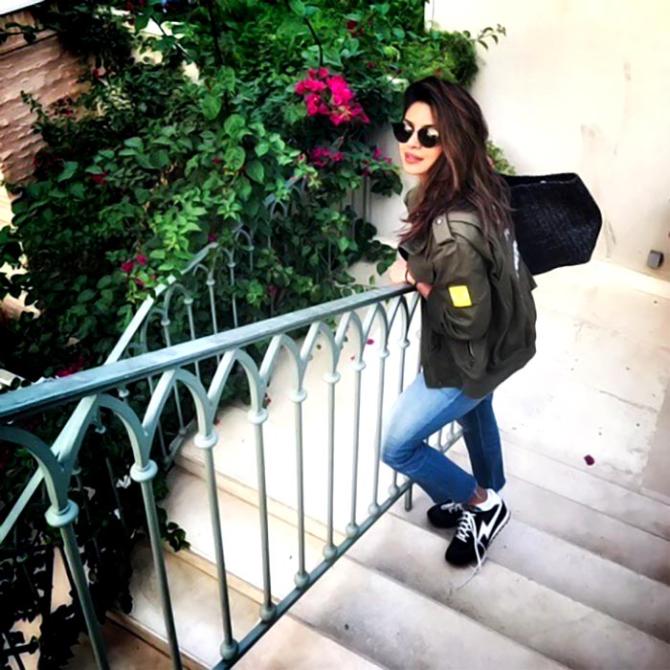 Priyanka promises to help the children of Syria 'With everything that's happening in the world around us, it's important to look forward with hope and love.... that's what I've brought with me to #Jordan along with the resolve to help us understand these amazing survivors and how we can all do our part to help them. Keep u posted'.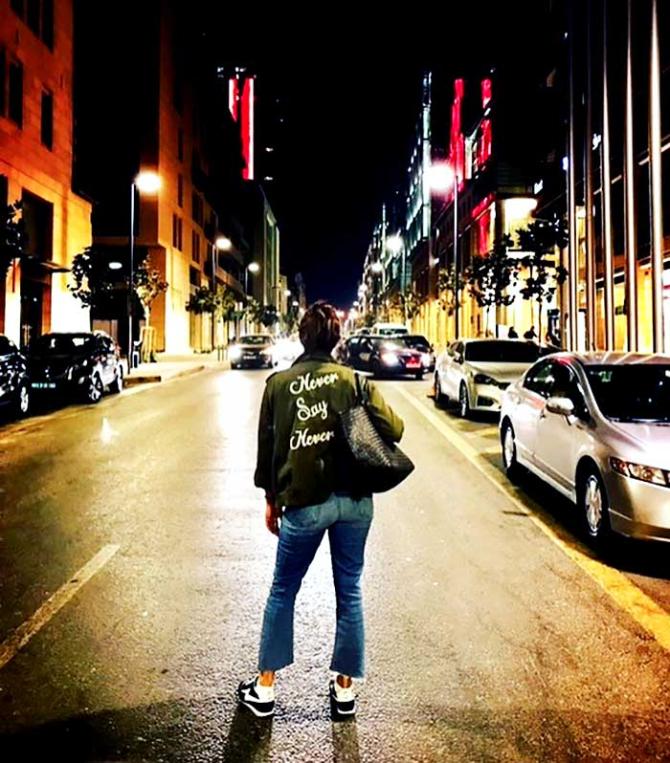 Priyanka's message to the Syrian children: 'Beautiful #Jordan a host country to millions of refugees.. let's open our hearts and figure out how we can help .. will keep you posted as i meet these incredible survivors'.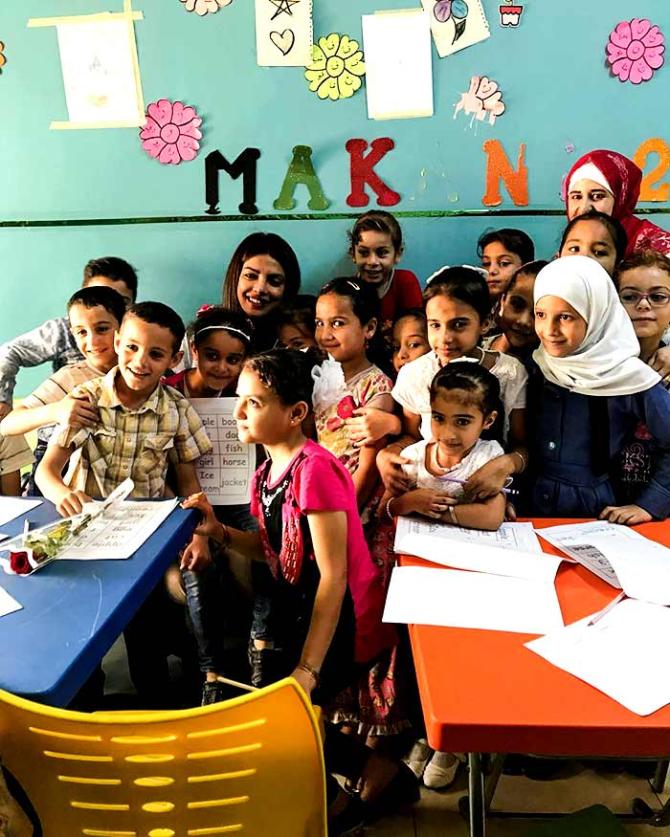 Priyanka met kids at their school: 'A class full of future doctors, engineers, police officers, teachers. What breaks my heart is they can't even access proper schools as refugee kids... how will they access higher education?? These hopes and dreams.. where do they stand in the reality of their world?'
'The government schools in Jordan have added evening classes and 200 schools to accommodate the growing number of Syrian children which is approximately 120000 children..But it's never enough. The world needs to help. We need to help. PLS GO TO www.unicef.org and DONATE whatever you can... let's make this a collective'.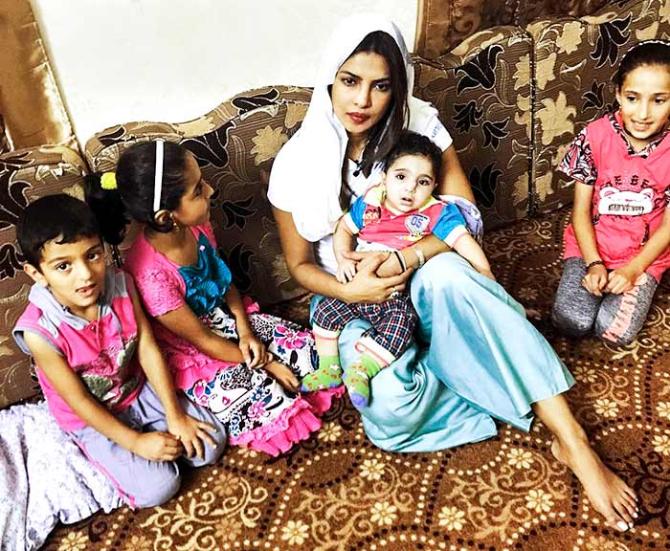 Priyanka shared a story: 'This is Ammar(5), Ayat(8), Sulaiman (5 months) Wardshan (9) and they have an elder brother Saleh (10) who works at a grocery store to help supplement the family income, for only 2 Jordanian Dinar (that's less than $3 USD).'
'Their father is a day laborer. Sulaiman needs a 2nd surgery because he has a clot in his nose. The family moved from Syria to Jordan 5 years ago.'
'When I asked their mother what would be her wish...considering the war hasn't ended, she said "if we can't go home all I want is for my kids to get an education so they can fend for themselves when they are older and help rebuild Syria. We are blessed, we have enough to survive...others have much less."'
'They didn't even have furniture in their home. The largesse of heart and compassion she had through her tears moved me to pieces. PLS GO TO www.unicef.org and DONATE whatever you can... let's make this a collective'.
Photographs: Kind courtesy Priyanka Chopra/Twitter