Chester Bennington, the raspy singer of the rock band Linkin Park, was found dead in his home near Los Angeles on Thursday. He was 41.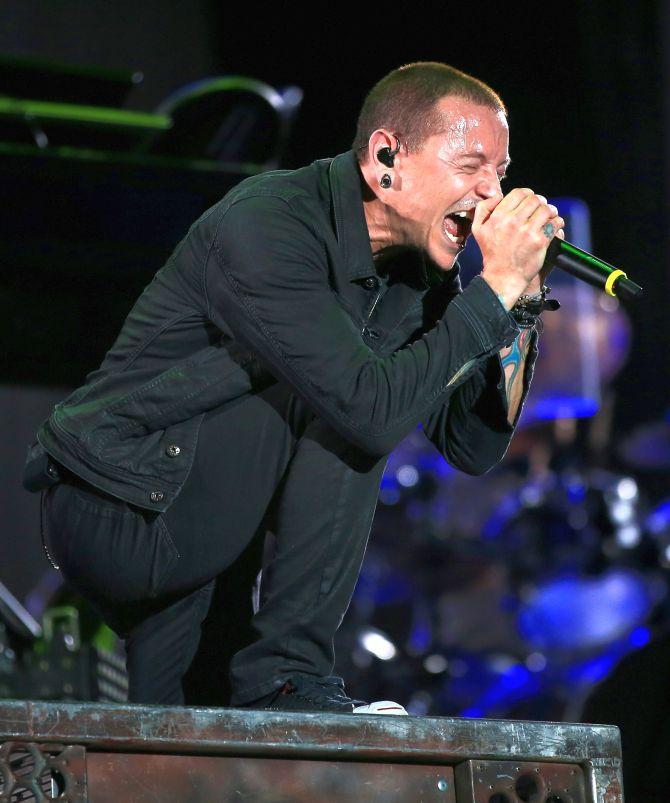 IMAGE: Chester Bennington was found by his housekeeper. Authorities say he hanged himself in his bedroom. Photograph: Christopher Polk/Getty Images
Brian Elias, the chief of operations for the Los Angeles County coroner's office, confirmed the death and said it was being investigated as a possible suicide.
Law enforcement officials say Bennington hanged himself in his bedroom and he was home alone at the time, according to TMZ. He was found upstairs by his housekeeper.
Bennington, who was 41 years old, joined the group in 1999 and became a household name the year after with the release of the band's debut album Hybrid Theory, which was nominated for a Grammy award for best rock album. Their second album, Meteora, has sold over 27m units and the band collaborated with Jay-Z for 2004 EP Collision Course.
Mike Shinoda, one of Linkin Park's founders, spoke on behalf of the group in a tweet. "Shocked and heartbroken," he wrote, adding that the band would issue a statement.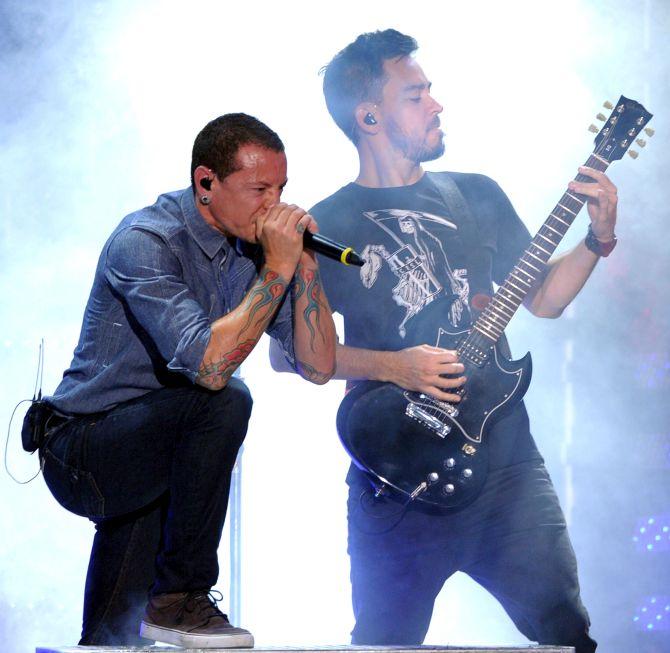 IMAGE: Chester with his band mate Mike Shinoda. Together in Linkin Park since 1999, they became a household name and won critical and mass acclaim. Photograph: Kevin Winter/Getty Images
Bennington's apparent suicide coincided with his close friend Soundgarden's lead singer Chris Cornell's birthday. The Soundgarden rocker killed himself in May by hanging.
"Chester and Chris were so close, and he was never the same after Chris's death," a friend was quoted by Radar.
The friend of Bennington's also noted that Cornell's death deeply affected Bennington, who also struggled with 'addiction issues'.
In past interviews, Bennington had spoken candidly about his struggles with drugs and alcohol. "It's not cool to be an alcoholic -- it's not cool to go drink and be a dumbass" he told Noisecreep in 2009. "It's cool to be a part of recovery. This is just who I am, this is what I write about, what I do, and most of my work has been a reflection of what I've been going through in one way or another."
He also shared details of an abusive childhood.
Bennington is survived by six children, Jaime, Isaiah, Draven, Tyler Lee and twins Lily and Lila, and his wife Talinda Ann Bentley.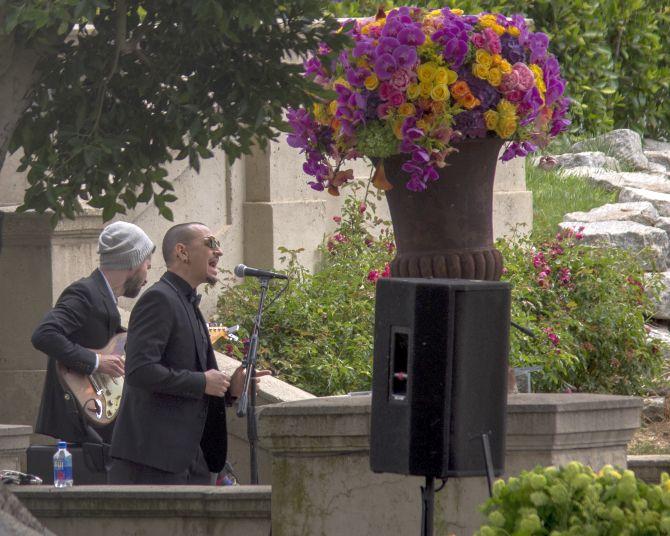 IMAGE: Bennington was close to Soundgarden lead singer Chris Cornell who took his own life in May. He performed at Cornell's funeral and penned a letter saying how touched and moved he was by Cornell. Photograph: David McNew/Getty Images
Tributes have been flowing in from fellow musicians and devastated fans since his shock death.
The band Nickelback tweeted: "When life leaves us blind, love keeps us kind. - ChesterBennington. Rest easy sir."
"Oh dear God. Massive RIP to Chester Bennington of @linkinpark this BREAKS OUR HEART. Suicide is the devil on earth walking amongst us," OneRepublic tweeted.
Show host Jimmy Kimmel wrote on Twitter, "Chester was one of the kindest men I've had on my show. My heart breaks for his family and friends. He will be missed terribly."