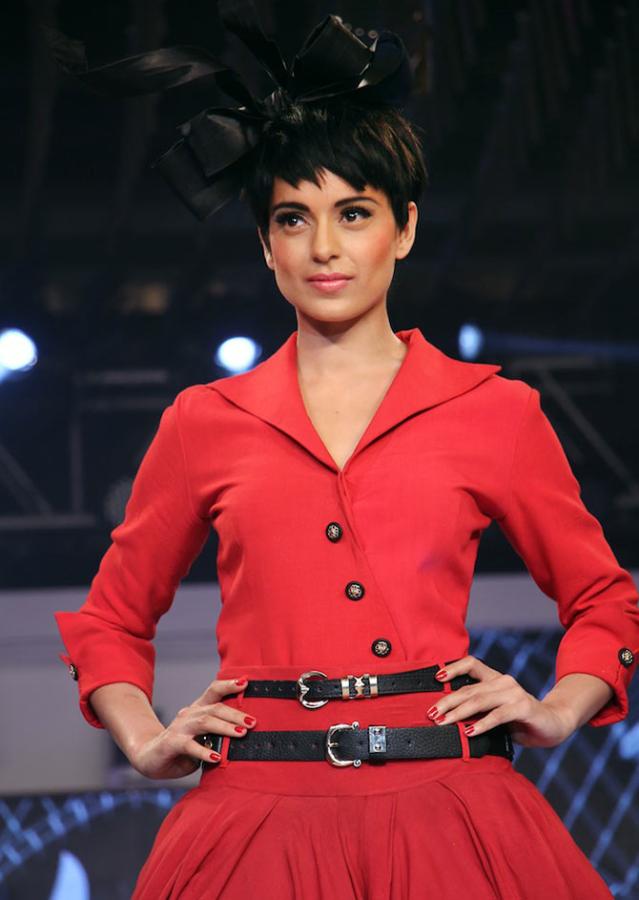 When it comes to fabric, every designer has their favourite.
Renowned fashion designer Narendra Kumar's latest passion is Liva, a yarn that can be woven into a fluidly flowing fabric that works fabulously with draped garments such as gown and dresses.
The designer talks to Patcy N/Rediff.com about the garments he has designed using Liva as well as the clothes he has designed for actors over the years.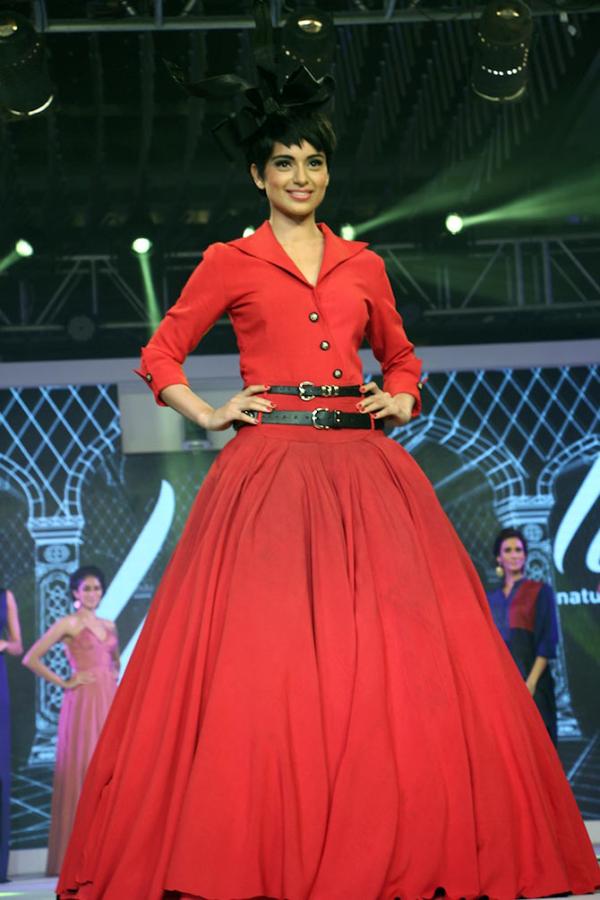 Recently, as part of a fun game, I designed something for Kangana (Ranaut) using the Liva fabric as inspiration.

I had to keep in mind that she is fashion forward. She is bold and takes risks. She is very confident and sure about herself. Given her personality, I was looking at what she would wear keeping the Indian context in mind.
I designed a futuristic dress that ended above the knee. The shoulders were a little sharp and pointed. It was well tailored and showed off a bit of skin as well.
I designed something for Kim Kardashian too. She has a great hip, so the drape of the fabric really works for her.
She likes to wear clothes that have a lot of detailing and slits that reveal the top part of her body. She likes garments that are clingy. She likes shoes. She would look at a dress that has more of a lingerie based top. That was my inspiration.

Priyanka Chopra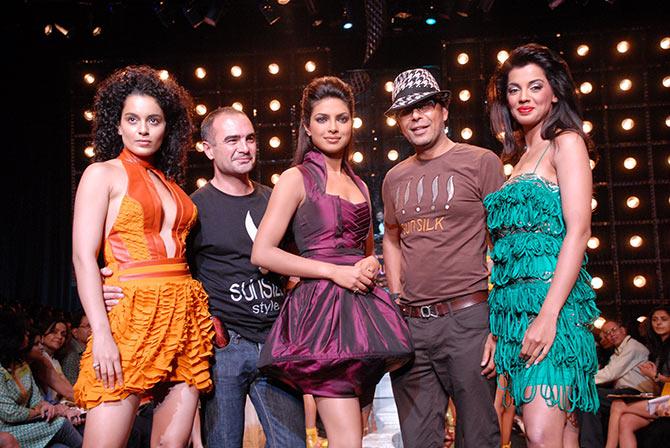 I have worked with Priyanka Chopra, Kangana, Mugda Godse and Neha Dhupia. All of them are smart, confident and are pushing the frontiers of fashion.
Priyanka is never too girlie. She's sharp and well-tailored and prefers close to the body or figure-hugging kind of clothing.
I worked with her for the first time during the film, Fashion. She had already starting becoming a star then. My experiences with her have always been great. When you get into a space where you are confident about what you do, you need to respect the other person's opinion. She respects my opinion and I respect hers.
We're friends. She gives her lead on what she wants to wear. She'll tell me if a certain design was good or the other is not so bad. I didn't do any other films with her because I was busy with other things, but I did stuff for her privately.
Now, she has a permanent stylist. But when I did individual clothes for her, she would say she wanted something smart, dressy and tailored.

Some people have airs; she doesn't. I have not worked with her in the recent past so I am not being diplomatic but I don't remember if she ever rejected anything I gave her.

Kangana Ranaut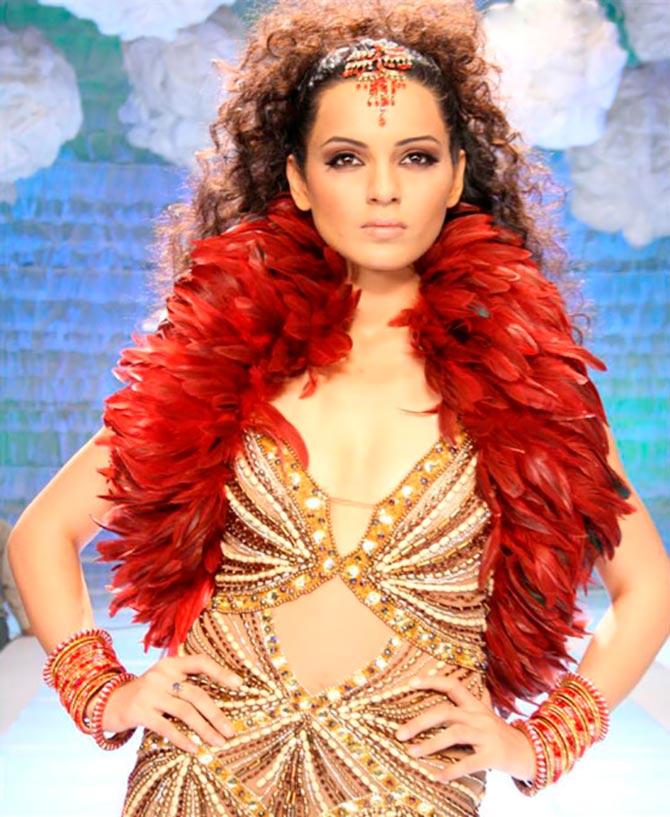 Kangana's role in Fashion required her to be pushy. Her character was that of someone very ambitious, but also on the edge.
Sometimes, such a person goes to any length to fulfill their ambitions. Visually, we translated that as someone who was very fashion forward.
Like Priyanka, I have not worked with her lately.
John Abraham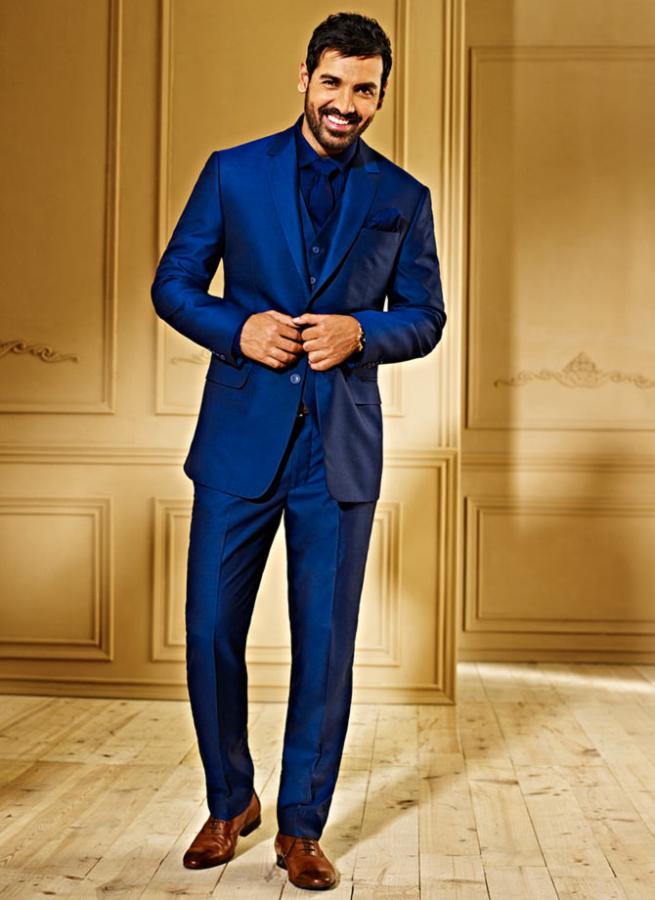 Now here is someone with whom I have worked a lot. I have done all the Grasim campaigns over the last three years.

John (Abraham) is a very open person. He would trust my design sensibility. He'd say I knew better what would look good on him.
I feel John looks good in a tee shirt and jeans. He also looks good in blazers and jackets. He can carry new masculine styles very well.

It would be unfair to say who I think is the best to work with (laughs). I work with actors who respect what I do, just as I respect what they do.

Don't ask me which actor has the best body. For a good tailor like me, every body type is a challenge. I like to be able to stitch the best clothes for every body type.
Neha Dhupia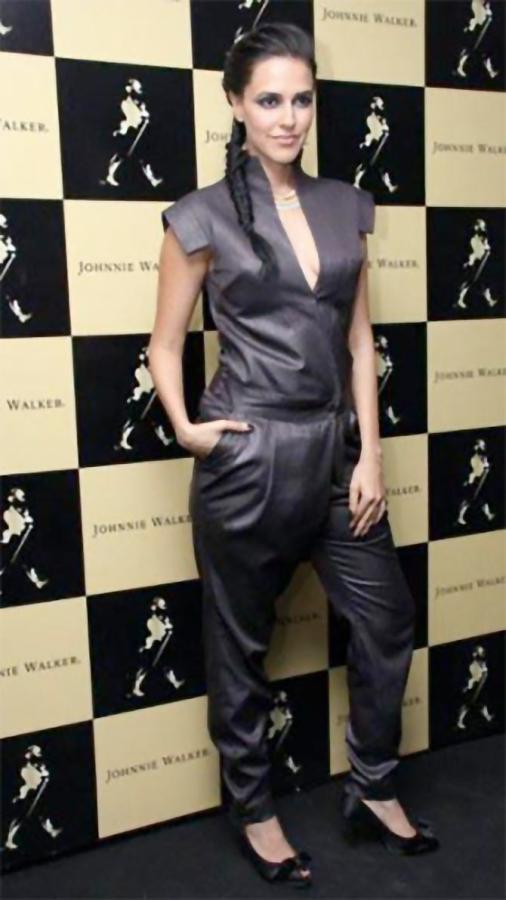 Neha Dhupia wears a lot of our clothes. She looks at us when she wants a tailored look because people know that we do tailored clothing.

When Neha has to go for an event, her stylist comes to the store and tell us what kind of garments they are looking for. Or she would look at the range that we had and choose a few designs from it.
I also design clothes for special occasions. We have designed clothes for the personal wardrobe of actors like Akshay Kumar, Aamir Khan and Mr (Amitabh) Bachchan.
Sometimes, you do it for publicity. They wear your clothes and you take pictures and let other people see that these celebs are wearing your brand.

But I prefer to design for their personal wardrobes rather than just designing for films.
Aamir Khan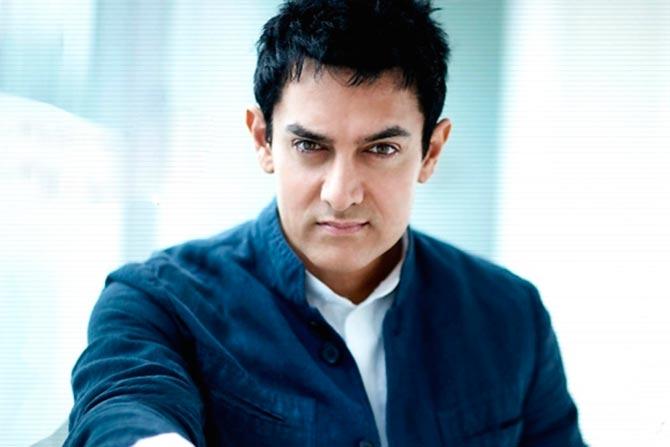 When I designed for Aamir Khan some time ago, he said, "You are smart, you are good and well-tailored. You understand tailoring and you have a great sense of cut."

I know he doesn't wear it much, but there is a picture of him where he is wearing a blue linen shirt and a bandgala that I had made for him.
Likewise, when Akshay would come to me, he would say, "I want something smart and tailored because you are the premiere men's tailor in the country."
They expect tailored clothes that hug their body, have a great fit and look smart when they wear it.
Akshay would look for formal wear. Whenever we do formals, it is always a suit or jacket or something like that.


Amitabh Bachchan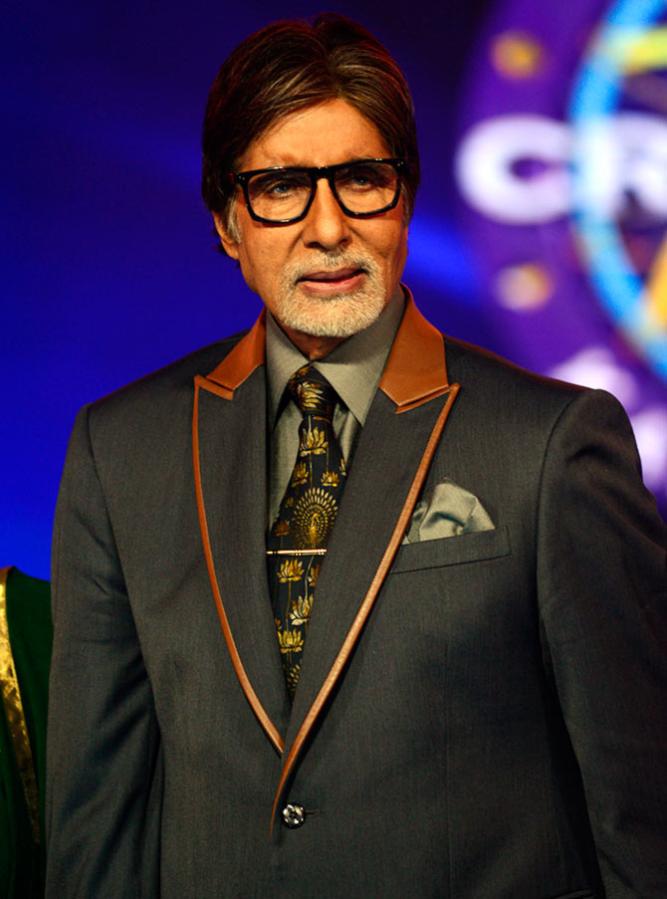 We designed a lot of clothes for Mr Bachchan during Kaun Banega Crorepati. Everything he wore in the last season was designed by us.

Mr Bachchan has an unique body type, so one needs to really understand the nuances of tailoring to make something look right on him.
He is quite exacting and I found that wonderful and challenging.

We designed 70-80 suits for him for that season. In order to make the suits look different, we worked on a lot of things including the detailing, the colour and the fabric.

We talk to his stylist because we have to explain the logic behind each look. At this stage, I personally interact with Mr Bachchan. He will try the clothes and we would do the fittings. He is open to suggestions and is very versatile.

If he doesn't like something, he won't wear it. Everything he wears has to please him a hundred percent; he won't settle for anything less.