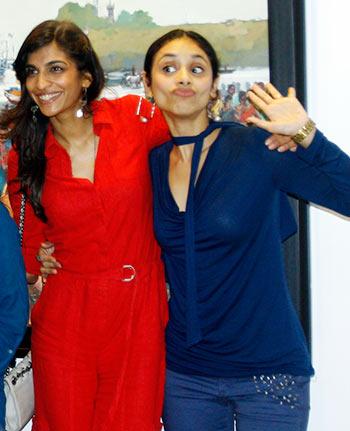 Say hello to the Angry Indian Goddesses!
Sandhya Mridul, Anushka Manchanda, Pavleen Gujral, Rajshri Deshpande and Tannishtha Chatterjee were in high spirits when they visited Rediff office to promote their film Angry Indian Goddesses, releasing this week.
Directed by Pan Nalin, the film also stars Sarah-Jane Dias and Amrit Maghera.
A look at the pictures from the fun visit!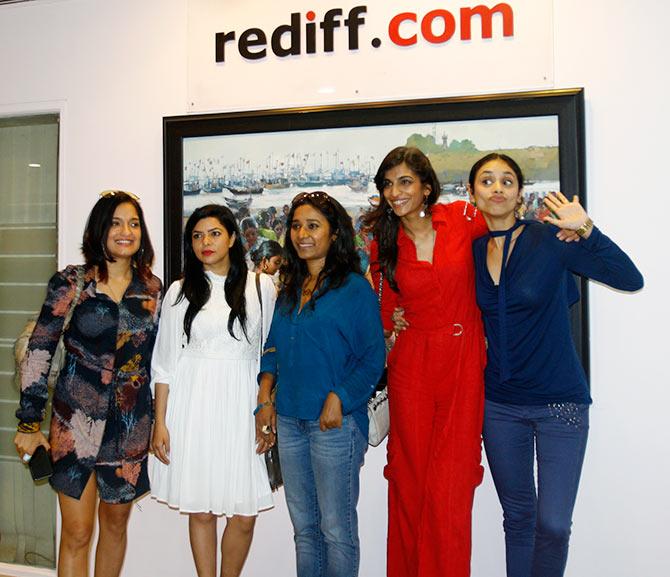 The Angry Indian Goddesses look rather happy at the Rediff office.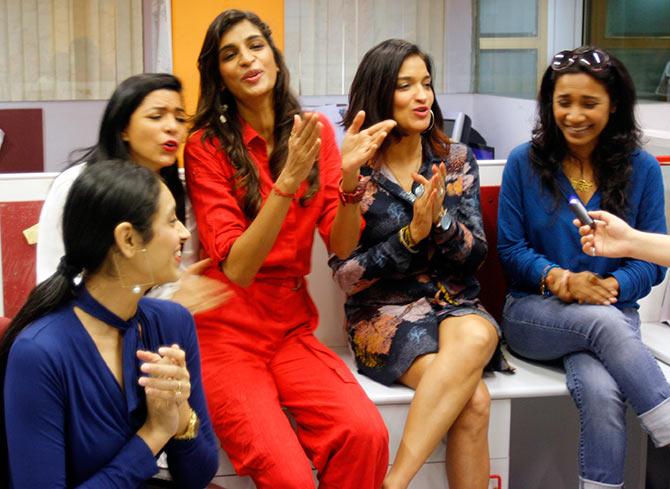 It was Tannishtha's birthday, and her co-stars -- Pavleen Gujral, Rajshri Deshpande, Anushka Manchanda and Sandhya Mridul -- made sure to sing for her.
Anushka asked the office to join in as well, and of course, we obliged!
The Angry Indian Goddesses spoke to Rediff.com's Namrata Thakker about their film, and the fun they had while shooting in Goa.
They made quite a few candid confessions as well. For instance, Sandhya Mridul revealed that in Goa their staple food was nothing but peanut butter Nutella sandwich.
Pavleen would eat diet food the entire day and then binge on bhujiyas and laddus at night!
No wonder, they all called themselves Hungry Indian Goddesses. Watch the video above video and witness all the craziness yourself.
PS: After the interview, the Angry Indian Goddesses treated themselves to yummy pizzas!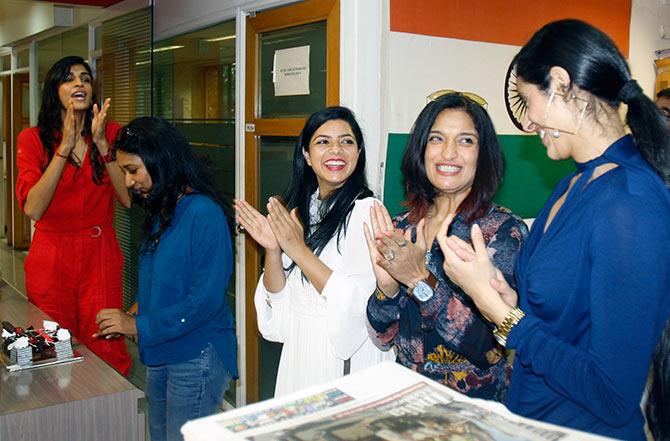 A birthday is no birthday without cake, right?
Birthday girl Tannishtha cuts the cake as her co-stars cheer for her.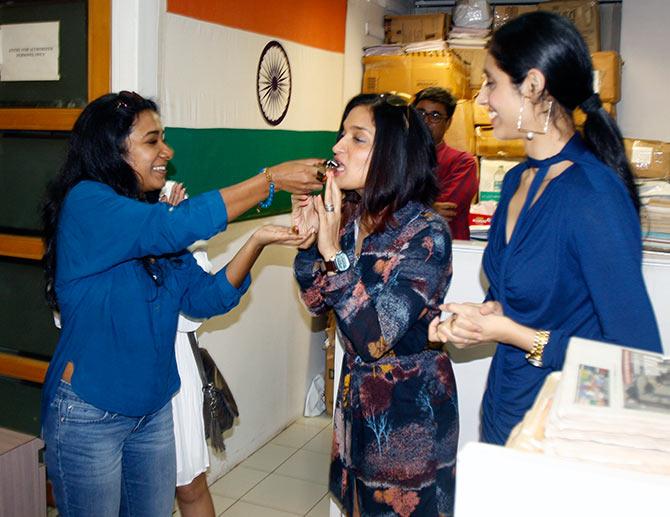 And the birthday rituals follow...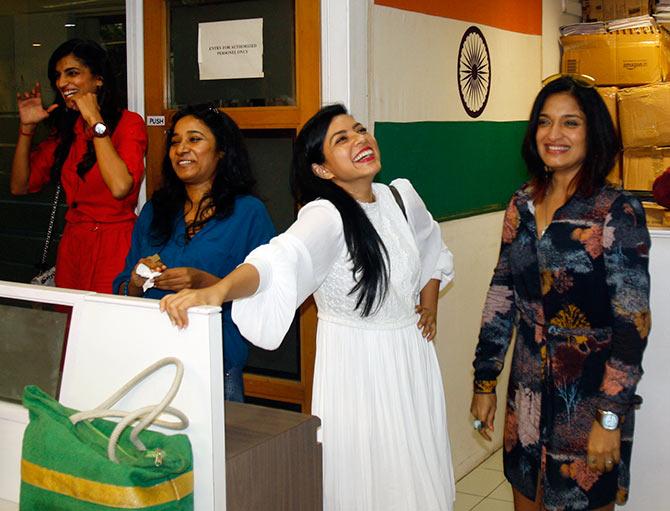 Anushka Manchanda and her co-actors are all smiles after the cake eating session.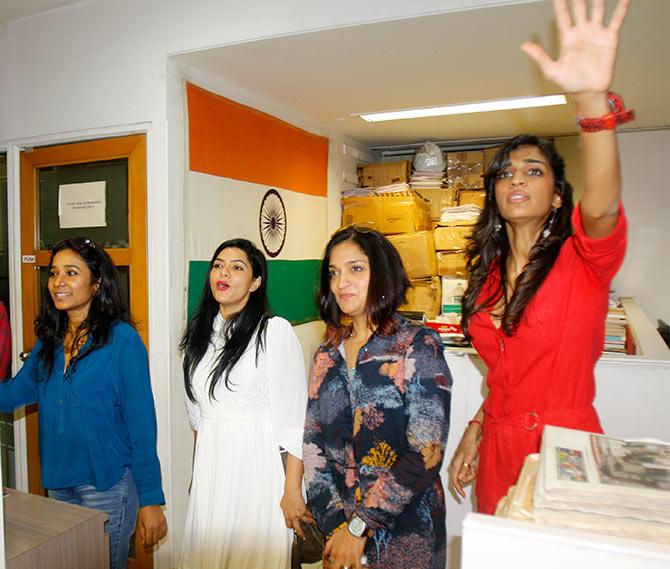 Team Angry Indian Goddesses.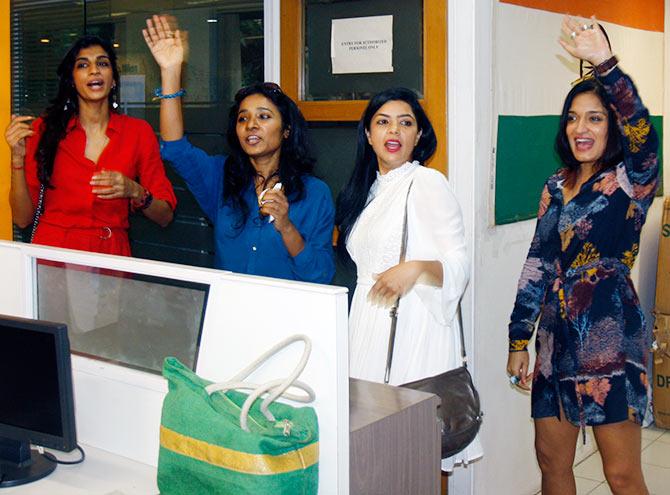 Time to say goodbye!
Tannishtha and Sandhya wave at the Rediff staff before making an exit.
But before you guys make an exit from here, don't forget to check out the video below. The ladies tell us what makes them angry and proud Indians.
Videos: Afsar Dayatar.
Photographs: Reuben NV