Film director Rohit Shetty returns as the host of the latest season of Colors' show Khatron Ke Khiladi: Darr Ka Blockbuster Returns. He's quite impressed with the never-say-die attitude of the current batch of contestants.
"There were many stunts that the contestants could not complete in the last season but there isn't a single stunt which is incomplete in the current one," he says.
Quite a feat since the stunts were tougher this time.
"When I heard the names of the contestants, I was worried whether they would be able to perform. But they surprised me," he says.
He claims the show will change the images of Rashami Desai and Asha Negi from bahus to strong women.
"They have immense will power. Asha hurt her nose and was bleeding but she didn't stop doing the stunt. I had to stop her," he explains.
He says there is humour and good chemistry among the contestants during the shoot in Cape Town, South Africa.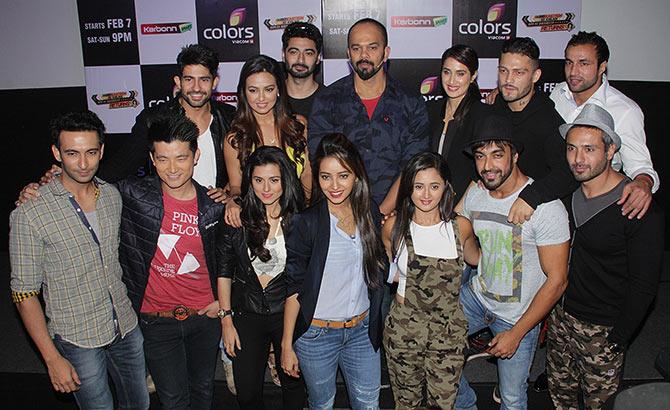 The 14 celebrity contestants are Aashish Chaudhary, Hussain Kuwajwerwala, Harshad Arora, Iqbal Khan, Saagarika Ghatge, Sana Khan, Rashami Desai, Asha Negi, Riddhi Dogra, Meiyang Chang, Siddharth Bharadwaj, Nathalia Kaur, Archana Vijaya, and Nandish.
All of them were scared and anxious in the beginning.
Rohit Shetty was scared every time Sana Khan did a stunt. "My worry was that if she doesn't do the stunt at all, what would we show on TV?"
The promo shows a car flipping over, a common stunt in Rohit's films.
"People think that flipping cars in my films is easy. I wanted to show the audience that my stuntman is putting his life in danger for that one shot. It's difficult to portray the stunt in a show.
"It has been performed twice, first by Aashish Chaudhary and Meiyang Chang and second time by Sagarika Ghatge and Iqbal Khan," he adds.
On the movie, Rohit is producing a movie with Shah Rukh Khan. He is also planning a Marathi film, which is still in the scripting stage.
Khatron Ke Khiladi will be telecast every Saturday and Sunday on Colors.