'I am not competing against anyone. If I break my own records, that's enough for me,' Kannada actor Gangesh tells Srikanth Srinivasa/ Rediff.com
The year 2014 has been successful for Kannada actor Ganesh.
His first film Shravani Subramanya did good business at the box office and he followed it with the average entertainer Dil Rangeela.
He then made a comeback to television with the hugely popular game show Super Minute.
Ganesh starts the New Year with the release of Khushi Khushiyaagi, with Amulya.
In this interview with Srikanth Srinivasa/ Rediff.com, Ganesh talks about the year gone by, and much more.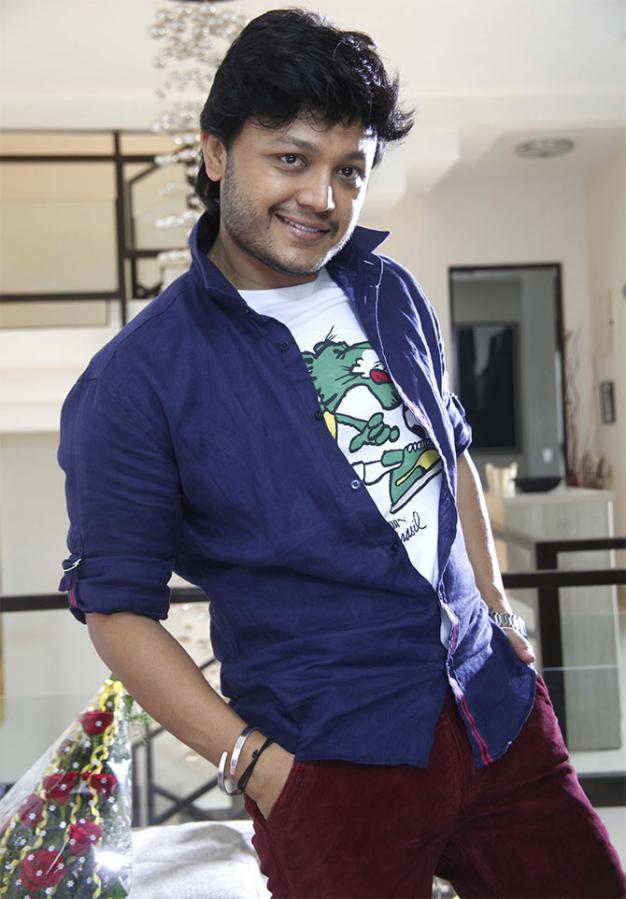 Image: Ganesh in Khushi Khushiyaagi
Was 2014 a satisfying year?
It was a wonderful year. It's not as if I was unhappy before; I am always happy with my films.
If Shravani Subramanya was a hit, Dil Rangeela also did well and the television game show has been a huge hit.
I have been busy since 2005 and my first nine films were big hits.
Audiences have liked your performances after a long time…
People always liked me. If some films do not fare well at the box office, it doesn't mean people don't like me.
Basically, this has to do with cinema. If we don't deliver the goods, people will not watch.
Do you think expectations were high and so you couldn't match your own record?
Yes. I am not competing against anyone. If I break my own records, that's enough for me. If I break the record of my film, Mungaru Male record, it's enough.
Expectations are high. Is there any movie that has come close to breaking Mungaru Male's record? Even if I want to break the record, it will not happen. But we didn't do the film to create records.
What changes have been made to Khushi Khushiyaagi, which is a remake of the Telugu film?
We made a few changes. We cannot alter the storyline because it is a remake and there is a structure to it. Dialogues have been tweaked to suit nativity.
What is the kind of competition you had with Amulya in this film?
There was no competition. I just did my job.
It's not like somebody is carrying the movie on their shoulders. It is team work and everyone will enjoy the fruits of good labour if the film is a hit.
It is an entertaining film. I played someone who respects love. I liked the story and the confusion in the love triangle, which is light-hearted.
People want to see us paired together and they will like the film. Amulya has graduated and performed maturely in this film.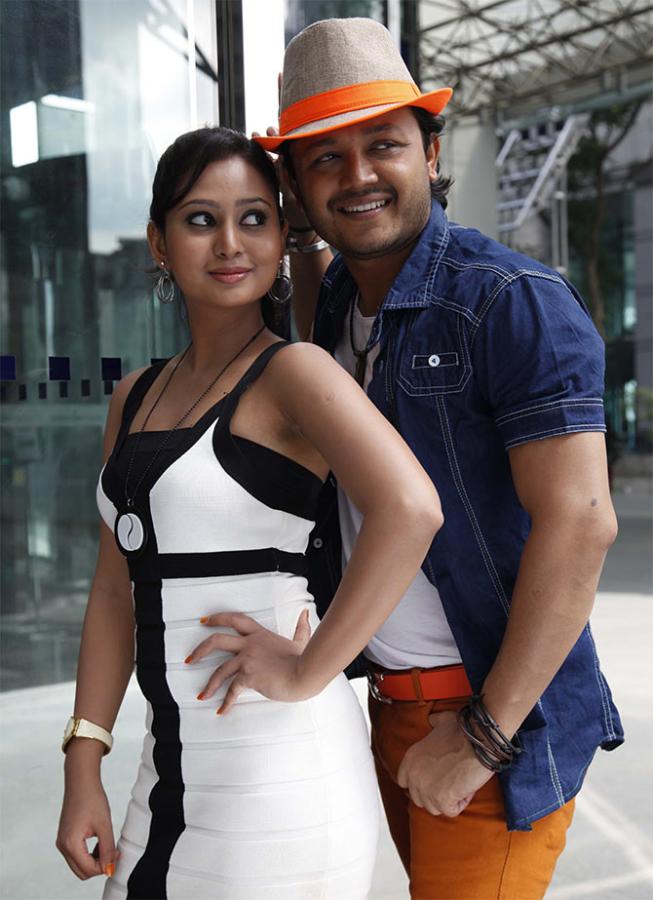 Image: Amulya and Ganesh in Khushi Khushiyaagi
To what do you attribute the success of your television game show and Shravani Subramanya?
Success gives you happiness. It gives you a boost. If a film flops, it challenges you.
My aim is to entertain the audience.
In Shravani Subramanya, I played a responsible guy and the drama was convincing.
I returned to television after eight years. It was challenging to adapt to that format. The element of fun, teamwork and the games contributed to the success of the show.
Game shows are watched by everyone because they are entertaining. I enjoyed the show. Television has not left me, it has given me my bread and butter besides the family audience.
Producers want to stop stars from making television appearances and running shows.
It is a very old debate. As an actor, it is my duty to do everything. I am an actor and I have come from the small screen. It is a prior commitment.
We should discuss these things and prior notice should be given before a show goes on air.
As an actor I have every right to do my own thing. If a producer has problems, it is a problem of the industry.
It was also alleged that you were against your younger brother becoming an actor. Is that true?
No. But yes, I did express my reservations about his foray into acting because he was doing well in his business. He said he wanted to do a film, so I told him to go ahead with his plans.
If I was against his entry into cinema, would I have come to release the audio of his film? I am encouraging him to do well in whatever he does.
What kind of films are you doing?
I am doing Buguri, which will be my 25th film. I am doing a double role in Style King.
I am also doing Zoom, Kanwarlal (a remake of Dabangg) and Mungaru Male 2 in 2015.