And yet, Aditya Pancholi can't stop talking about her, says Jahnavi Patel/Rediff.com.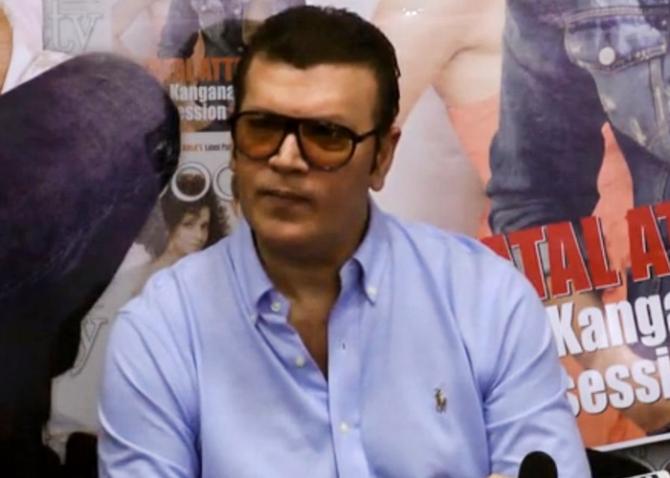 "Namaste. Hame maaf kardo (Please forgive me)."
These would be Aditya Pancholi's words to Kangana Ranaut if she had to enter the room right then, as he unveils the cover of Society magazine.
Yes, it is quite ironic that it is Pancholi who unveils the latest issue of the magazine, which features Hrithik Roshan and Kangana on its cover. The actor claims he has spoken at length about his involvement with the actress in this issue.
He addresses the media as well and says it is important for people to know the 'real facts'.
"How can one person ruin so many families at one time just to promote her film and herself? It's high time we take a stand," Pancholi says.
"She has said a lot of things about my family and my children, which isn't true. Now, the onus is on her. She has to prove whatever she has said."
See: Aditya Pancholi takes on Kangana. Video: Afsar Dayatar
Pancholi and his actress-wife, Zarina Wahab, have filed a defamation case against Kangana and her sister Rangoli, after she said on television that she was in an abusive relationship with him when she was new to the industry.
Pancholi feels Kangana has made the entire industry a soft target.
"Hrithik ko, mere ko, awards ko, Women's Commission ko, directors, producers ko, Karan Johar ko, nepotism ko... kisko choda hai (Has she spared anyone -- be it Hrithik or me, the awards, the Women's Commission, directors, producers, Karan Johar or nepotism)?" he asks.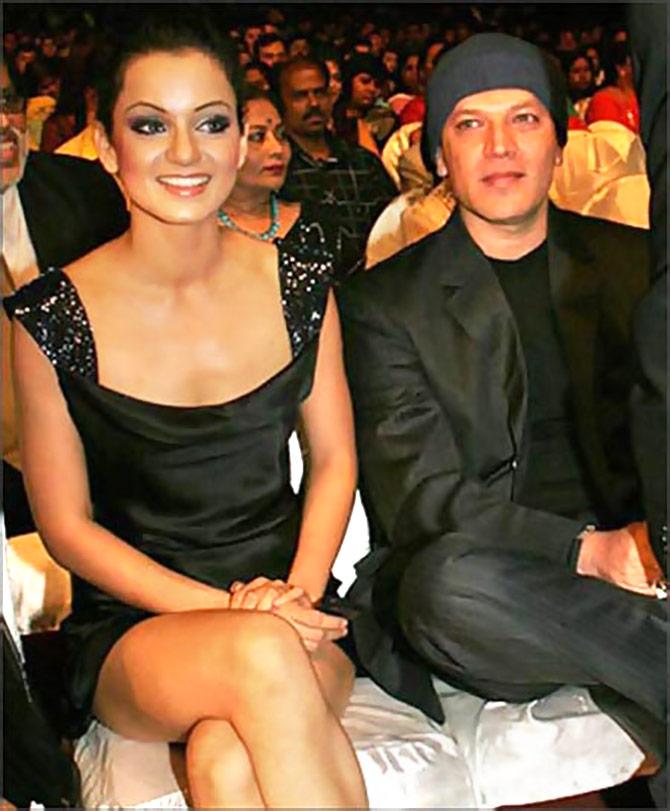 "She has no right to talk about nepotism," he says. "If she has given any audition before Gangster, she should tell the public."
"According to a survey, around 8,000 girls and boys enter the industry everyday to become actors. Of them, only one becomes a star. Itna accha hone ke bawajood usne apne paer pe kulhadi maari. Mujhe iss baat ka bahot afsoos hai (I feel sorry that, even though she is such a good actor, she has ruined it for herself)."
Why has this controversy surfaced after so many years?
"This never died down," he says. "People can't keep talking about Kangana Ranaut. They have better things to do. Whenever it comes up, it does, and the whole story comes out. There's nothing more to this."
Incidentally, Pancholi claims he hardly knows Hrithik.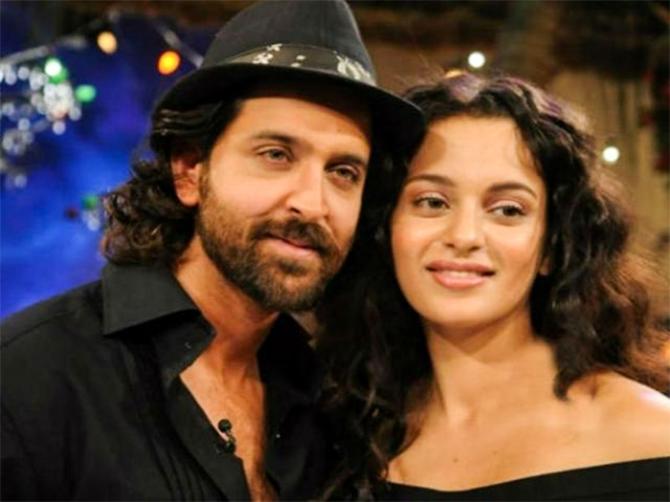 Is Pancholi's involvement in the controversy affecting his son Sooraj's career?
"Sooraj has nothing to do with this," Pancholi says. "Why would this affect his career? But he went off Twitter because of this. You can't drag family and children into this. It's not fair."
Has Kangana put her own career at stake because of the controversy?
"Nobody can take anything away from her. Friday is a very important day in an actor and a filmmaker's life. If Manikarnika is a blockbuster, she will come back. I wish her all the best," he concludes.
Photographs: Afsar Dayatar, Pradeep Bandekar