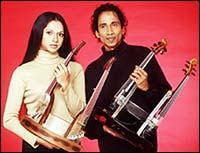 If anyone tells you that Mel Gibson has copied the music from Martin Scorsese's The Last Temptation of Christ, direct the person to Lakshminarayan Shankar and Gingger. Also, listen to what John Denby, who composed the music for Gibson's The Passion of the Christ, has to say.
For, the slight resemblance in the soundtracks of Gibson's sensationally successful and hotly debated The Passion and Martin Scorsese's controversial flop The Last Temptation, released over 15 years ago, is not accidental. And it certainly did not involve copying.
John Denby reveals that violin maestro Shankar was specifically asked to come on board for The Passion because of his work on Scorsese's film. Peter Gabriel, who had composed the music for The Last Temptation, had not only roped in Nusrat Fateh Ali Khan but also Shankar. (If Khan had been alive, he might have joined Gibson's team.)
But there was a key difference this time around.
Shankar was not working alone on The Passion. For he is accompanied by Gingger who also plays his invention, the double violin.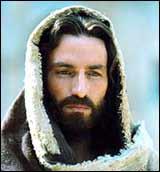 "I can also say I have become more mature in the past decade and half and that reflects in my music," Shankar said in a telephone interview from Los Angeles, with Gingger joining him.
"Having Gingger's help made us improve the score considerably. Besides, she is the most powerful singer I have ever worked with."
Together, the two have written about half of the 16 tracks of The Passion, which is currently among the hot-selling music albums in North America. For several weeks, it has claimed a spot between 20 and 25 hot sellers across North America. And for two weeks, before the soundtrack of Dawn of the Dead displaced it this week, it was the highest selling movie album too.
Denby who told Reuters this week that having decided that his main concern "was to write the most stirring and interesting score that I could", he looked out -- with strong encouragement from Gibson -- for Shankar and Gingger.
He also enthusiastically welcomed their chants and humming, calling them "incredibly talented".
Shankar and Gingger said they were reluctant to take up the movie initially because when Gibson's office contacted them they were in the middle of a tour. "But Gibson requested we see the complete film at least once before we could decide for or against working on it," Shankar said.
Gingger said that both of them found The Passion, despite its violent and graphic scenes of torture, "so moving" that they could not say no. "There was hardly any controversy when we were working on the film," she said. "Nobody had an idea that it would be this big. We looked at it as an important film about love and forgiveness."
Shankar and Gingger, who have worked on the soundtrack of many a film, including the new Denzel Washington movie Man on Fire, did not care if The Passion was going to be big. "There was something grand, sublime, and humbling about the film," said Shankar. "We thought we were privileged to work on a film about a person who has not only had millions of followers for over 20 centuries but someone who in our own times deeply influenced Mahatma Gandhi and Martin Luther King, Jr."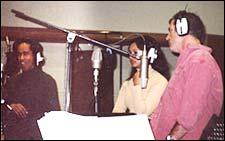 The movie, made for just about $35 million and shunned by much of Hollywood because its executives feared it would be anti-Jewish, has grossed an astounding $303 million in about a month in North America. In its limited release abroad, it has grossed $80 million in two weeks.
Gibson and Denby wanted a "world" scoring approach, Gingger said, mixing Middle Eastern and Indian music. "The most important thing was to find the right kind of flavour," Gingger said, recalling how Gibson had told them that their music should bring out the agony and pain Christ suffered. "But it was not going to be a score filled with despair," she added. "He wanted it to somehow convey hope, too."
Gibson, she said, attended practically every day of the recording. After seeing the film on a Saturday at the Burbank Studio in Hollywood a couple of months ago, Shankar and Gingger had composed a few bars and chants. By Monday, they had heard from Gibson telling them that they were needed for the film.
"We knew right then, this was going to be a very special opportunity for us," Shankar said. "We could not have said no to it."