Two years ago Gurinder Chadha was approached by a group of producers planning a unique film -- a collection of short love stories set in Paris, to be directed by today's top international filmmakers. Chadha jumped at the opportunity, especially given that she was the only British director approached for the project.

"For me the idea of being in Paris is also about the future of Europe," Chadha, director of Bend It Like Beckham and Bride and Prejudice said recently, riding in a car with her husband Paul Mayeda Berges in London. "I don't see Paris in isolation as a city of love. I see what's going on Britain being a multicultural society. I see certain advances we have made that haven't been made in France."   

Paris Je T'Aime -- a collection of 18 delightful, and very different, short films, each approximately 5 minutes long -- is a homage to the city of love, through the eyes of iconic directors like Joel & Ethan Coen (Fargo, The Big Lebowski), Alfonso Cuaron (Children Of Men, Y tu mamá también), Alexander Payne (Sideways), Walter Salles (The Motorcycle Diaries) and Gus Van Sant (My Own Private Idaho), besides, as mentioned, Chadha. Each director, armed with the same budget and 2-3 days of shooting time, focused on one of Paris' twenty arrondissements (neighborhoods). 
Fargo or Barton Fink: Your favourite Coen Brothers movie?
And the shorts boast of an array of top international stars including Steve Buscemi, Nick Nolte, Willem Dafoe, Elijah Wood, Natalie Portman, Miranda Richardson, Gena Rowlands, Juliette Binoche, Gérard Depardieu and Catalina Sandino Moreno.

Paris Je T'Aime premiered at the Cannes Film Festival last year, and later played at the Toronto International Film Festival. The film opens in New York City on May 4, and later across other US cities. According to Chadha, there are also plans to bring the film to India.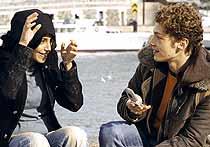 Chadha's film, Quais de Seine, is set in the fifth arrondissement. Chadha, who co-wrote the script with Berges, narrates the story about a young French man who takes fancy to a beautiful Arab girl in hijab. They talk briefly about the hijab, and then the girl leaves for a mosque. The boy follows her. When she comes out of the mosque, her grandfather accompanies her. The film could have ended on a sad note, but the grandfather asks the young man to walk with them. It is a sweet, romantic film, shot in beautiful daylight, with an upbeat ending.

"Unfortunately that's not what we do," Chadha said with a laugh, when asked whether she considered ending the film on a sad note. "We always end on a hopeful note," she smiled, preparing to give birth to twins -- a boy and a girl -- later this summer. "We are always looking for the optimistic."

"I think the majority of ethnic people in Europe are like that," she added, referring to the grandfather character in her film. "It's a question of tolerance. But he's not saying you two are going to be together. He is saying, 'We are going this way, walk with us.' That was very important, saying 'Come and find more about us. We are not separate from you. Come and walk along our path and see what we are about.'" 

In making the film, Chadha noted her concerns about the debate to ban hijab from French schools. And coincidentally, while Chadha was shooting the film in November 2005 there were riots breaking in parts of the city. "It was pretty pertinent, we felt," she said. Chadha and Berges wrote their script in English, but the film is actually in French. "I wanted to do it in French and I think it was an interesting exercise to direct in a different language," Chadha said adding that her French is "very bad.  Just schoolgirl French, that's all."

"I was lucky because the script was translated into French," she added. "When the actors were saying their lines, I knew from their gestures and their expressions, but there had to be a certain amount of trust. It wasn't easy. I was directing them in English and schoolgirl French." 

"But the character who played Francois (young French actor Cyril Descours), he spoke pretty good English, very formal English," she said. "So that was kind of funny. He did a good job of translating for me because Leila (Bekhti, who plays Zarka, the young woman wearing a hijab) she didn't speak any English at all. So she was trying to say all these nice things to me. She was gushy and was quite touched with the story and really happy, but she had to get him to translate it for me."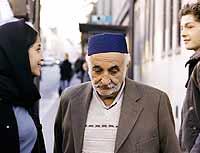 Last year in May, Chadha arrived at Cannes for the Paris J T'Aime world premiere. And for the first time she got to meet all the other directors who had worked on the project, as well as see the film in its complete form.  

"As directors, you very rarely get to be with other directors," she said. "That was just glorious. It was the first time we were seeing the movie in the finished state. By that point, a lot of journalists had seen the film and everyone had their favourites.  The one by Alexander Payne, people had liked a lot. And mine was mentioned a lot."

Some reviews mentioned that most of the segments looked at Paris of the past or of the present. "Mine was looking more to the future," she added. "How the future of Paris is going to look and how these conflicts will be resolved."
Photographs: Frederique Barraja, Victoires International 2006