Stars go for the loveliest holidays.
Aashka Goradia and her husband Brent Goble went to the Andaman islands.
Priyanka Chopra had a fun holiday in Prague.
Sanya Malhotra took us to Europe.
Aamir Khan had a Roman Holiday with family.
Ranveer Singh had an amazing Swiss holiday.
Hina Khan had a lovely holiday in Dubai.
Mandira Bedi went to Thailand with family and friends.
Kavita Kaushik went to Rajasthan.
Pooja Batra had an awesome Norwegian holiday.
Television couple Aamir Ali and Sanjeeda Sheikh discovered Hong Kong.
Parineeti Chopra took off for a holiday in Egypt.
Pari loves to travel and we know that for sure by now.
She has visited Australia before.
This time again, let's explore a different part of Australia with Pari: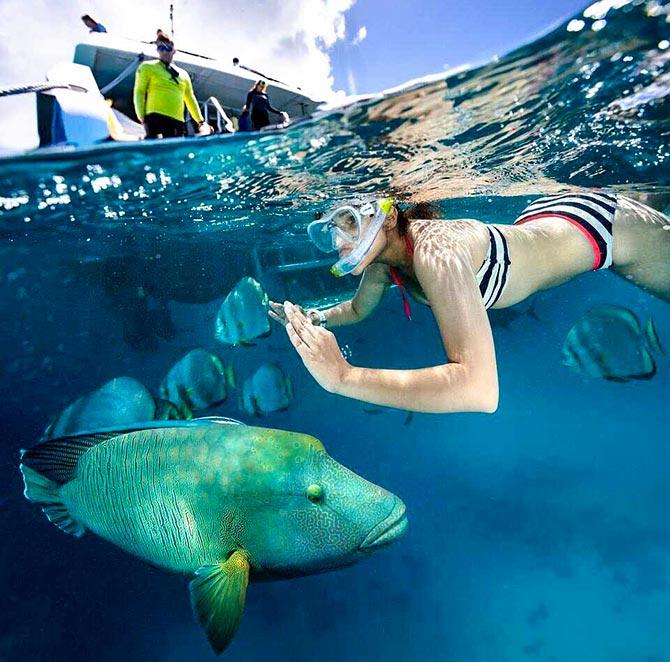 Parineeti tries snorkeling at the Great Barrier Reef at Hamilton Island, Queensland.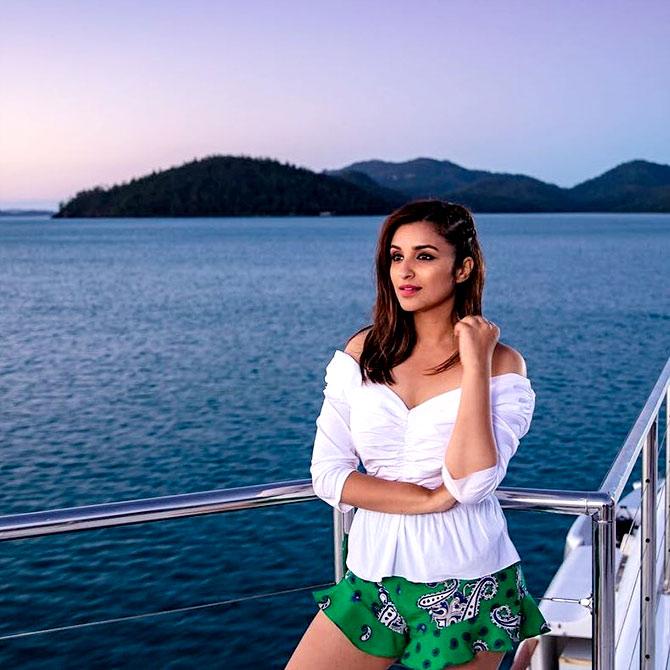 Pari takes a scenic cruise from Hamilton Island to take in the stunning sunset.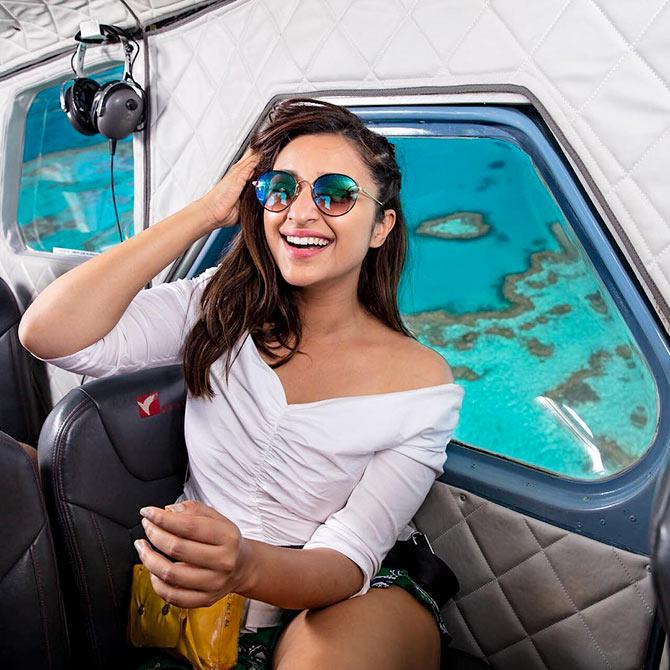 She spies the Heart Reef, as she flies over the Whitsunday islands. The Heart Reef, she informs us, is a natural heart-shaped coral reef.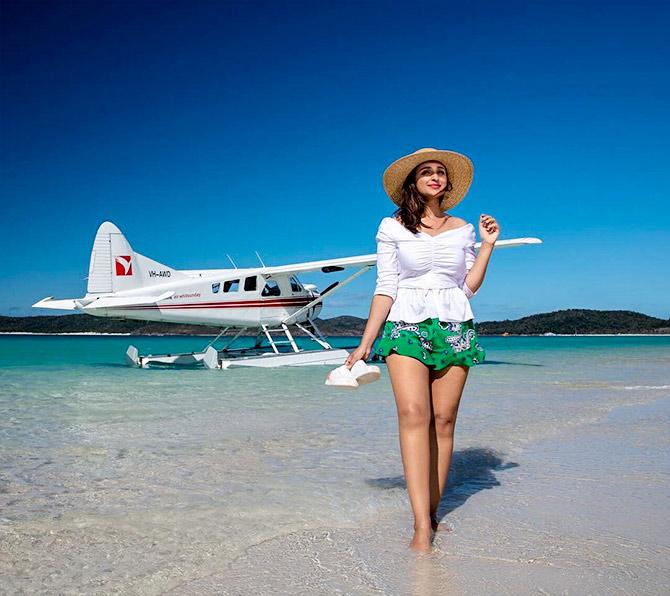 Pari steps out of a sea plane, and makes quite the entry on a 'paradise' called Whitehaven beach.
'If I'm not wrong, this is where Pirates of the Carribean was shot!!' Parineeti says.
You're right, Pari, the fifth installment -- Dead Men Tell No Tales -- was shot on this lovely beach.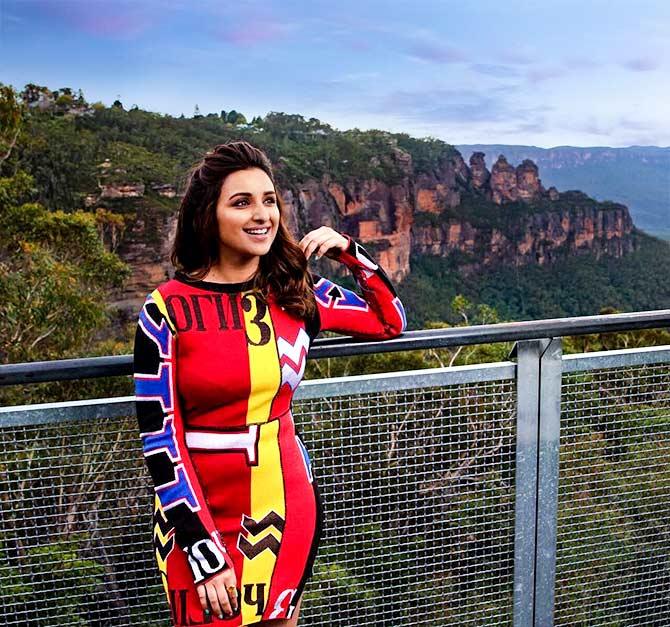 Parineeti makes a quick trip to the Blue Mountains in New South Wales to visit the Three Sisters.
These sandstone formations are a two-hour drive from Sydney, she informs us.
Parineeti explores the Sydney Harbour Bridge.
'I'm so glad I decided to climb it! Definitely the climb of my life!!!' she exclaims.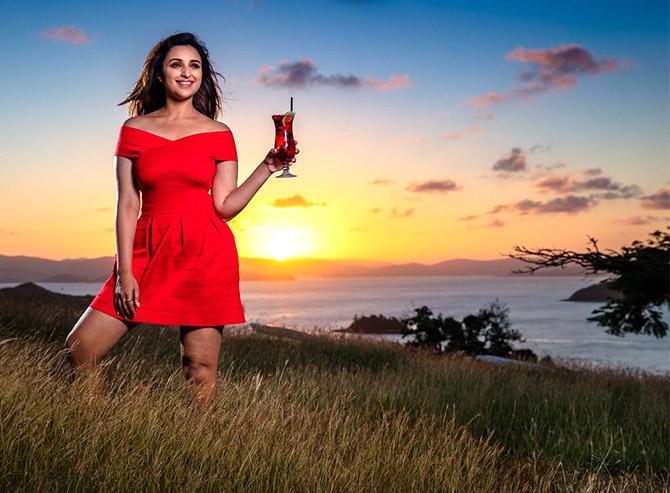 Cocktail hour on the world famous One Tree Hill, Hamilton Island's renowned hilltop lookout.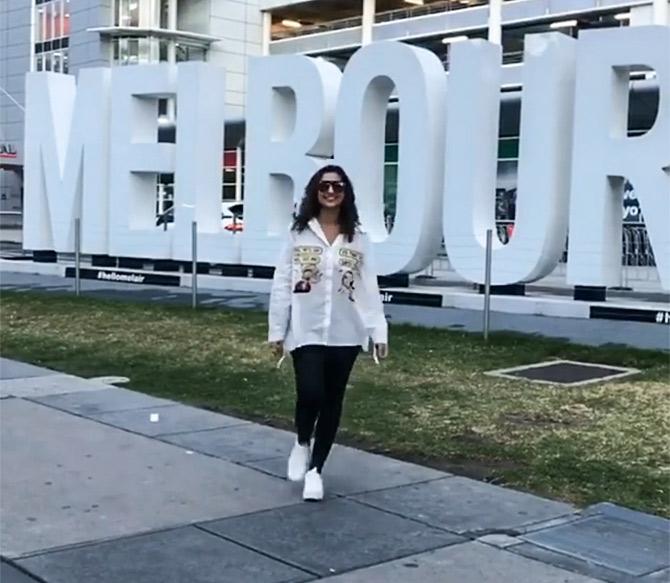 Pari and her Popeye shirt are at Australia. '3rd year of my association - here to see some new places and destinations again as always!! #SeeAustralia,' she writes.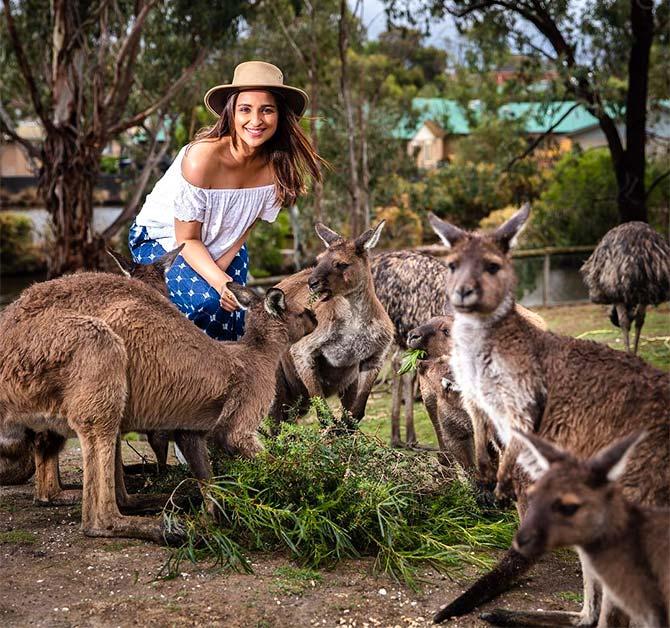 Meet Parineeti's new friends at the Ballarat Wildlife Park, Melbourne.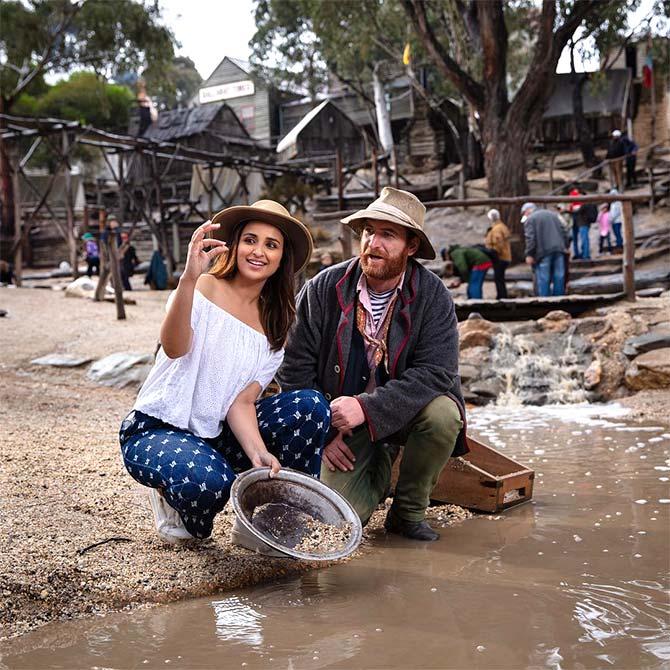 'OK guys - I actually mined GOLD today @sovereignhill!!! Thats the piece I found!! Couldnt believe it!!' writes Pari, sharing this picture.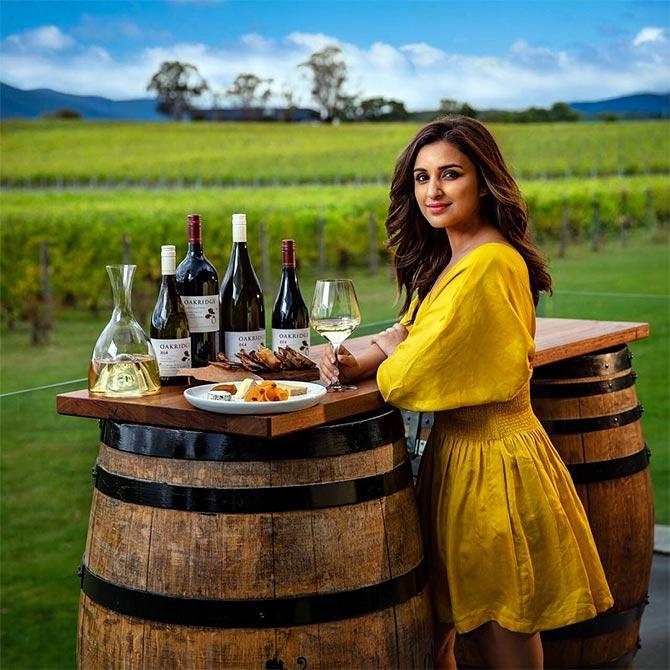 Wine with a view.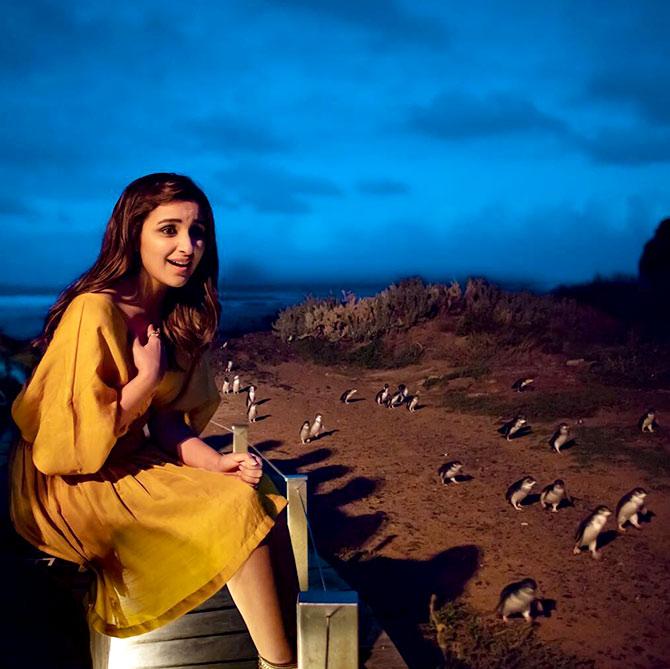 Pari had tears in her eyes seeing Penguins walk back home! 'They come out of the ocean every single evening and walk home. OMG.'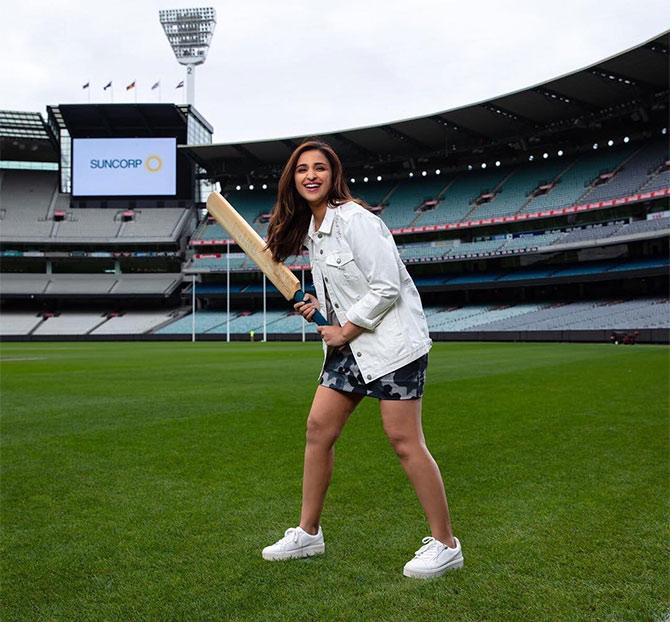 'Cricket fans can you guess where I am? Hint: It's the hub of Australian cricket!
Can you guess it?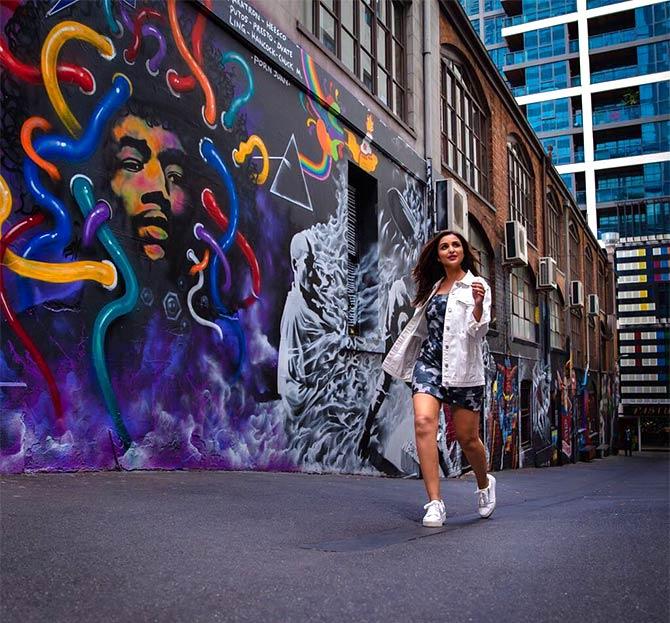 Walking like a boss. 'Is this street art cool or cool!! Now I know why @visitmelbourne is the most liveable city in the world.'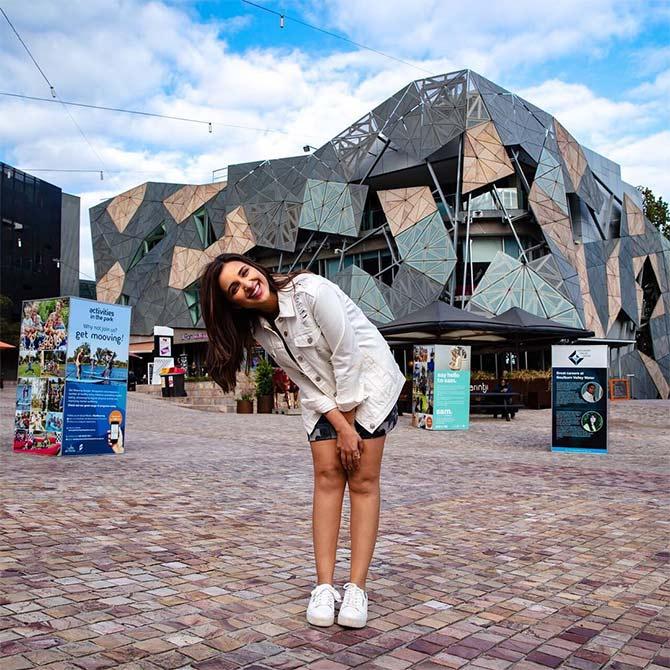 Parineeti's favourite spot in Melbourne. 'In love with Federation Square's art and cultural vibe and the bars and restaurants here.'
Parineeti lost in the shades of blue.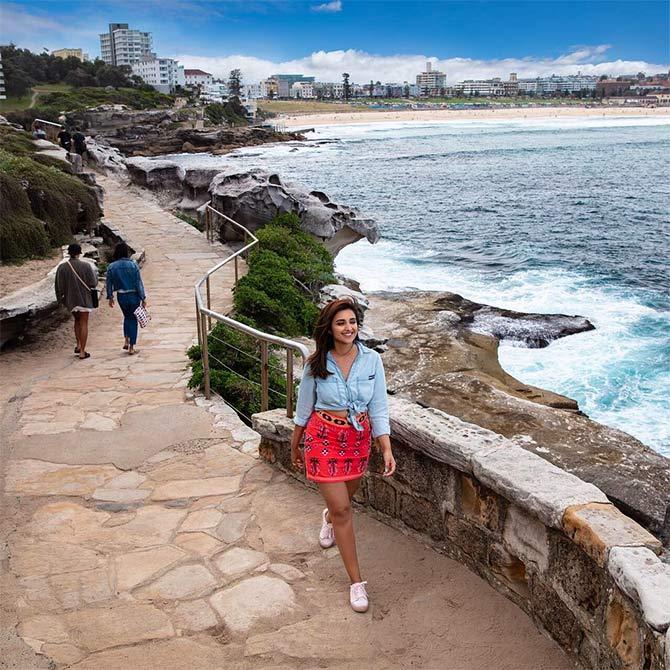 'Walk walk walkkkk!!! But you cant get tired when the view is Bondi Beach!!'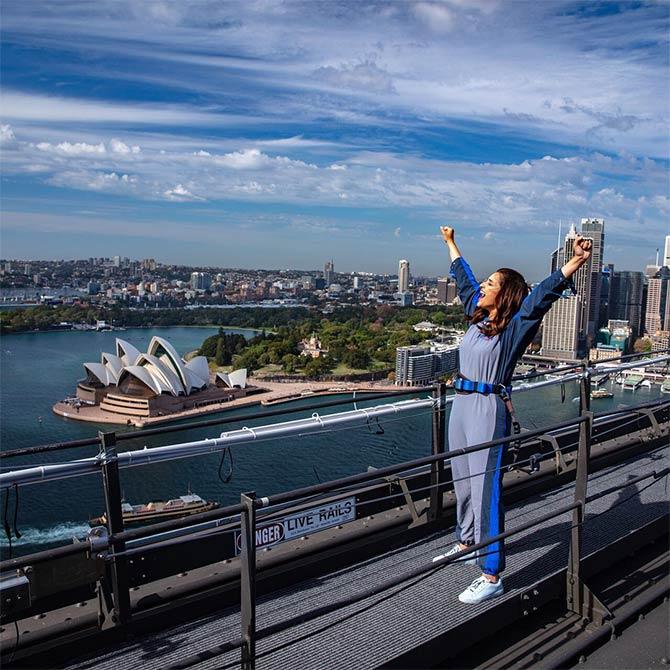 'Im at the top of the Sydney Harbour Bridge!!! I'm so glad I decided to climb it! Definitely the climb of my life!!!'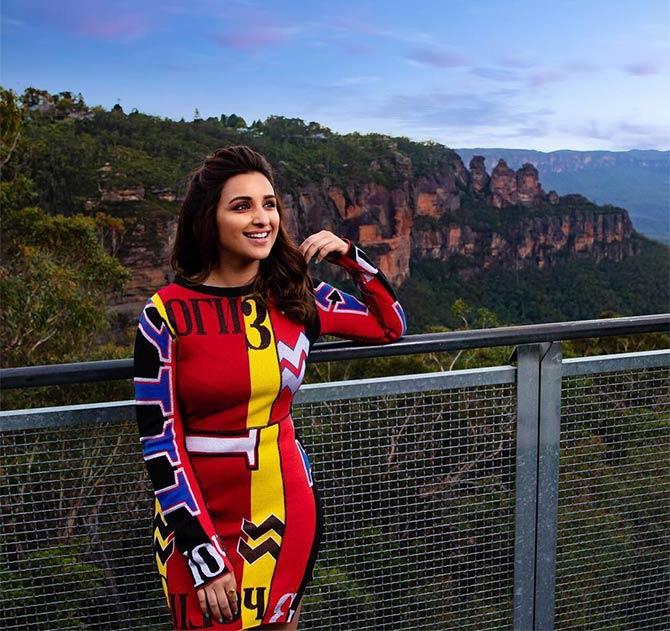 'A quick trip to the Blue Mountains in #NewSouthWales to visit the Three Sisters, arguably the most popular sisters in Australia! These cool sandstone formations are only a 2-hour drive from Sydney!'
Photographs: Kind courtesy Parineeti Chopra/Instagram