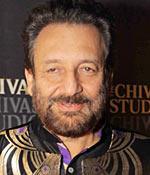 Shekhar Kapur is all set to revive his ambitious project Paani in March. The film will highlight the world's fast changing climate, and its adverse effects.

Kapur, who was in New Delhi recently to launch the Fashion Broadway presented by Chivas Studio alongwith Manish Arora, refused to divulge details of the star cast.

"I am worried about the dipleting resources of drinking water worldwide and hence thought of launching this ambitious project," Kapur said. "I have set a deadline to begin shooting either in Feburary or March."

Kapur claims that the film will not be a sci-fi thriller, as is widely thought. "I would call it a futuristic movie that narrates the tale of world without water," he says. "It deals with a serious subject and will paint the picture

of the future. So any location would be ideal, be it Mumbai, Bengaluru, Singapore or Thailand. A love story is also weaved into it."

The director, who gave us the brilliant Masoom many years ago, has no plans of working in a Bollywood film right now.

"I am working on a script on (English mountaineer) George Mallory, whose body was found a few hundred meters from the top of Mount Everest," he adds. "Did he climb Mount Everest before Sir Edmund Hillary? Mallory was attempting to climb Mount Everest way back in June 1924. His body gives rise to speculation. Nobody can say for sure whether he died on the way to the peak or if it happened on his way down."

Kapur added that he remembered his promise that an Indian actor would soon play the role of Spider-Man. "Yes, it will happen. I guess we will have a Spider-Man from India when I shoot Spider-Man 7," he grinned.