'Alia and I are in a strong place in our careers. We will not do a film just for the sake of it, no matter who is making it.'
Varun Dhawan returns with Badrinath Ki Dulhania.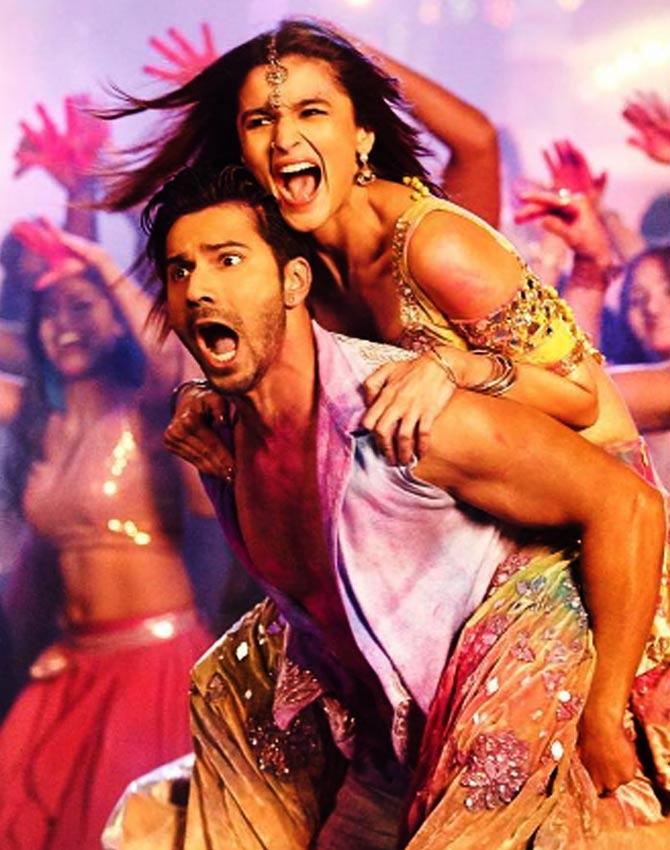 IMAGE: Varun with Alia in Badrinath Ki Dulhaniya
Varun Dhawan romances Alia Bhatt once again in Badrinath Ki Dulhania, releasing March 10.
Directed by Shashank Khaitan, the film has been directed by his mentor Karan Johar.
Varun tells Rediff.com contributor Rajul Hegde why he's excited about the film.
Humpty Sharma Ki Dulhania was a hit and the songs of Badrinath Ki Dulhania have been appreciated. Think this film will be a hit too?
Humpty Sharma was a hit because it had a lot of heart -- people connected with the purity of that love story.
If Badrinath Ki Dulhania does well, it will only be because of the emotional connect between the two characters (Badri and Vaidehi). And yes, we have got a good response for the songs.
The downside of most sequels is that they are always bigger but not better than the original. Was that a concern?
It took a year and a half to come up with Badrinath Ki Dulhania. We did not settle for just anything.
Alia and I are in a strong place in our careers. We will not do a film just for the sake of it, no matter who is making it. We share a very comfortable relationship with Karan Johar. If we don't like something, we can say no to him. He has kept that option open. But Karan will never offer us anything that is not good enough.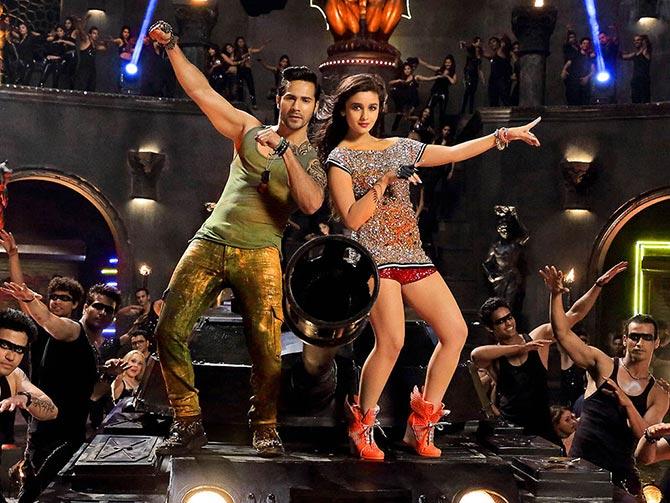 IMAGE: Varun with Alia Bhatt in Humpty Sharma Ki Dulhaniya
How different is your character from Humpty Sharma?
There is no similarity between Badri and me.
Our director comes from a small town. His way of seeing romance is very different from the way an urban person like me would see it. I had a lot of disagreements because I am born and brought up in Mumbai.
It was very difficult to get the accent of my character right. The director sat with me for two months and held my finger (through it). The full credit goes to him. I have really worked hard on my voice modulation. Shashank basically removed the Varun out of me in this film.
I have been dealing with comparisons with other actors since I started my career. This time, it's a good thing that I am my own barometer when it comes to comparisons with Humpty Sharma Ki Dulhania.
I am not worried because the script and characters of this film is different. Humpty is an angel when compared to Badri. (laughs)
Will there be a third film?
Honestly, it's not in my hands.
Most love stories done by Dharma Productions are very urban. I feel after K3G (Kabhi Khushi Kabhie Gham), this is their next family love story.
Karan always jokes, saying 'Badri is Dharma's Rajshri film'. This film is very different from Humpty. Most of the problems here are the typical Indian problems, which we face on a regular basis.
Bollywood has been criticised for glorifying stalking. From the trailer, it seems Badrinath is in a similar space. What do you think?
Our film has nothing to do with stalking and aggressiveness.
Actually, in a larger context, there is a message we are trying to give out via the film.
I don't mind the criticism now, as it is something that deserves to be criticised. Our film has a take on stalking and there is an explanation in it. I would not like to give out the story now, but wait for the film. What people are criticising about now is what we do in the film as well.
You have worked with Alia before. What's your rapport like?
She likes to make sure that everything is perfect. We had to re-shoot a scene because she wasn't happy with her performance.
We had shot it long back but when she saw it, she felt she could do better. And I agreed with her.
She wants to make sure she puts her best foot forward. I'm happy that she is doing a film that I am in. If she is good, my film is good (grins).
We share a great relationship and a comfort level off-screen. It translates on screen. I would like to give credit to both of us, that we take our jobs seriously as actors. We didn't take things for granted. We have worked hard and always rehearse with each other.
You have become a bankable star. How do you look at your journey?
My journey in films has been very good. There have been ups and downs.
The media has been really sweet to me for the goof-ups I have had in public (smiles).
I had to work hard to make people believe that I am good in what I do. I am glad they have given a chance because many don't get it.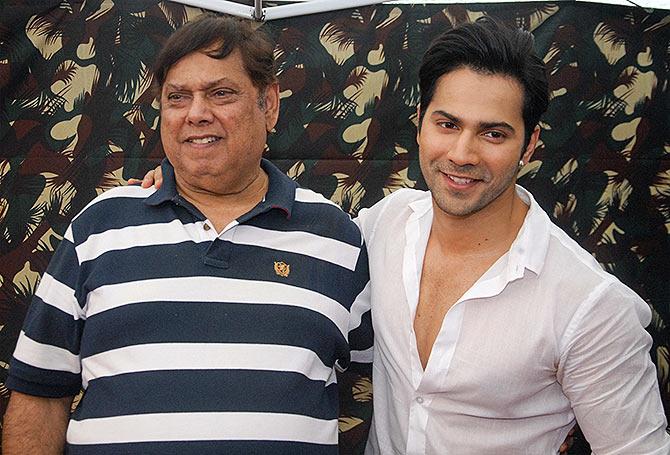 IMAGE: Varun Dhawan with his father at the launch of Judwaa 2. Photograph: Pradeep Bandekar
You are doing Judwaa 2. What are your memories of the original film?
I remember watching Judwaa in the theatres. I met Salman Khan for the first time then.
The only advice Salman has given me for Judwaa 2 is to listen to my dad and don't be over-smart!
You're working with Shoojit Sircar as well.
He narrated something that I really liked.
I wanted to work with Shoojit Sircar ever since I watched Vicky Donor.
I will start shooting for the film after (I finish) Judwaa 2. It is a love story. It is not like Badlapur, it's something else.