The 89th Annual Academy Awards will go down in history for this.
Oscar wrongs are always worth arguing about.
Here, according to Raja Sen, are this year's biggest flubs.
Mistake #1: Halle Berry's enormous hair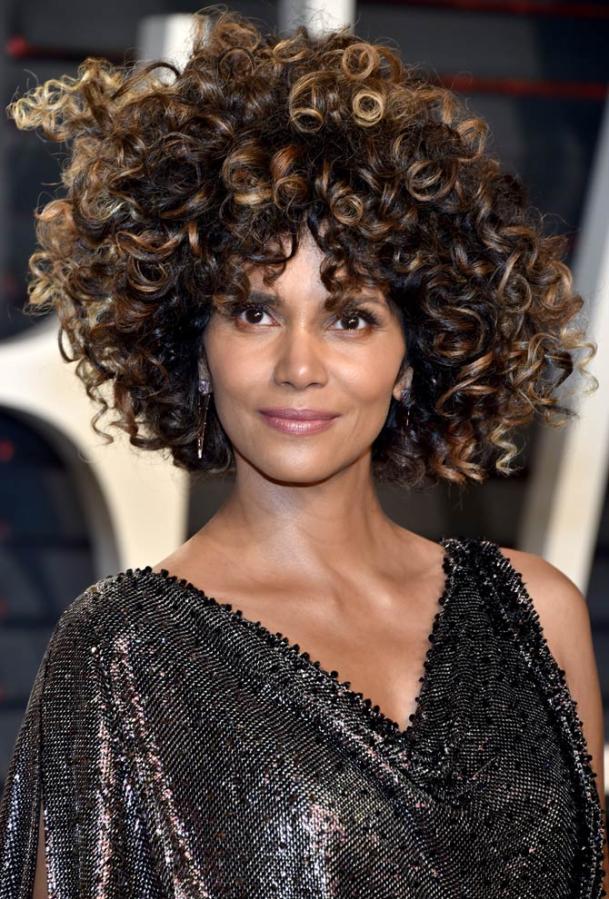 IMAGE: Halle Berry's Oscar hair gets everyone's attention. PHOTOGRAPH: Pascal Le Segretain/Getty Images
How to explain Halle Berry's ridiculous 'Jimi Hendrix meets static electricity' hairdo? We can't.
Mistake #2: Best Editing award to Hacksaw Ridge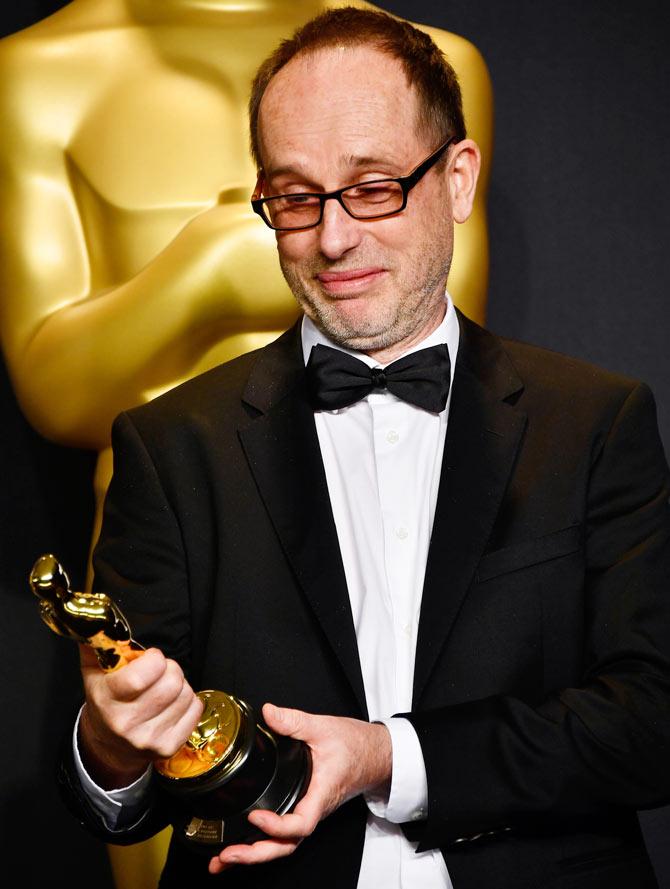 IMAGE: John Gilbert holds his Best Editing award for Hacksaw Ridge. PHOTOGRAPH: Frazer Harrison/Getty Images
Awful, awful call, this.
La La Land and Moonlight were edited brilliantly, and Arrival was put together perfectly.
In fact, Hell Or High Water works immaculately as well. But the least deserving film -- a war film that felt thrown together sloppily -- won the prize in this round.
Mistake #3: Jimmy Kimmel stealing a joke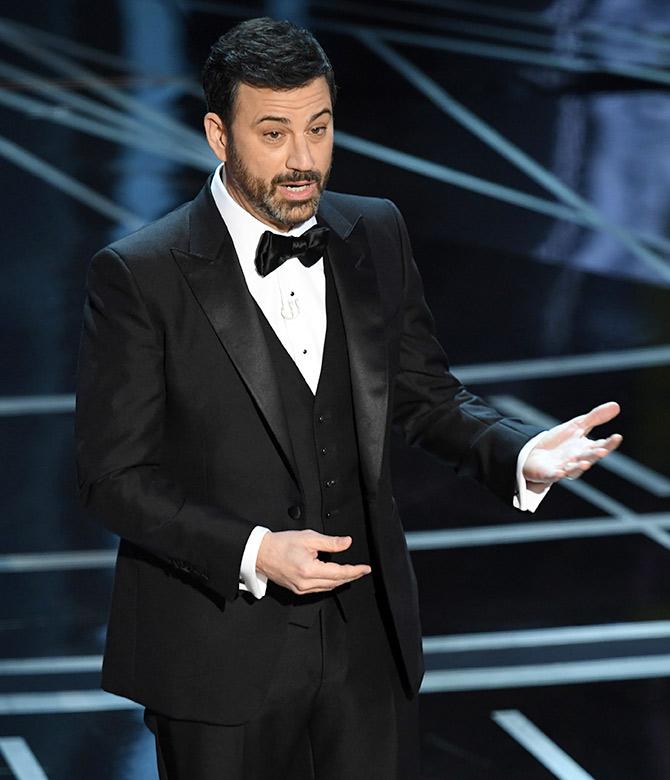 IMAGE: Jimmy Kimmel hosts the 2017 Oscars show. PHOTOGRAPH: Kevin Winter /Getty Images
Look, I thought Kimmel was great. From the Meryl-love to the Sunny Pawar laughs, he was in control and chilling hard. Which is why it's unfortunate to see how he lifted a joke directly from Golden Globe goddess-hosts, Amy Poehler and Tina Fey.
Kimmel's joke: 'Andrew Garfield lost 40 pounds for his role in the movie Silence. It was an astonishing physical transformation that hasn't been attempted since every actress in every role ever.'
Tina Fey's joke from 2014: 'For his role in Dallas Buyers Club, he [Matthew McConnaughey] lost 45 pounds. Or what actresses call being in a movie.'
Mistake #4: John Legend singing Emma and Ryan's songs
IMAGE: John Legend performs. PHOTOGRAPH: Kevin Winter/Getty Images
Both La La Land tracks nominated for Best Original Song were performed in the film by Emma Stone and Ryan Gosling, which is why John Legend's smooth but unexciting performance came off as dull.
I accept that the actors couldn't belt out those songs live, but they should at least have danced around, keeping the songs their own by gliding over them.
Mistake #5: Letting Vince Vaughn speak.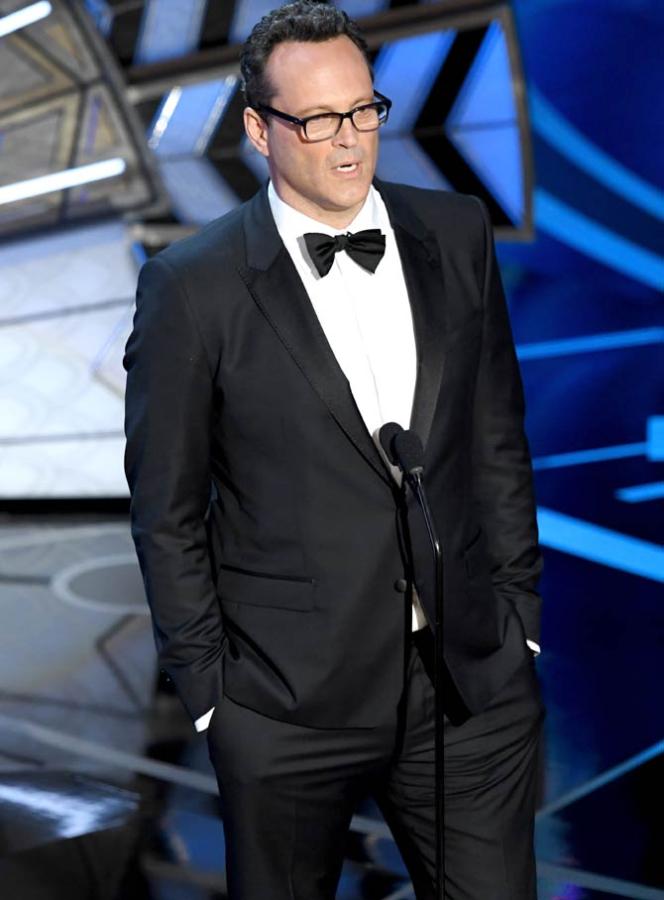 IMAGE: Vince Vaughn makes his speech. PHOTOGRAPH: Kevin Winter /Getty Images
'Money' may talk but sounds pretty harsh.
Vince Vaughn is normally funny, but the Republican was in a sore mood at the Oscars following much Trump-bashing, and he came off surly and dull as he spoke of the honorary Oscars and completely killed any excitement about Jackie Chan's honorary Oscar.
Damn you, Wedding Crasher.
Mistakes #6-10: The wrong envelope.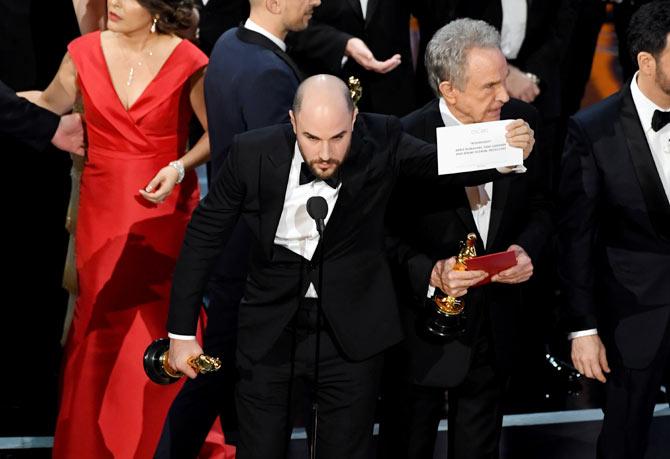 IMAGE: The Best Picture mix-up. PHOTOGRAPH: Kevin Winter /Getty Images
This Best Picture hullaballoo actually included several mistakes in a row. After Faye Dunaway and Warren Beatty took the stage in a 50th year celebration of the groundbreaking Bonnie & Clyde, here are the various goof-ups that happened:
6. Beatty was handed the Best Actress envelope instead of the Best Picture envelope.
7. He opened it, was confused by Emma Stone's name there, and decided to show it to Dunaway.
8. She saw the name of La La Land -- which had just won Best Director -- and announced it as Best Picture.
9. No producers stepped in while the jubilant La La Land team took the stage.
10. An interruption happened after the first couple of acceptance speeches from La La Land producers.
The rest is Oscar history, already.