'No matter how big the name, no one lives forever; like medicines, we come with an expiry date.'
'But, in the short time that we have, we try to make something that will stay on long after we are gone.'
Chandrakant Singh's 32-minute short film Parchaaiyaan premiered at the Cannes film festival on May 20.
The film is a tribute to poet-lyricist Sahir Ludhianvi, inspired partly by his relationship with poet-novelist Amrita Pritam which unfolded through the long letters they wrote to each other.
Chatting with Rediff.com Senior Contributor Roshmila Bhattacharya, the director and co-producer sketches out his intriguing story, saying, "Slowly, with every passing day, through their thoughts and writings, my characters draw closer, like the real Sahir and Amrita, despite never having met or even seen each other."
Parchaaiyaan is the name of an opus poem penned by Sahir Ludhianvi, an elegy to lost love and a tirade against war, with a warning that if devastated souls don't speak up then, in the next war, not only homes, not only forms and figures, but even memories and shadows will burn.
Does your short film,Parchaaiyaan, also have a strong anti-war message given the Russia-Ukraine conflict?
No, my film doesn't talk about war. It is a love story inspired by Sahirsahab's nazms and, in part, by his own life.
Everyone knows that writer and poet Amrita Pritam and he were soulmates since they met at a mushaira in 1944, when Sahir was a budding shayar and lyricist.
They lived miles apart; he lived in Lahore and she in Delhi, but they drew closer through the letters that they wrote to each other. They lived in each other's hearts and thoughts.
Eventually, they went their separate ways, but one can see the shadow of their love, and the impact of their towering personalities, on the other's work long after they had parted ways.
We had earlier thought of calling the film Talkhiyan, after another of Sahirsahab's book of poems, but finally settled for Parchaaiyaan which was more apt given the subject.
It is also the name of the Nadiadwala bungalow in Juhu (north west Mumbai) where Sahirsahab lived for years and wrote unforgettable poetry.
My hero is not Sahirsahab, but he answers to that name, while the girl is called Amrita.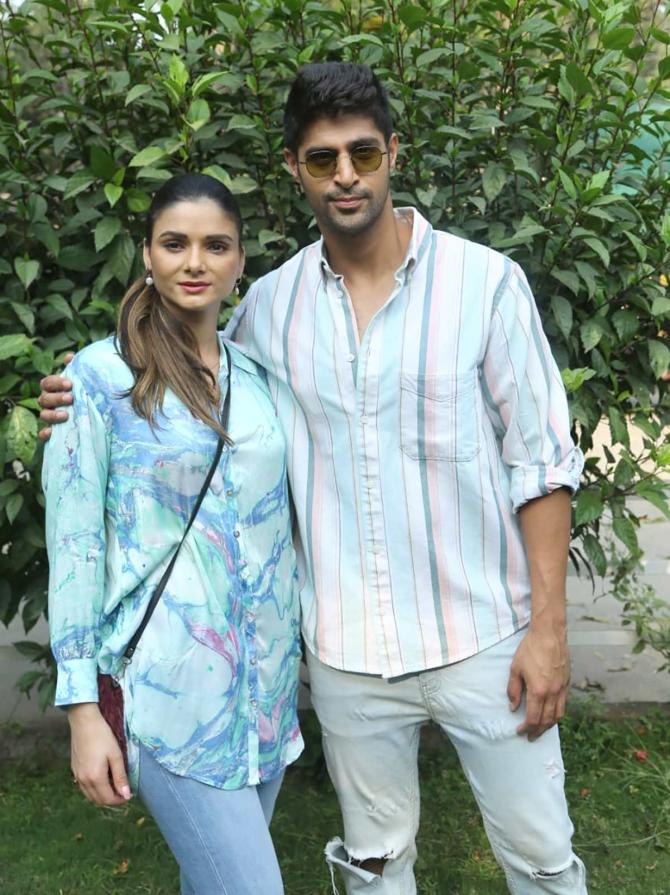 And do they write poems too?
Well, Amrita has gone through a break-up recently and is very depressed when she moves into this house as a paying guest.
In her room, there is a desktop and, when she returns from work, she sits at the table and writes through Sahirsahab's songs; she tweaks them, giving words to her pent-up emotions.
Interestingly, Sahir, my hero, is also back in town. He persuades his friend, who owns the place where Amrita is staying, to let him move back into his old room when she is away at work.
Since they have different timings, they don't bump into each other, but he stumbles upon her nazms on the desktop and answers with words of his own.
Intrigued, she replies and, with every passing day, my characters, through their thoughts and writings, draw closer, like the real Sahir and Amrita, despite never having met or even seen each other.
That's an innovative plot, but tweaking Sahir's poetry would have been a challenge.
It was.
While we have some really fine lyricists, Sahir Ludhianvi is the best in my opinion. That made the challenge bigger.
I met Ajay Pandeysahab and requested him to write the lyrics for my film and help me pay tribute to my idol.
He is a prolific and popular Urdu poet, with several ghazal albums to his credit, including two on Mirza Ghalib.
He has brought out two collections of Urdu poetry, Umeed and Main Urdu Bolun and is the main poet of Alfaaz Aur Awaaz, a worldwide chain of Urdu ghazal concerts.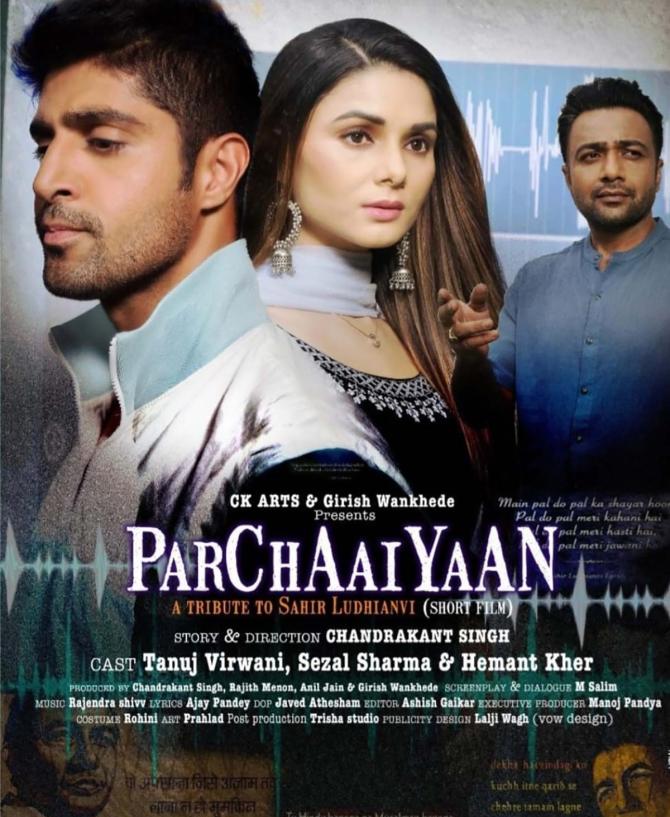 How did the idea for the story come about?
As a writer and a film-maker, I'm thinking all the time.
I had wanted to release Parchaaiyaan last year on Sahirsahab's birth centenary, but the pandemic grounded us for two years and I could only film in March this year.
It was a four day shoot in Mumbai. I completed the 32-minute short film in just a month, but it was too late to enter it for the 'Competition' section at Cannes.
Still, I still wanted to unveil it at Cannes which, to me, is the Mecca-Medina of cinema.
What made it all the more special is that it was the 75th year of the festival and also the 75th year of our Independence which is why India was designated as the 'Country of Honour' at Cannes this year.
With short films being the rage today and even streaming giants showing interest in them, we are confident the reaction will be good.
And why not, given that our film is inspired by a man who still inspires generations of budding film-makers, writers, lyricists and film buffs.
We will be travelling to other festivals too and hope to find a following back home because Tanuj is a big draw on OTT, with several Web series to his credit, including the popular Inside Edge, Masaba Masaba, Cartel and Illegal -- Justice, Out of Order.
Sezal too is a familiar face with a big following on Instagram.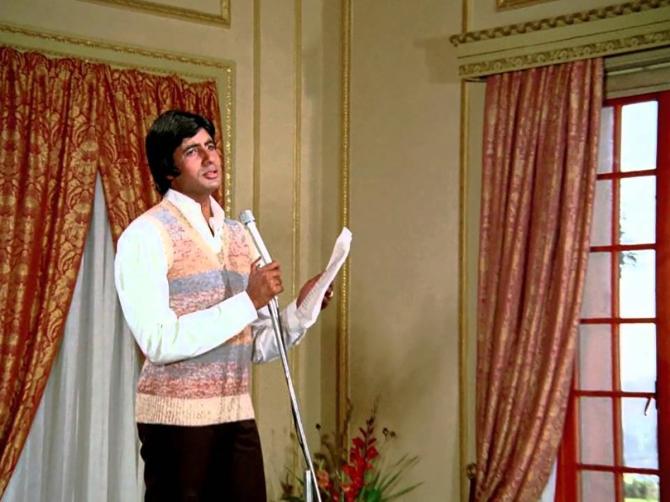 How many of Sahir's songs have you used in the film?
Ten, including Ravi's evergreen hit from Gumrah: Chalo Ek Baar Phir Se Ajnabee Ban Jaaye Hum Dono.
There's also the evocative Mann Re Toh Kaahe Na Dheer Dhare from Chitralekha.
Which is your favourite Sahir song?
Kabhi Kabhie's Main Pal Do Pal Ka Shayar Hoon, which my Sahir whistles in the film.;
The words, 'Mujhse pehle kitne shaayar aaye aur aakar chale gaye; Kuchh aahen bhar kar laut gaye, kuchh nagme gaakar chale gaye; Woh bhi ek pal ka kissa the, main bhi ek pal ka kissa hoon' resonate because they are so reflective of the film industry.
No matter how big the name, no one lives forever; like medicines, we come with an expiry date.
But, in the short time that we have, we try to make something that will stay on long after we are gone.
Kal aur aayege, nagmon ki khilti kalyaan chunewale; Mujhse behtar kehnewale, tumse behtar sunnewale; Kal koi mujhko yaad karen, kyun koi mujhko yaad karen; Mashroof zamana mere liye kyun waqt apna barbaad kare... Only a genius like Sahir Ludhianvi would describe this ebb and flow of time and fame so beautifully. The lines are unforgettable even after 46 years.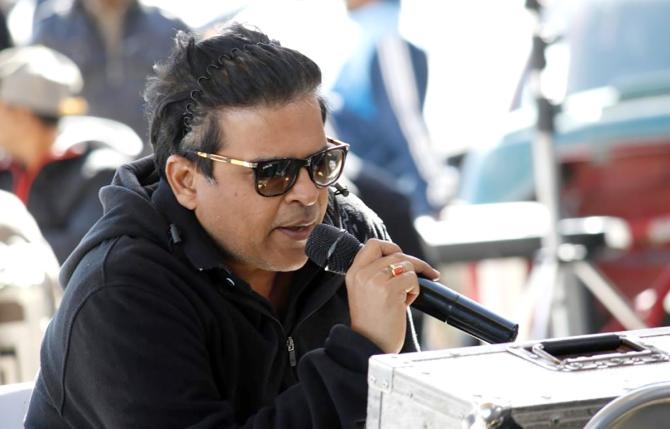 Wouldn't you want to make a full-length feature on Sahir Ludhianvi someday?
I would love to.
Parchaaiyaan is inspired by Amrita Pritam and his story, but I am equally moved by Sahirsahab's love for his mother.
Sardar Begum left her abusive, bigamist, husband, Fazal Din, walked out of her home and marriage and, despite being harassed for custody, raised her son alone.
She remained the dominant force in Sahirsahab's life and he put into words what his mother meant to him in the song he wrote for Yash Chopra's Trishul.
Holding her young son's hand in the film, Waheeda Rehman sings, 'Tu mere saath rahega Munne taaqi tu jaan sake, tujhko parwaan chadhaane ke liye, kitne sangeen maraahil se teri maa guzri as, together, they walk away from her lover, and his father Sanjeev Kumar, who has married another woman to further his career. The road ahead, she knows, will be difficult.
Perhaps his mother was the reason Sahirsahab was so scathing in his rant against male hypocrisy and also so commitment-shy.
He even turned away from Amrita, the love of his life who would have walked out of her marriage in a heartbeat, and remained unmarried till the end.
His life would make for a fantastic feature film.
I've heard that Sanjay Leela Bhansali is planning one with Abhishek Bachchan playing Sahir.
On my part, I end my Parchaaiyaan with the line, 'Baaki phir kabhi'...
So you have a sequel in mind?
Dekhte hain. If this film is appreciated, we may take the story forward.
I've read that when they met for the last meeting, as his Amrita was leaving, Sahirsahab murmured a couplet which came from deep within, "Tum chali jaaogi, parchaiyaan reh jaayegi; Kuch na kuch ishq ki raanaiyan reh jayegi."
I would love to use these lines in Part 2.