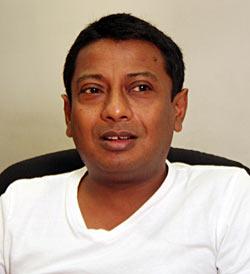 Protesting against a recent ruling by the Supreme Court, which criminalises gay sex under IPC Section 377, filmmaker Onir has written a letter to the Chief Justice of India saying he is a criminal now.

"I am a proud, law abiding citizen, but with the ruling of the Supreme Court bench on the 11th of December 2013 by definition of my identity, I have become a criminal," Onir said in his letter to Chief Justice P Sathasivam.

"Today as a National Award-winning filmmaker I feel dismayed that the same nation criminalises my identity," he said, adding that it is ironical that his film I Am, which addresses the rights of the LGBT community, was awarded as the Best Hindi film by the President but the Supreme Court robbed him of his voice.

Best known for his films on same-sex relationships like My Brother Nikhil and I Am, the director said it is a matter of grave concern that the largest democracy in the world is denying the LGBT (lesbian, gay, bisexual and transgender) community the constitutional rights
to equality.
"I request the Supreme Court when they review the earlier ruling to take our lives, our dreams, our love under consideration. Do not turn us into criminals for all we wish to do is spread love and happiness," he said.
Sparking protests across the country, the Supreme Court had last month set aside the 2009 judgement of the Delhi High Court decriminalising gay sex. The Centre and gay rights activists have now moved a review petition in the apex court.
"Why should anyone be bothered if two consenting adults chose to have a relationship? Why should the law tell me who and how am I allowed to love?," Onir said adding that the queer community have been a part of Indian culture and civilisation as reflected through the artworks on temples of Konark and Khajuraho and the texts of Kamasutra.
"Today we are destroying that by nurturing a regressive, colonial law in form of IPC 377," Onir wrote in the letter, adding that the law of the country cannot succumb to religion or to populist demands.
If this law continues, millions of men and women will continue to live lives of lies, cheating themselves and their partner, said the director.