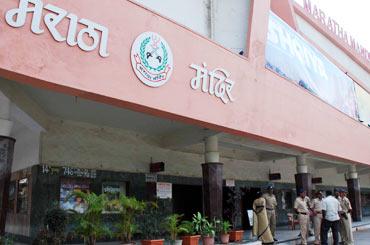 It's probably a little late to be talking about the death of single-screen theatres. Multiplexes have become so ubiquitous these days that we forget that it was only a decade ago that standalone theatres were all we had. For a cinema-crazy nation such as ours, this change in the way we see films is no less a change in the way of life -- in our urban landscape, since most of these theatres were really striking buildings.
Here's a roundup of the iconic theatres in the four metros -- those that survive, those that have closed and those that have made way for multiplexes.
Delhi
The capital's oldest cinema hall, Regal, opened in 1932 and still stands in Connaught Place today. Designed by Walter Sykes George (the architect of Parliament House and Connaught Place), it was the city's premier hall, frequented, among others, by Jawaharlal Nehru, Lord Mountbatten and Indira Gandhi. Its owner Rajeshwar Dayal sold it in 2006 to Vinay Mahajan, the current owner.
Among the other old halls, Moti (1938) in Chandni Chowk is in sad disrepair, screening mostly Bhojpuri films. It could close down any day, as Kirit Desai, 72, the son of Moti's founder Harshad Desai, plans to sell off as soon as he gets a good deal.

Similar is the story of Shiela (1961) in Paharganj. Designed by Ben Schlanger, who also worked on the United Nations General Assembly, it was India's first theatre with a 70 mm screen. Business is tough, says director Uday Kaushish, son of DC Kaushish, who built the hall, because of rising input costs and piracy.
Many old theatres shut down because of these pressures. Majestic, near Sisganj Gurudwara, is now a guesthouse. Kumar Talkies, also in Chandni Chowk, shut down in 1999 but reopened last year under a new owner and a new name: Abhishek Cineplex. The exterior remains the same but the interiors have been revamped with xenon lamps, central airconditioning, six-track sound and the latest digital projection system.
Some, like Odeon and Plaza, have become multiplexes. Revamping is one way of reviving fortunes. Some cinemas, like Golcha (1954), have gone through many refits. The first, in the 1980s, introduced Dolby digital, wall-to-wall carpeting and central airconditioning. Delite, which opened in 1954, also went in for a retrofit in 2006, carving out the smaller Delite Diamond.
Mumbai

The list of lost single-screen theatres in this first city of Indian cinema is long and illustrious: Strand (which still lends its name to a part of Colaba), Capitol (which opened in 1879 as a theatre, known as Gaiety), Minerva, Opera House, Bandra Talkies, Lido...
Among those still open, Edward in Kalbadevi is the oldest, going back to 1918. It's become quite seedy lately, but there are efforts to revive it. Every Thursday this month, for instance, Edward is screening classics of world cinema.
More than 60 years after it opened in 1938, Eros continues to draw the crowds. Partly it is the striking Art Deco facade, the rich white-and-black marble interiors; and partly also its location next to Churchgate station.

Regal (1933) in nearby Colaba has also managed to retain its upmarket profile. Designed by Charles Stevens, who also did the BMC building and Chhatrapati Shivaji Terminus, it was fully airconditioned even at that time. It has been restored lately, but the style remains the same.

Liberty in Churchgate hasn't been so lucky; it plays reruns and regional language films and is running at a loss. A part of the building has been rented out as an office.
Among the others, Maratha Mandir, established in 1958, hasn't changed much. It's been screening Dilwale Dulhaniya Le Jayenge continuously since 1995. Manager Pravin Rane says it's running, but at 'no loss, no profit'.
Metro, another of the Art Deco halls built in the 1930s, was bought by Big Cinemas in 2005. The company has restored it and converted it into a multiplex. Big Cinemas has also got a lease on another pre-Independence hall, Novelty on Grant Road, which has been closed since 2006. It will open this October as a multiplex.
Sterling (1969), which screened popular Hollywood films, has gone the multiplex way too; and so has Aurora in Matunga, built in the 1940s.
Chennai
Single-screen theatres have had a bad time in Chennai these past few years. They are closing down in droves. The theatres along Mount Road, or Anna Salai as it is called now, are the worst hit. Time was when there were 13 along this stretch; only three now remain.
The most notable of these, Gaiety, opened in 1914 and was the first Indian-built cinema theatre in south India. Screenings stopped in 2003, and Gaiety is now being turned into a shopping complex-cum-office.

Another landmark theatre, Saffire, built in 1964, went in the mid-1990s. Saffire was India's first multiplex with three halls -- the largest, Saffire, for mainline Hollywood fare, and two smaller ones, Emerald and Diamond, respectively, for Hindi films and off-beat films or reruns. The latter also had continuous screenings from nine in the morning to midnight.
Wellington, another historic standalone theatre which opened in 1918, was demolished to make way for a shopping plaza a few years ago.

Kamadhenu, built in the pre-Independence era in Mylapore, downed shutters in 2008, giving way to a marriage hall, as did Nagesh in T-Nagar. Notable among the old ones still around are Laskhmi, Casino (a wonderful Art Deco building constructed in the 1950s), and Thyagaraj Cinema Hall.
Kolkata
The really old halls in Kolkata are concentrated around downtown Esplanade, the hub of the city in the Raj era. Of these, Globe, which was closed in 2005 because of, among other things, labour trouble, is the oldest. The structure, originally an opera house, was built in 1827. It changed hands in the early 1900s, was then rebuilt and renamed Globe.
Likewise old -- and closed -- is Chaplin, which began life in 1907 as Elphinstone Picture Palace.
Metro came up in 1935, built by MGM to screen Hollywood productions. In 1972 the ownership changed, and with it the fare shifted to Hindi and, later, Bengali films.
Lighthouse, built in 1938, now houses shops that sell cheap garments, and so does Tiger.
New Empire is the best maintained of these, probably because it went in for a renovation and installed advanced technology such as Dolby sound systems. Star on Bidhan Sarani in north Kolkata is another old theatre (built in 1898 to stage plays) which was renovated with the help of the government and is now a multiplex.
With inputs from Prakriti Prasad in Kolkata, Anamika Mukharji in Mumbai and Gargi Gupta in Delhi.
Image: The Maratha Mandir in Mumbai. Photograph: Sahil Salvi