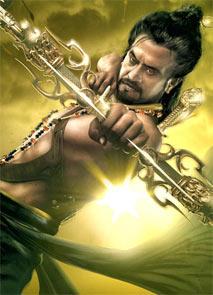 Just stand in front of his latest film Kochadaiiyaan's hoarding, send an SMS, and watch what happens next.
F
ans of Tamil superstar Rajinikanth will have the opportunity to interact with his virtual avatar in the run-up to the release of his film
Kochadaiiyaan.
Using augmented reality, producers Eros International and Mediaone Global Entertainment have developed interactive
Kochadaiiyaan
hoardings in association with Karbonn Mobiles.
Eros will deploy 500 interactive hoardings across India. People will have to stand in front of the hoarding and send an SMS. This will activate the hoarding.
This promotional tactic is an extension of Eros' alliance with Karbonn, wherein the latter will make a million special-edition phones. These phones will not only have a Rajinikanth signature but will also come pre-loaded with a
Kochadaiiyaan
app. The partneship is based on a revenue-sharing model.
Sudhir Hasija, chairman, Karbonn, said, "We will roll out a million handsets by February-end or first week of March with a pre-loaded app for the movie. All the handsets will come with the signature of Rajinikanth. This is the first time any mobile handset
maker is launching products with an augmented reality app."
About 70 per cent of the handsets will be smartphones (four models), between Rs 5,000 and Rs 15,000 each. The rest will be feature phones (two models), Rs 2,000 each.
While he did not want to give details on how much Karbonn will spend on promotions and how much it has already invested in the development of the app, he said Karbonn would put 400 hoardings across the country.
Majority of these will be in south India, followed by cities like Mumbai.
Eros will conduct promotions on its own.
"We expect better flow of people. Overall footfall will be less also because this time general visitors get only five days, as compared to seven days in the previous edition," said Vikram Kirloskar, president of Siam and vice-chairman of Toyota Kirloskar Motor.
Sugato Sen, deputy director-general of Siam, added: "We want the finesse of a global show. The cost difference is huge for us because of additional shuttle services, hiring of private security and completely air-conditioned halls, but we expect a much better experience."
At a time when sales are falling, the auto industry hopes the excitement around the Auto Expo will lift consumer sentiments. Passenger vehicle sales have declined by six per cent to around 1.8 million units in the first nine months of this financial year.