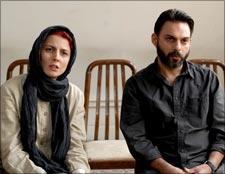 A Separation -- Asghar Farhadi's acclaimed Iranian film that won an Oscar in the Foreign Language category -- is a study in class conflict in the Iranian society.
A taut psychological thriller, A Separation examines the lies which well-meaning people tell for their survival. The movie is not only a certified art-house hit but has also gained attention as the Best Foreign film Oscar winner. 

Iranian films have been winning accolades at major film festivals in Berlin, Cannes, Venice and Toronto but this is the first Iranian film to win an Oscar.

The film, which was made for about $1.5 million, has grossed over $2.5 million in North America and over $10 million in Europe. Now with an Oscar it will have an extended run for a few weeks and then a bumper DVD and Blu-ray life.

The film triumphed over a highly-rated holocaust survival drama In Darkness from Poland.

Unlike many Iranian films, which are admired abroad but are banned in Iran, A Separation has been released there. And what is more important is that director Asghar Farhadi said at a press event in New York that he had never planned in his decade-old career in the movies a project that would not be shown in his country. Even then, he admitted, not everyone in Iran likes his films. 'I'm not one of the people whose work the government particularly likes,' Farhadi told the Los Angeles Times recently.

A Separation tells the story of an upper-middle class family living in Tehran and falling apart, as it struggles to balance its daily life with its competing desires to leave the oppressive society of Iran.

It is more than a dramatic mystery story and like some of the finest mystery writers Ruth Rendell and James Lee Burke, who use the genre to look at issues plaguing their society, Farhadi examines the conflicts -- in this case between the affluent Iranians and the lower class workers -- through the mystery and court room genre.

It focuses on the arrogance as well as the helpless of the rich, and the dilemmas devout Muslims face. In one of the most poignant scenes in the film, a maid calls up a religious scholar asking him if she could change the soiled clothes of the incapacitated 70-plus year old man in her care.

News reports say that Iranians took to the Internet and mobile phones to declare their pride and joy at the film's success and Farhadi's short speech reminded the audiences -- amidst the talk of a few countries threatening to strike Iran because of its nuclear programs -- that Iran is one of the oldest civilizations.

In his Oscar acceptance speech he said, 'At this time, many Iranians all over the world are watching us and I imagine them to be very happy. They are happy not just because of an important award or a film or filmmaker, but because at the time when talk of war, intimidation, and aggression is exchanged between politicians, the name of their country Iran is spoken here through her glorious culture, a rich and ancient culture that has been hidden under the heavy dust of politics.'

A Separation was also nominated in the Best Screenplay category but lost out to Woody Allen's Midnight in Paris.