'Fox makes films worth millions and millions of dollars. Fudging a few crores doesn't make much difference.'

Someone rightly said an acting career is not a sprint, it is a marathon.
And if there is one Bollywood actor who personifies this, it is Akshay Kumar.
Belting out at least three hits a year, Akshay is presently basking in the success of his Diwali release, Housefull 4.
Though the film has been doing sturdy business at the box office, many voices claim the collections have been fudged.
Does the negative publicity around his film upset Akshay?
"Do I look upset to you?" Akshay asks Rediff.com Contributor Mohnish Singh.
What are the actual box office figures of Housefull 4?
I think whatever Fox Star Studios writes. And whatever (film trade magazine) Box Office India, exhibitors or distributors write.
And that is?
The last I read it was approximately Rs 137 crore (Rs 1.37 billion). That's what I think it is.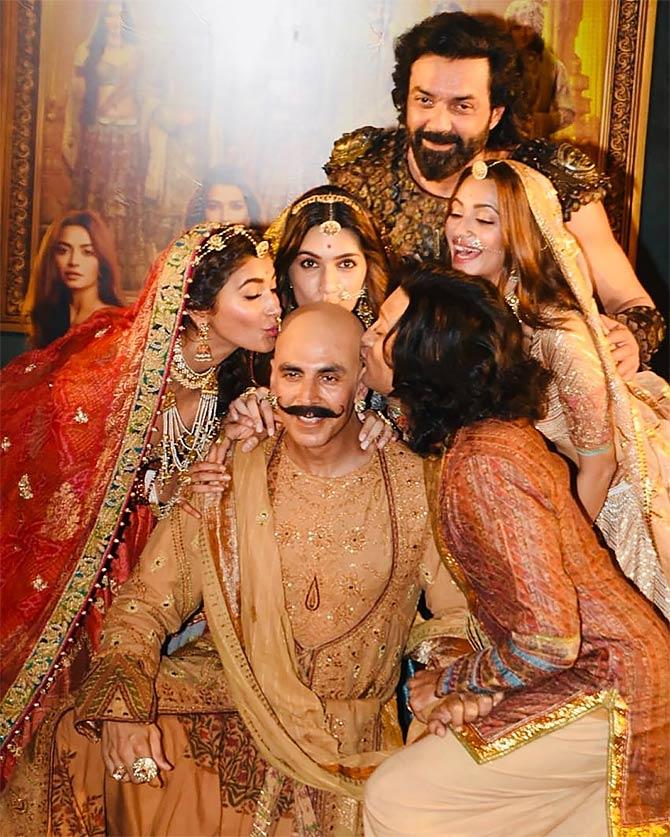 Do you believe Housefull is the most critic-proof franchise?
I respect critics. It is important for people to be critics.
It is like a barometer which tells your temperature.
It is important to have critics in your life, and I respect criticism.
See, when it comes to comedy, what you may find funny, the other person may not.
My sense of comedy and humour is very different from my wife's.
So she may not like this. She may like some other kind of work that I do.
Housefull 4 collections started picking up only after Diwali.
Pre-Diwali collections have always been on the lower side, this is not the first time.
Collections before Diwali have always been slow because people are busy with Diwali festivities. They do not come to theatres to watch a film.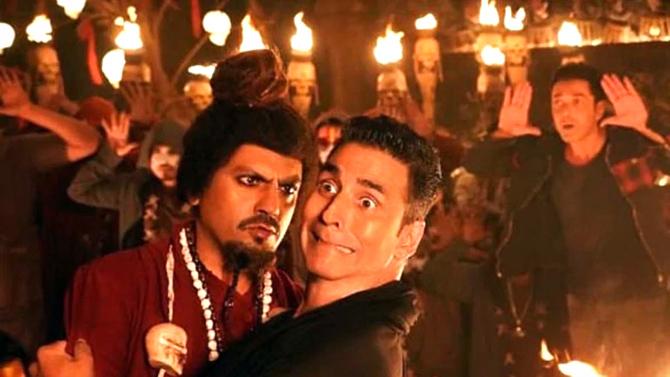 Did it bother you to see 'Fake Housefull 4 Numbers' trend on Twitter? Producer Ronnie Screwvala called for authenticity in terms of box office collections. Did you feel your credibility is at stake?
No. I am not the one giving out the figures.
I was just reading an article where Inox theatres said how well the film fared.
Now they won't lie; they are not my relatives.
The CEOs of PVR and Cinepolis have spoken about it. They will not lie.
Did it upset you?
Do I look upset to you?
I come from the era where I have heard so many opinions, but have never hit back at them.
I never spoken against them because I was taught at school to 'mind your own business'.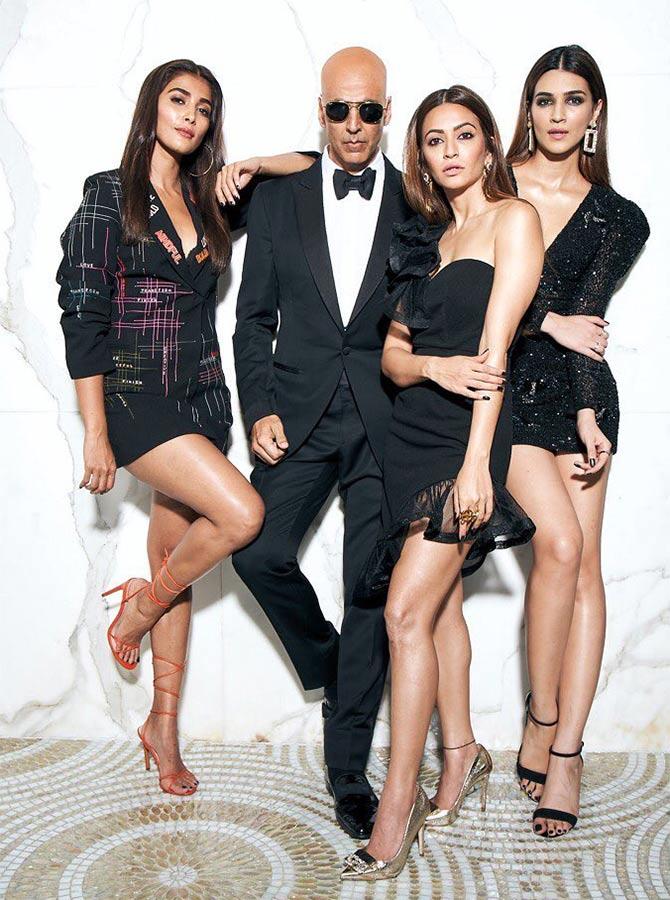 But this confusion arises when you see different figures coming in from different trade analysts, and then the film's publicist sends a totally figure altogether.
Fox Star has very big credibility. It is a corporate which runs from Los Angeles.
It is not possible for them to fudge figures.
We should use our brains about that.
It is a corporate called Fox-Disney. They don't get bothered by these small things.
They make films worth millions and millions of dollars. Fudging a few crores doesn't make much difference.
So let's talk sense.
They (Fox Star Studios) are writing on their own social media handle, and they have to report to everyone.
Nobody is going to lie about figures.
What were the challenges of playing Bala in Housefull 4?
Playing Bala was fun.
From playing a scientist in Mission Mangal to playing Bala in Housefull 4 was very different.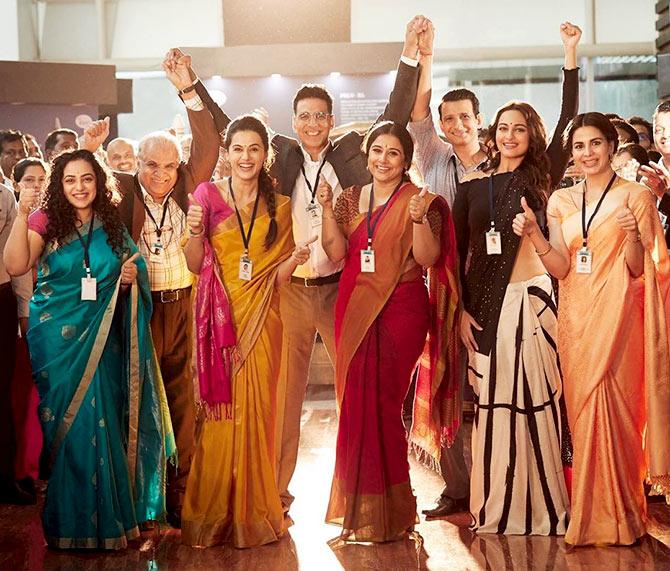 People liked Bala, especially kids.
It is good, but I don't take that too seriously because now I have to jump to another genre.
I did Housefull 4 after three years.
I want to keep jumping.
When I go to Twitter or Facebook and read comments, fans request slapstick or romantic comedies like Namaste London.
The basic idea is to keep jumping genres.
Don't take yourself seriously in one genre.
I did that mistake when I started my career. I did only action, action, action.
People ask me how I hop across so many genres now. I just say that a man should not get bored by his work.
Suppose you interview only me every day, you will get bored.
But if you get to interact with different actors every day, you will enjoy your work.
What do you think about your transition from action star to acing the comedy genre?
I just put my personality into it.
I did not go to any acting school. Whatever I know, I learnt through my experiences.
I just went with the flow.
I remember right after wrapping up Mission Mangal, I started shooting for Laxmmi Bomb, where I play a completely different character.
I don't take myself seriously. I go with the flow.
Also, I tend to hold my director's hand because he knows the film a thousand times more than me.
He leads me.
That's why he is called the captain of the ship.
The only thing you can do is pray that the ship does not turn out to be a Titanic! (laughs)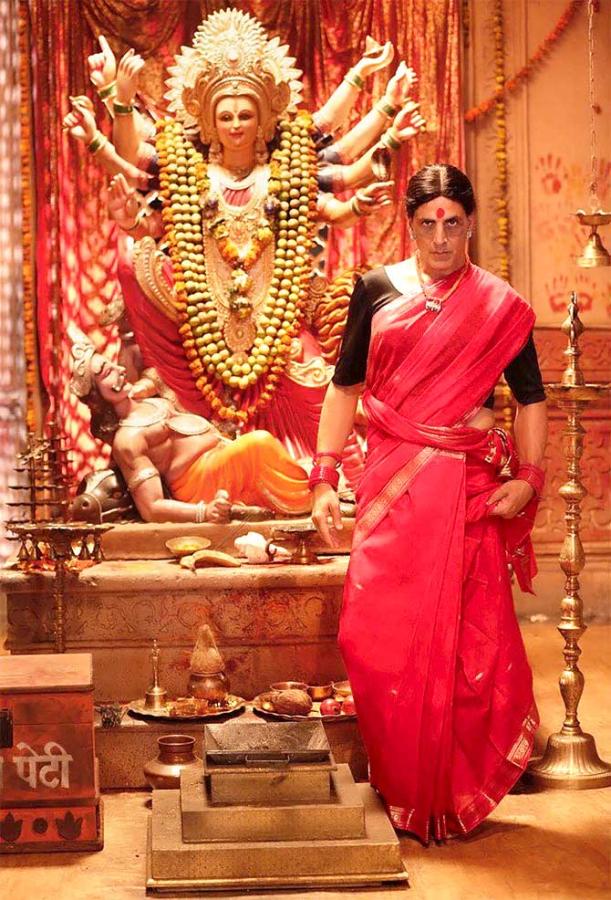 You worked with two directors on Housefull 4 -- Sajid Khan and Farhad Samji. How was the experience?
I know both of them well, and I like working with them.
Since Farhad had written the story, it became a lot easier for him (to take over from Sajid Khan).
He was not a new entrant. He knew the story, so nothing was problematic for him.
It was very easy for the entire star cast to get along with him.
This is your fourth consecutive hit with Sajid Khan. What do you have to say about this successful actor-director jodi?
Very good.
We enjoyed it.
I hope it goes on.
Your next film with Farhad Samji is Bachchan Pandey.
At the moment, I cannot tell you anything about the film.
He is the director so he can reveal some details. But I cannot, as I am bound by an agreement.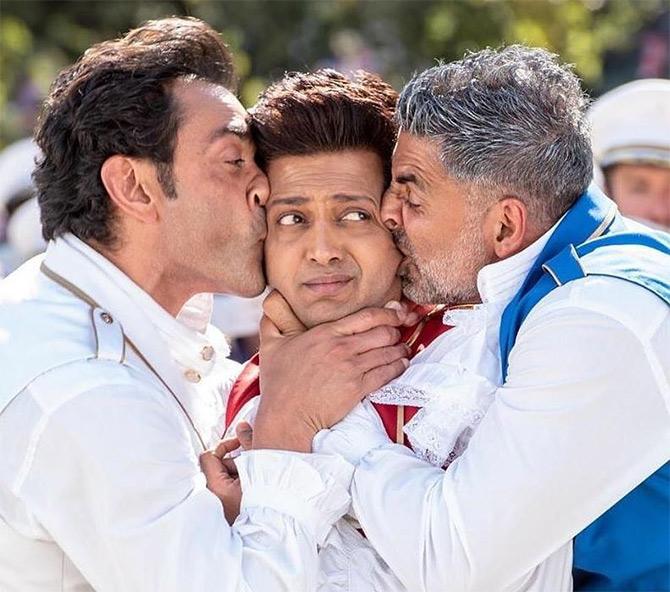 What is it about the Housefull franchise that makes the audiences connect to it whenever there is a new installment?
It is slapstick comedy.
The whole confusion that his wife is not his, but somebody else's, Aakhiri Pasta and things like that create a lot of humour.
Riteish (Deshmukh) and I get along very well.
It is a perfect Diwali kind of a film or Christmas kind of a film.
Is the fifth installment on the cards?
Only (Producer) Sajid Nadiadwala can answer that.
Or you should ask Fox Star Studios whether they want to make the next installment.
How tough is it to pull off slapstick comedy that is bereft of logic?
It is very difficult when you have to keep logic away and rely on physical comedy.
Only Charlie Chaplin did physical comedy at that time without saying a single dialogue.
He made us laugh each time.
It is one of the most difficult ways to act.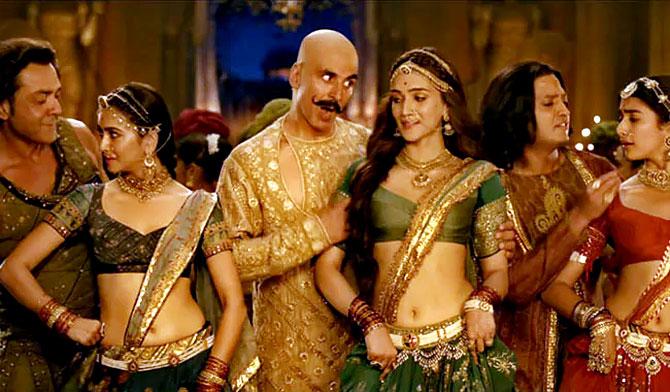 Why is comedy not celebrated at award functions?
I have been trying to find that answer for the last 30 years, but I still don't have it.
I have spoken to people, who give out awards but nobody has an answer.
Even if you ask any actor, even in Hollywood, they will tell you that comedy is the most difficult genre.
Do you pay attention to the quality of jokes in your films? Body shaming doesn't down go well with audiences.
Yes, you are right.
The writer has to take care of it.
You are absolutely right; we should take care of it.
About the quality of jokes, I have to pay attention to what kind of film it is.
Do you feel confident about the choices you make as an actor?
No, I am always scared. There is no confidence.
You work so hard for nine to eleven months on a project.
But there are so many worries about whether the audience would like the film, or how the critics will react to it.
Producer ka tension, studio ka tension.
Getting a film released comes with a lot of tension.
You said your wife Twinkle Khanna has a different taste in comedy. What is her reaction to Housefull 4?
She did not see the film (laughs).