Cities fascinate him. Maybe that's because of his urban-centric mind, as Nikhil Advani calls it.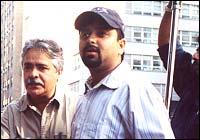 He made his directorial debut in Kal Ho Naa Ho, which was set against New York City. Filmmakers like Karan Johar and Aditya Chopra, whom he assisted earlier, had banked on his location hunting instincts to contribute to the screenplay of their films.
Now, for his new thriller, Advani has chosen Mumbai as the centre of action.
Which city is next on the cards? "Goa maybe," he smiles.
Sukanya Verma finds out what else is new with Advani in his cabin at the Dharma Productions office in Mumbai's posh suburb Khar.
How has life changed after Kal Ho Naa Ho?
Life hasn't changed at all.
You have lost weight.
Actually I had put on weight, but I am losing it because I am scripting my next film. When work starts, I usually stop eating and start stressing out and losing weight. Life hasn't changed at all. *smiles*
I am still in the same place I was staying [earlier]. I am a little more hassled.
You are also looking more relieved.
The last time we met, I was in the thick of post-production [of Kal Ho Naa Ho]. It is only 10 in the morning now. By the time its 4 pm, I am a different person. When you sit with the writers, you start to etch out a script from an idea. It takes a lot out of you.
What are you working on right now?  
I am working on a thriller.
Finally! The terrorist drama you wanted to make earlier?
No. it is not the same one. In the present scenario of our country [Indo-Pak peace talks], it [the subject of the thriller he wanted to make in 2000] is a bit frivolous and childish.
This thriller is completely set in Mumbai. When you see films set in Mumbai, you either see the underworld, apun bola kind of thing. Or you see prostitutes, brothels and poverty. I am trying to make a film about the urban, middle class Bombay. A man gets caught up in a web of deceit and has some diabolical problems in life.
Whose story is it?
Actually it is an idea Karan [Johar] and I were working on two years ago. But we totally dropped it. It's not going to work. I have taken just the germ and shifted it to Mumbai completely. I am attempting what I think is quite a difficult screenplay. I don't know. Let's see.
What stage is your film on?
First stage. This is the stage we call 'no stage' [smiles]. I am just brainstorming, sitting with writers, putting down things, going back home, getting irritated, coming back, scrapping everything and restarting. It is at that stage right now.
I have given myself certain deadlines. By mid April [April 15] I should finish the first draft of the film. Then I start narrating to the actors I think would be suitable for this script.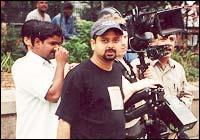 Anyone in particular?
It is completely open. I do have people in my head. But I am not going to tell you who they are [smiles]. It is so nascent right now. Everything [script wise] could change by April 15. So I don't want to start telling people. I know I want to start [shooting] this film by the end of this year. I have to give actors six months to start allocating dates to me.
I am just keen to start this film by the year end. I don't have the luxury of taking such long breaks like Karan, Aditya Chopra or Sooraj Barjatya have.
Is this project also a Dharma Production?
Yes. It is.
Is Karan Johar writing the script this time too?
Karan is writing his own film, which he is going to direct. He doesn't have time for me. He sits in his big room. I sit in my small room. We work independently. But both films will be produced under Dharma Productions with two different teams.
Who is writing the script?
I am working with two boys -- Milap Zaveri, who writes with his partner Tushar Hiranandani. Two young enthusiastic boys, who I am trying very hard to mould and calm.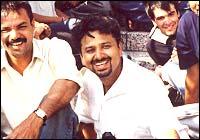 The pressure of the second film is so much now that he [Karan Johar] is not there. Even my two writers keep saying, "When is Karan going to hear our film?"

 

We have been slaving for the last one-and-half months on the subject. And he [Karan] may just come and say, "This doesn't work at all."

 

 

You won't divulge story details?

 

When I went to shoot in New York [for Kal Ho Naa Ho], I felt it was such a throbbing city. The city must be part of the film. The only thing that has inspired me to try and work this idea out is I can shoot in Mumbai.

 

This city has so many stories waiting to be told. Since I have lived all my life in Mumbai, I want to tell a story. It will be a very dark film. It will be simple but again how the story is told will be different.

 

The awards season just got over. With Koi… Mil Gaya and Munnabhai MBBS sweeping the awards, did you at any point feel Kal Ho Naa Ho was ignored?

 

We got the awards we were due. We won eight Filmfare Awards. We got five Screen Awards. I was disappointed we didn't win the Best Music, Best Lyrics or Male Playback Singer Award.

 

I think one of the pillars of Kal Ho Naa Ho is its music. We worked very hard on the music. I know Shankar-Ehsaan-Loy and Javed Akhtar worked extremely hard. So I was very disappointed about those awards.

 

We got the Best Music and Male Playback Singer at Filmfare as well as Sansui. I thought we would sweep all the awards in that category.

 

Especially a film coming out from this banner [Dharma], which concentrates so much, on music. The ballad Kal Ho Naa Ho, is one of the strongest songs to come out of this banner. And this banner has given hit songs like Kuch kuch hota hai and Suraj hua madham. It's the time to disco was played at all discotheques. Mahi ve became the toast of the wedding season. The Kal Ho Naa Ho title song was a hit from the word go.

 

The other award which I think we should have received and didn't -- probably the best man did win -- was the Best Film Award. I really feel Kal Ho Naa Ho is a very well-packaged film. The performances were fantastic.

 

We should have won all the music awards, Best Film and Best Editing Award.

 

What about Best Director?

 

I knew I was coming in the same year as Rakesh Roshan. I really thought it would be Rakesh Roshan, J P Dutta and Ram Gopal Varma -- these three people.

 

As for the Debut Director Award, I think Munnabhai MBBS is a superb film. I have seen it. I laughed thoroughly. Are you asking me if I am disappointed? Of course.

 

I put in a lot of hard work in Kal Ho Naa Ho. But Raju [Hirani] put in a lot of hard work in Munnabhai MBBS too. What must have tilted the balance was Raju was in it by himself. I had the backing of Karan Johar. He deserved the award more than I did.

 

What about Koi… Mil Gaya?

Did you like it?

 

I thought Hrithik [Roshan] was superb in Koi… Mil Gaya. That award is well deserved.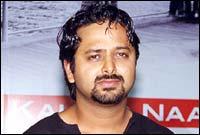 Saif Ali Khan forgot to mention you while receiving the Best Supporting Award for Kal Ho Naa Ho at one of the award ceremonies...
I am glad Saif won all the awards. It was a vindication as far as I am concerned. I always stressed that he is the most important character in the film. If his character works, everything will. Except for the IIFA Awards in May, he has won every single award.
I am very happy. Saif and I have an understanding which is off the media, awards and films. We are friends so it doesn't make any difference to me. Even if he had not come back and thanked me, he would have called me ten times to apologise.
What was the best compliment you received after Kal Ho Naa Ho was out?
I think the best compliment I received was from my wife [Suparna]. She told me, "I don't think this film is going to be a hit, because I liked it very much". That is a huge compliment.
I know my wife. I know the kind of aesthetics she has and the kind of standards she keeps for me. She is really not a Hindi film buff. So when she watches Hindi films, she watches select ones. To see Kal Ho Naa Ho and not find anything objectionable, and to be proud of something I have done is a big compliment. I will always cherish that.
Kal Ho Naa Ho has sparked off controversies as well, regarding the homosexuality bit and the geographical accuracy of New York. What do you have to say about that?
We can start watching any Hollywood film. If you have been to the cities, I can start debating about the geographical accuracy of any film.
Only the opening titles which show Preity Zinta jogging are not geographically accurate. It is really like grasping at straws. It was a montage statement for me to establish the atmosphere of the film: that this girl is jogging through New York. Obviously she cannot start jogging where she stays in Queens and sprint all the way to Brooklyn. It is not possible. I wanted to show New York.
What about the humour in homosexuality? Some people found it offensive in nature.
What about it? Why are they offended? They should open their eyes and look at people on the streets and people in our buildings and parties.
Homosexuality is a way of life today. It's still very much in the closet, so to speak. What's wrong with it coming out?
It is a wonderful alternate sexuality. Who are we to start labelling it is right or wrong? I used it in a comic way. I never felt the need to make a caricature of homosexuals.
For the character of Jean deBont, who comes from Paris [in Kal Ho Naa Ho], my costume guys came to me and said, "Listen we should put some lipstick."
I said no. I will not get into that thing. Yes, he is a little effeminate. That's all. I didn't go into that whole drag thing.
Many of my friends are homosexual. I would like all my films to speak about the place I live in or the problems of the place I live in.
Nobody has spoken about the fact that Jaya Bachchan-Sushma Seth had a wonderful relationship. So many people have written to me saying, "You gave us the strength to stand up against our mother-in-law." That was a clear case of superb casting.
When Jaya Bachchan stands up against her mother-in-law, so many other Indian women all over the country feel the strength to do that.
As far as homosexuality is concerned, I am glad it is there in Kal Ho Naa Ho. I am glad Shah Rukh and Saif did it at the Filmfare Awards. If Kal Ho Naa Ho has given some people the ability to voice their alternate sexuality, I'll be very happy.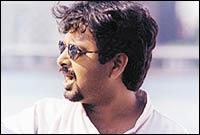 When a film does well, the hero and heroine are usually declared a successful pair. But in Kal Ho Naa Ho, SRK and Saif have become a hot pair. Why is that?
I like that relationship. I knew it always [that they would work]. They appealed to the audience because Kal Ho Naa Ho is very urban centric.
When two guys get together, they could start talking about weapons of mass destruction. But they will always end up talking about Pamela Anderson. You know what I mean? That's what I wanted to do in the film. Boys will be boys.
Something like Dil Chahta Hai?
Dil Chahta Hai gave Karan and me the ability to be irreverent. We realised if Dil Chahta Hai was being accepted, especially in the cities, then people are in a mood to say, "What the hell." They are willing to get away from the whole pairi pauna, touching-the-feet mode.
I narrated the film to Javed Akhtar. I finished the first half. He said, "It is fantastic, it is post modern." I told Javedsaab the essence of this film comes from Farhan. He opened the door. I am actually stepping inside the door.
Javedsaab said, "You aren't only stepping inside the door. You are walking through the corridors and dancing wildly in the courtyard."
Considering Shah Rukh Khan just had a back surgery, how did he do all those energetic dance steps in Pretty woman?
I remember he [SRK] hated the song [smiles]. We had recorded another song for the Pretty woman situation, which was called Arre re arre. He had heard that one. But we rejected it and came up with Pretty woman.
We shot Pretty woman in New York. He heard it for the first time there. He said, "It's awful. I can't even sing the song. Call Javedsaab tell him to change the lyrics. They are very bad." We were wondering why he was so grumpy. Then we realised it was the first song he was doing after his back surgery. He was finding it difficult to do the movements which the dancers were doing quite easily.
Shah Rukh will never admit he is having a problem. He will strive to do his best. Once on the sets, he is extremely professional. Somewhere along, Farah [Khan] and Karan, who know him best, figured out the problem. They changed the steps. The first three days of that song were quite stressful for me. Also it was raining; I wanted to shoot in sunshine.
Did you shoot the song in Toronto?
No. it was completely Brooklyn.
Why do the opening credits thank the government of Toronto?
Portions of the song Kuch to hua hai and the last scene are shot in Toronto. I shot nine days in Toronto and I scrapped most of the stuff. It is there in the deleted scenes of the DVD.
Toronto is cheaper. It is used to mirror New York in many Hollywood films. So we went there. When I reached Toronto, it didn't give me the vibe of New York.
Karan Johar is reportedly launching his other assistant, Soham Shah. Comment.
Soham had worked in Kabhi Khushi Kabhie Gham. He is a hardworking boy. He has written his script by himself. He designed the publicity of K3G. He also assisted Ram Gopal Varma during Bhoot.
Then he took time off to write his own film. He is talking to a lot of actors. His film has three heroes and it is completely set in northern India.
Your friend and choreographer Farah Khan is making her directorial debut. Have you see Main Hoon Na?
Yes. It is a superhit film. I hope it is the biggest hit this year. It has all the ingredients. I know how much time, effort and hard work she put in writing this film. You just laugh and laugh when you see the film.
The songs are so well picturised. The music is fantastic. She has done it with Shah Rukh Khan's backing, but she has also done it herself. She is superb.
I was supposed to write Main Hoon Na with her. We did two sessions. Then I realised she needs to do it herself. Plus, I got busy with Kal Ho Naa Ho so I opted out.
Photos courtesy Nikhil Advani