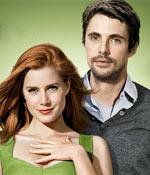 Leap Year, You Might Want to Skip It This Year, declared a reviewer. Many others too were dismissive of the romantic film directed by Anand Tucker, his first mainstream film.
But the movie which is now in its third week in America, and soon will be opening worldwide, has grossed a decent $15 million in two weeks, and is on its way to make about $35 million in North America.
Tucker, who was born in Thailand to an Indian father (who anglicized his name Thakkar) and a German mother, grew up in the United Kingdom. He is also one of the three directors of the trilogy Red Riding  based on David Peace's cult novels about Yorkshire during the 1970s and 80s dealing with a world of paranoia, corruption -- and the legacy of the Jack the Ripper murders.
The TV series will be released in many countries as separate films and in special programming as one 305-minute show. In New York, IFC Films it will release Red Riding: Special Roadshow Edition for one week only beginning Friday, February 5. A week later each of the films will be shown separately.

And that means Tucker will have two films in release in America at the same time.
Leap Year that cost $19 million could have a matching run rest of the world. For Tucker, the Britain-based director, even a $50 million worldwide gross would be a record. Known mostly for smaller budget films such as Shopgirl, a quirky movie with Steve Martin in the lead, this is his breakthrough film. He might have a far bigger success had he not been taken off, almost the last minute, from the $100 million plus Golden Compass over a budget dispute.
Leap Year centers on a career American girl (Amy Adams) who plans to go to Berlin to meet her boyfriend at a medical convention to ask him to marry her. She's following an Irish tradition of women popping the question on February 29. But weather problems land her plane in Cardiff, and one problem leading to another she meets a cranky Irish pub owner Declan (Mathew Goode) and persuades him to drive her from a small Irish city to Dublin.
You can guess what happens. And yet that did not deter critic Roger Ebert (one of the very few who liked the film) to cheer for the movie.
'A sort of conspiracy forms between the audience and the screen,' he wrote in Chicago Sun-Times. 'We know what has to happen, and the movie knows what has to happen, and the point is to keep us amused. Leap Year does better than that: It made me care. It does that by not being too obvious about what it is obviously trying to do.'
Making a leap from smaller films to a comparatively bigger film was a bit daunting, Tucker has said.
But a film's budget and scope doesn't really daunt him, he says.
"Whether it is a $100 million or a $10 million movie, in the end, no matter how big or small the budget of a project is, it still comes out to the basics," he says. "You are telling a story and that should stir or move people."
His previous film Shopgirl was distributed by Fox Searchlight and recovered its $15 million investment. The new film is distributed by Universal.
Tucker is among half a dozen film-makers of Indian origin whose mainstream films will be released in the next few months.
Prominent among them are M Night Shyamalan whose The Last Airbender is getting good buzz and could be a summer hit; Gurinder Chadha whose Angus, Thongs shown recently on Nickelodeon is expected to be a hot DVD seller and who will also have the Sundance Film Festival entry supernatural comedy It's a Wonderful Afterlife in theatres in April.
And then there is Udayan Prasad, whose 1997 My Son the Fanatic foreshadowed growing radicalism among the British Muslim young men, coming out with The Yellow Handkerchief in late February. Not to forget writer Pulitzer Prize winning Geeta Anand whose book The Cure led to a film produced by Harrison Ford.
Anand whose feature stories in The Wall Street Journal about a father's heroic fight to take on the medical establishment and pharmaceutical industry to find a cure for his children afflicted with a rare disease caught the attention of Harrison even before she wrote the book based on the true story. The father, played by Brendan Fraser, raised $100 million to save his children.. Ford is the eccentric but sympathetic scientist who helps the father's quest.
The movie received mostly negative reviews but since it was made for about $25 million, it may recover the investment and make a small profit when the ancillary income from TV showings (CBS produced the film and that means it would get wide TV time) and DVD are factored in. 
Whether the film does so-so business or flops (it is certainly not an Indiana Jones adventure), it has given a new life to The Cure. Harper has issued a tie-in publication of the book, with an update by Anand, with the words The Book that Inspired the Movie Extraordinary Measures embossed on its cover
And then there Rajiv Chandrasekaran, The Washington Post writer whose non-fictional Imperial Life in the Emerald City: Inside Iraq's Green Zone has inspired the much awaited film Green Zone directed by Paul Greengrass. Matt Damon (uniting with Greengrass after The Bourne Ultimatum) stars as an American Army officer who discovers covert and faulty intelligence  and decides to rogue to hunt for Weapons of Mass Destruction. The movie will start rolling out worldwide in March.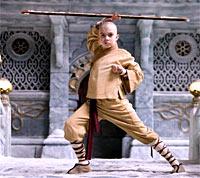 Iraq war movies have not done well at the box-office, though The Hurt Locker which grossed about $13 million in North American theaters could be profitable since it did not cost more than $12 million. If the critically acclaimed film, which is yet to open in major territories outside of America and Canada, gets a handful of key Oscar nominations, it could become a bigger success. But Green Zone was reportedly made for $50 million and has to make at least $100 million to break even.
Often eagerly awaited artistic films do not fare strongly outside big cities.
'The bones are strong: Paul Greengrass directs his Bourne Supremacy star Matt Damon in a film scripted by Mystic River scribe Brian Helgeland,' wrote Toronto Star in its preview of 2010 movies.
It added: 'Box-office bad omen: It's about the Iraq War….The topline talent suggests another Hurt Locker, though, and there's promise in the supporting cast of Amy Ryan, Greg Kinnear and Brendan Gleeson. '
Udayan Prasad's The Yellow Handkerchief is reportedly his first film in America where he is best known for My Son the Fanatic which had created an Oscar nomination buzz for Om Puri who played a Pakistani cab driver in a British town. 
In the new film, a road trip through Louisiana transforms three strangers of two generations who were originally brought together by their respective feelings of loneliness, Prasad has said. The movie at core is a love story, according to the production notes. The road trip goes through post Katrina Louisiana. Along the way, relationships forge and change in a myriad of ways, leading to the possibility of second chances at life and love, as per the notes.
Prasad, known for exacting finer performances from veteran artists, has directed one of America's wonderful artist  Oscar winner William Hurt who plays Brett Hanson. He is dealing with a painful past and  crosses paths with Martine (Kristen Stewart from Twilight)  a troubled teenager ,and her new 'ride' Gordy (Eddie Redmayne).  Though the  three head out together, each motivated by his/her own reasons:  Brett has to decide if he wants to return to the uncertainty of his life and his ex-wife May (Maria Bello, Golden Globe nominee) for whom he longs, Martine is anxious to escape her family and Gordy aches to get close to her.
This is Prasad's most ambitious film as yet. Based on a short story by New York writer Pete Hamill, the movie is also described as a 'deeply humanistic and emotionally rich film,.
It is produced by veteran Arthur Cohn whose films The Garden of the Finzi-Continis and One day in September won foreign film Oscars.
The biggest hit from the desi stable could be M Night Shyamalan's fantasy film The Last Airbender, an adaptation of the popular Nickelodeon cartoon of the same name. The film stars Noah Ringer as protagonist Aang who wants to save the world and the good things in it and Slumdog Millionaire's Dev Patel as antagonist Prince Zuko.
Shyamalan surely is not as hot a name as he was a decade ago. And yet his last film The Happening, which cost a moderate $60 million, made a decent $150 million worldwide and became profitable. Those who wrote his movie obituary following the debacle of The Lady in the Water might have been surprised by its success.   
'I always wanted to do a martial arts movie,' he said in an interview recently, adding that the Bruce Lee classic, released in the early 1970s, 'is like a religion to me.'