'He was truly an athulya abhinaya pratibha (exceptionally talented actor).'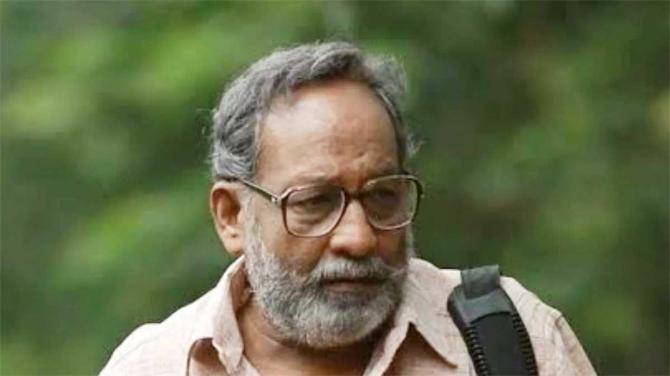 When the legendary actor Nedumudi Venu passed away on October 11, the Malayalam film industry was shaken to the core.
Director Fazil, one of Venu's closest friends, is struggling to cope with the loss, he tells Divya Nair/Rediff.com.
---
"I have known (Nedumudi) Venu for 53 years. And not just as a professional or a versatile and talented actor. He was a dear friend.
Our friendship dates back to college, when we acted in plays together. We've done mimicry together.
When we started our careers together, he stayed at my place for eight years.
After he was introduced to Kavalam Narayana Panicker (dramatist, theatre director and poet), he travelled to Trivandrum (now Thiruvanathapuram) with him.
Venu then started working with directors like (G) Aravindan, Bharathan and Padmarajan, who gave him a break in films.
While he went on to become a good actor, I stayed in Alappuzha and started working on films. I eventually became a director with (the studio) Udaya-Navodaya.
Over the years, we worked on a lot of films. Nothing affected our friendship. There was never any scope for animosity or change in our relationship.
Even on the morning he was hospitalised, we spoke over the phone at around 8 am.
For me, his loss is a personal one. For the industry, it is a bigger one.
Even in his thirties, Venu was one of the few actors who had worked with a range of directors and actors, portraying diverse roles and characters.
In fact, Venu has successfully worked with three generations of actors.
Starting from Prem Nazir's generation to (M G) Soman, Sukumaran and Ratheesh to Mammooty-Mohanlal and the current artistes including Prithviraj (Sukumaran) and Fahadh (Faasil), Venu has worked with almost everyone.
Even in the other world, he will remain an exceptional artiste and personality.
He was truly an athulya abhinaya pratibha (exceptionally talented actor).
Feature Presentation: Ashish Narsale/Rediff.com