'That would once and for all teach all the film-makers of this country a fitting lesson!'
Unlike in many other democracies, India has a Central Board of Certification for films.
Now, the government wants to have another 'super certification' for films made in India, the Cinematograph Act 2021! And the information and broadcasting ministry has asked the public for comments to amend the Bill.
As many as 3,000 people from the Indian film industry, including some well-known names, have signed a letter to the government opposing the proposed amendments.
"Film-makers are trampled upon. I do not understand why they are after the film-makers. Are they so dangerous?" Adoor Gopalakrishnan, arguably India's greatest living film-maker, asks Rediff.com's Shobha Warrier.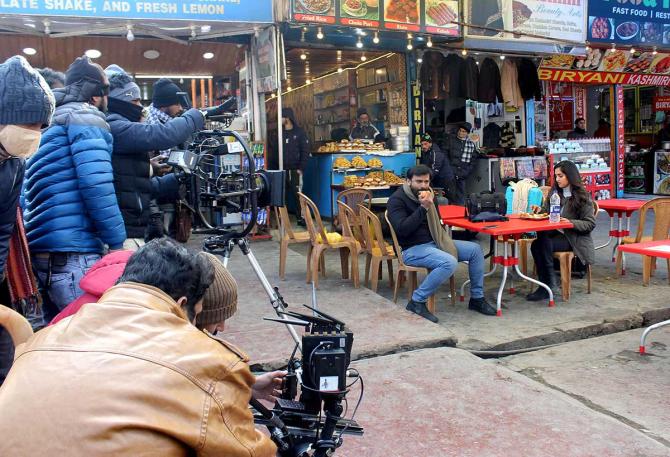 Why do you need a Cinematograph Act when there is already a Central Board of Certification?
The idea of censoring films was instituted by the British, our colonial masters, who never trusted their subjects. We continued with it as it suited the governments, as they could keep a control on this popular medium.
Under the pretext of protecting morality or amity between communities, faiths etc, the government could impose a lot of don'ts on creative people.
Censoring films is an anachronistic and an archaic practice in a democratic system of governance. It could be justified only under military rules, monarchies and colonial powers.
The very idea of censoring is very anti-democratic because our Constitution has given us freedom of expression in speaking, writing, creating, making films, performing etc subject to reasonable conditions. So, controlling freedom of expression, over and above what is permitted in the Constitution is illegal.
Under a military dictatorship, you have to suffer it like they do in Myanmar now.
In 1979, I was a member of the committee constituted by the then government under the chairmanship of Dr Shivram Karanth, The other members included Mrinal Sen, Shyam Benegal, Vijaya Mulay, Ramanand Sagar and B R Chopra.
We were to give recommendations on the ways and means of improving the prevailing conditions in the film industry.
After visiting several of the institutions connected with film-making all over the country, and interacting with professionals concerned, we drafted a report.
While finalising the recommendations, the four of us -- Shyam Benegal, Mrinal Sen, Vijaya Mulay and I -- planned to recommend the abolition of censoring. We knew we could do that as we were in the majority.
When the idea came for discussion, B R Chopra and Ramanand Sagar pleaded with us not to go ahead with it. They were of the opinion that the film industry would be destroyed if censoring was abolished.
Why did they feel that way?
They said it was a shield for the producers to protect themselves from unnecessary litigation by rivals and special interest groups. We did not want to overrule these veterans as they sounded genuine in their concern.
In retrospect, I feel what we did was a big mistake.
Under the pretext of censoring, successive governments have been clamping all kinds of restrictions on film-makers.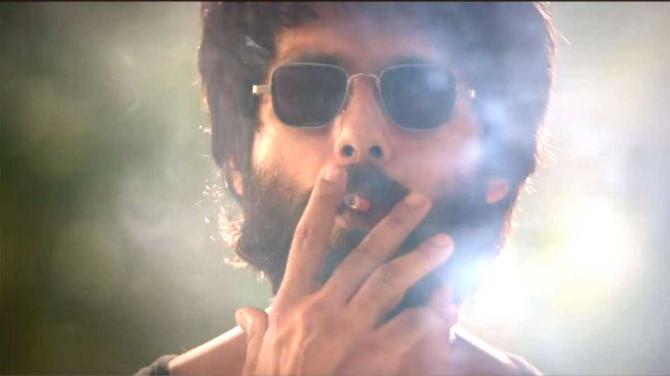 You mean obstacles?
Yes. I will give you an example.
There was a minister who took it up on himself the mission of dissuading the public from smoking.
A noble idea!
He managed to pass a mandatory regulation, insisting on producers to show advisories like 'Smoking causes cancer' as well as gruesome videos of cancer patients in the beginning, middle and end of every film.
I do not know why the censors did not ban that video. It was not just scary but very insensitive and in bad taste too.
How can a people's government scare the public when they should instead be providing protection and security?
Over and above such disfiguration comes the message, 'Smoking is injurious to health and causes cancer' superimposed on the scene whenever a cigarette is lit by a character. How can you assert that smoking causes cancer?
It may or may not cause cancer.
I know so many people who smoked throughout their life but never got cancer. My wife, her sister and my mother never smoked in their lives, but all of them died of cancer.
Have you seen the pictures of the renowned film-maker Goddard (Jean-Luc Goddard)? He is never seen without a cigar in his mouth.
Do you feel governments treat cinema as a tool to promote certain ideas?
Yes, more than that.
Whether it is a commercial or an art film, the government has no business to interfere with it.
They want us to warn people about drinking and smoking.
I am yet to see a warning that says starving is harmful to health!
Or having no roof to sleep under is harmful to health!
With the heavy burden of these free ads, proper cinema would sink to an unfathomable low from where no one can salvage it.
India is the only country in the whole world where they smother and mutilate cinema like this. And all is in the name of censoring and issuance of a certificate for public screening.
If you have shown a bird or an animal in the film, there is a stipulation to obtain a certificate from a certain authority that it has not been harmed while shooting. So, every conceivable authority in the government is contributing liberally to the disfigurement of cinema.
Have you seen anything of this sort in the films made in any other country?
Do you think their governments are not concerned about their people or animals?
Do you feel films are not looked upon as creative expression of filmmakers by the government?
Yes. The problem is that both at the popular as well as at the administrative level, cinema is seen as variety entertainment.
Popular cinema is giving them mindless entertainment that is a kitchdi of anything that will attract audience attention. So we cannot blame those in power who are not necessarily cineastes.
At the same time, the government has a responsibility to look at cinema seriously, as an art form, an integral part of culture.
They should consult people who have knowledge of the medium.
But it looks like there is absolutely no consultation whatsoever with creative people before making decisions. The administration appears to be insensitive to creativity.
In fact, one gets the impression that they are even scared of creativity.
And, do you have an idea of the Constitution of the Censor Board in the regions?
At the centre and top, there is a cadre official who takes orders from above, on what to allow and what not to. Then, there are the members who are mostly people who have no knowledge of cinema and not qualified to judge a film.
So what happens is, the officer carries out the orders from above and hands down his decisions as the Board's which has popular representation on it.
Now, the new Cinematograph Act will have more power than the censor board...
Exactly. This is like another super censor above the censor board. It means, they don't trust even their own officer.
Now the question is who is going to be the super censor?
If it materialises despite all the voices against it, why not disband the present Censor Board and save time and money?
Let them have a secret police to censor films!
That would once and for all teach all the film-makers of this country a fitting lesson!
What is happening is very whimsical, and very, very undemocratic. They are trampling upon their own system which is already very servile.
When the Censor Board asks for cuts in films or refuses certificate, there was a way out for the film-maker. He could go to the appellate authority.
Now, they have dismantled the Film Certification Appellate Tribunal (FCAT).
Yes. Why do they do this?
This is real browbeating.
Film-makers are trampled upon. I do not understand why they are after the film-makers.
Are they so dangerous?
Do you think the government is afraid of freedom of expression?
I am afraid, it is so. There is no doubt about it.
*Kindly note the image has been posted only for representational purposes.
Feature Presentation: Ashish Narsale/Rediff.com