'Villagers are people without masks.'
'That is why I call them genuine human beings.'
'As an actor, I have been inspired by many such genuine characters.'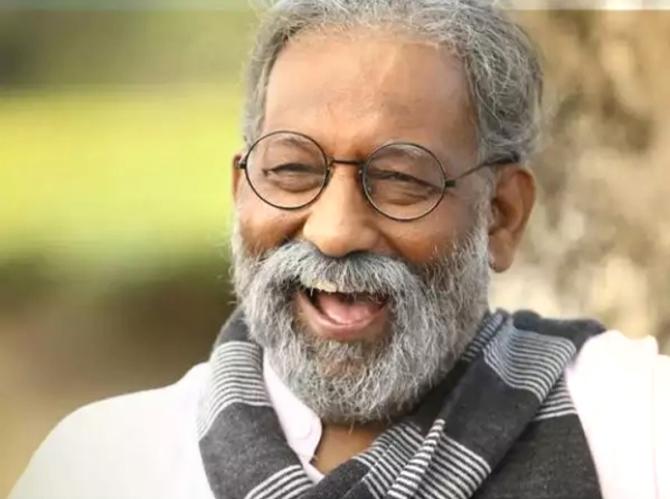 This interview with the legendary actor Nedumudi Venu, who passed into the ages on October 11, 2021, was first published on Rediff.com in July 1998.
Nedumudi Venu needs no introduction to those familiar with quality cinema. One of the finest actors in Indian films, he is believed to have received short shrift from many an award committee.
This, despite him having even national awards in his kitty. He has made his mark in a variety of films, ranging from the trite to the extraordinary, exploring a range far wider than most of his contemporaries have.
Shobha Warrier met him at his residence, Thampu, in Thiruvananthapuram. Incidentally, it was with G Aravindan's Thampu that he first entered films.
Very intelligent, extremely articulate, it was truly an experience talking to him. The first of a multi-part interview:
You spent your childhood in a village in Kuttanad. The tranquil village atmosphere, its temples, its folklore, its music, the greenery and the paddy fields might have had a great influence in your life.
How much has the serenity and richness of Kuttanad helped you in your outlook to life, as a person and as an artist?
Our village with its lush green paddy fields, slowly flowing rivers, huge trees, quiet backwaters and extremely hardworking villagers is special in many ways.
Do you know, in Kuttanad the farming is done below sea level? Only when you come and stay in a town do you miss the personal touch of a village.
Here we do not even know who comes to the next house. We don't show any interest either. Not so in a village. There they try to find out who the new person is, what he is doing and why he has come to the village. Everyone in a village comes to know about the birth of a child or the death of a person.
More than anything else, villagers are people without masks. So, you meet unique human beings with unusual mannerisms. Here in the city, you see only masked human beings.
If a villager does not like somebody, his feelings will either be visible on his face or he will tell the person point-blank what he thinks. He does not hide his true feelings. That is why I call them genuine human beings.
So, from an artist's point of view, let him be a painter or a novelist or an artist, any village is rich in life.... From where do we artists' get inspiration? From real life.
So, as an actor, I have been inspired by many such genuine characters. All villagers are in some way or the other characters for you since each one of them is different. Those images get imprinted in your mind -- or the computer that you have inside. The images come alive only when you need them.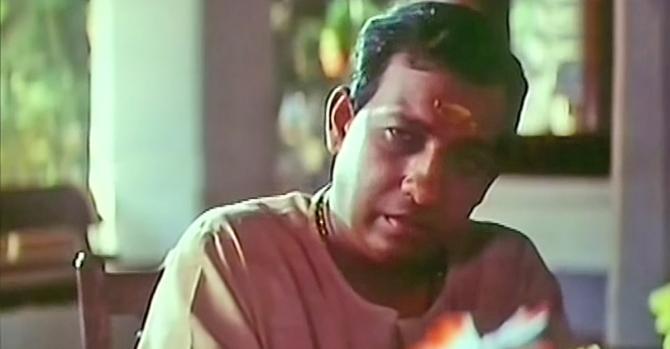 Did you observe people even when you were young?
I never observe anything or anyone for the sake of observing. It is a natural process. The vague, faded images attain clarity only when you need them, sometimes after several years. And I, as an actor, give life to them.
I can say that unlike today's children, we had a very rich childhood, a childhood of abundance and plentiful. Not in terms of money though. Nobody was concerned about money then. Culturally and artistically, the atmosphere around was immensely rich.
A child of today will be surprised to hear that we had singing and theatre sessions everyday, and not homework. All of us who could sing or hum a little would assemble in our house and the evenings came alive.
Just in front of our house was the huge yard of the temple where we sat and played musical instruments, sang songs and during vacations enacted plays. We were five brothers in our family -- no sisters.
So, in my village, youngsters belonging to all age groups literally grew up at our house. And the interaction continued for several years till I, the youngest, left.
As both may parents were teachers, they encouraged all our literary and cultural activities. In fact, my father was such a great lover of Carnatic music and Kathakali. He used to take us to all the places where a performance was being held.
I still remember travelling in boats through the backwaters to Ambalappuzha, Chengannur, etc for concerts. We also had several artists staying with us to teach us classical music, Kathakali Sangeetham and musical instruments like the mridangam, ghatam etc.
So yours must have been a very rich family.
No, not at all. We had a small piece of land where we did a little farming. But my father was basically a teacher, retiring as a headmaster of a primary school. My mother also worked as a teacher.
It was a question of priority. According to them, the most important thing in life was education, both academic and cultural. They were very particular that all of us went to college and pursued higher studies. At the same time, they didn't want us to forget our cultural roots.
By the time I was big enough to learn the art forms in depth, my father had retired. Naturally, the income reduced. There was no pension in those days. So whatever little Kathakali Sangeetham, Carnatic music, mridangam I know, I had to pick up by watching others perform and not from any guru.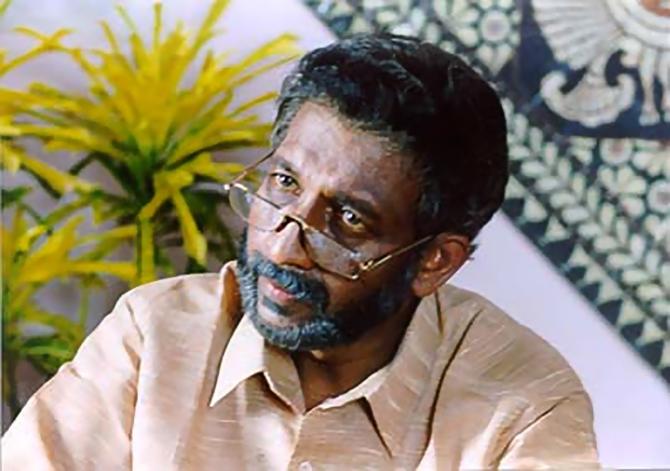 The way you recite poems is legendary in Kerala. And you've recited a lot of poems in your films. I still remember, in the eighties you were a rage among college students. How did you learn to recite poems so well?
That too I learnt from my father. He used to make us recite poems when we were young. In the evenings, after the lamp was lit, we were supposed to sit and do our prayers. My father himself used to write hymns, set them to tune and teach them. He was very particular about the way we pronounced the words and the way sang them.
I think I grew up with a very strong foundation -- a big help in my later life. So, even if we had to construct many, many layers on top of the foundation, we never felt tired. We could carry all that with ease.
Like many others, do you also feel that today's children do not have that kind of a foundation?
I don't agree. Life has become very fast now. We cannot just pass judgements -- like, this is wrong and this is right.
Today's children live in a world where knowledge is available at their fingertips. The opportunities and possibilities are tremendous. I know it is ridiculous to expect our children to live the way we did.
Still.... From a father's point of view, I feel sad and helpless because I feel I could not give them the kind of the thrill, the excitement and happiness that I experienced as a child.
Do you feel they do not get any excitement from their life?
I feel they do not get the same kind of excitement that I had as a child. I would be happy if they got at least a little of that.
For example, I wanted to teach my children music. Yes, they are learning music, the veena etc. But the learning process is totally different. There is no fun the way they learn. The teachers come here twice a week, teach them and go away.
Today's kids do not have adequate time to have fun learning and practising art. They have got such a lot to study. They cannot neglect that too.
I feel nothing is done in a proper way. I feel sad when I see these children drifting away from our own culture. I blame the parents -- that includes me too -- for that.