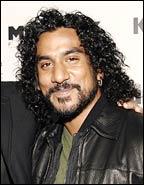 Actor Naveen Andrews has found redemption with the hit television series Lost, not least because it has fetched him an Emmy nomination.
For many of his admirers disappointed with his work in Bride & Prejudice, the success of ABC's Lost and the quality of Andrews' performance in it is something to rejoice about.
Andrews, whose movie and television assignments have taken him across the world in the past 15 years, was in Morocco shooting The Ten Commandments when he heard he had been nominated for his first major award, an Emmy. 
Andrews is one of the survivors of a plane crash in ABC's hit drama series Lost, that also received an acting nomination for Terry O'Quinn. Both Andrews and O'Quinn are nominated in the best supporting actor category. In all, the series received 12 nominations.
| | |
| --- | --- |
| | Also Read |
| | |
Best known for the role of the Sikh bomb diffuser in 1996's Oscar-winning The English Patient, London-born Andrews has acted in about 20 films and several television films including the Chippendale Murders, about an Indian immigrant who rose from a gas station attendant to one of the biggest names in adult show business.

'It's very nice to get some kind of acknowledgement for your work. It's bloody good for the show,' Andrews told Hollywood Reporter. 'We're all pretty proud of it. It's a great thing to be involved in.'

As for his competitor from the same show, Andrews said, 'I really admire him as an actor. To be in the same category as him is a true honor.'

In 1993, Andrews was nominated by the Evening Standard Drama Awards as Most Promising Newcomer for his part in Wild West. The film revolved around a Pakistani living in England, who thinks he is a cowboy and dreams of leading his country music band to Nashville success. He meets a young woman who leaves her abusive husband and joins their group as a singer, but when they get a break with a record company, the company is only interested in her. The film received glowing reviews but bombed at the box office. 'I think it was ahead of its time,' Andrews said.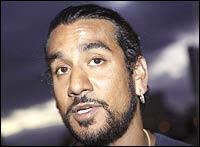 Andrews will be seen by the end of this year in one of his most interesting desi roles. He plays the lead opposite Aishwarya Rai in Jagmohan Mundhra's Provoked, based on the true story of an Indian woman whose marriage takes her to England. There, she's driven to killing her abusive husband .
Andrews is among several Indian actors (Parminder Nagra, in the TV series ER, is one) finding good parts in mainstream TV shows in Britain and America.
'It is not easy to get parts in mainstream films for most people of color,' Andrews, whose parents had migrated to Britain from India in the late 1940s, said in an interview at the beginning of his career. 'Hollywood and British writers are not writing parts for us, or the directors are not interested in casting us in parts that are colour-blind.'
"But I hope at least in TV, there will be more openness and we get to do some good work."
Andrews, who played a prince in Mira Nair's Kamasutra, was also cast in her telefilm My Own Country, based on an international bestseller of the same name by Dr Abraham Verghese. Andrews played the role of an Indian doctor, befriending scores of AIDS patients returning to their Tennessee hometown from across America to die.
Verghese, who befriended the actor during the shooting, said, "Andrews is not just an actor. He is a very caring person, and he values honesty, integrity and humanity."
Photographs: Getty Images