'I wasn't initially convinced about Finding Fanny. I didn't know what the hell Homi (Adajania, director) had written.'
Veteran actor Naseeruddin Shah gets candid.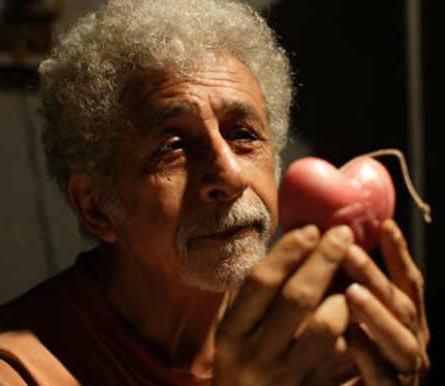 Naseeruddin Shah's house, located on the third floor of a building in Bandra, a western suburb of Mumbai, has a vintage yet contemporary touch.
Several books related to theatre are stacked neatly on a book shelf, which covers an entire wall of the living room.
A cat litter rests in one corner of the room. Ironically, Naseer's character in his latest release Finding Fanny is allergic to cats.
Dressed in a purple T-shirt and cream pants, the veteran actor claims he loves cats in real life.
In the conversation that follows, Shah explains why he initially refused to be a part of Finding Fanny, his upcoming autobiography and why he is happy with son Vivaan Shah's choice of movies.
Coming out of the theatre after watched Finding Fanny, I heard a lot of women complimenting you on your looks.
I started getting compliments for my looks only in the last 10-15 years, since the time my hair starting turning grey.
I had decided never to dye my hair because by doing that, it doesn't make a man look young. In fact, I feel the wrinkles on a man's face become more prominent when you dye your hair.
Another reason for my looking good is that I am happier with my work than I was earlier. Maybe that is reflecting on my face.
With films like Ishqiya, The Dirty Picture, Dedh Ishqiya and now Finding Fanny, there is a surge of romantic films in your career.
I am the king of old school romance (Laughs).
Were you convinced with Finding Fanny when you read the script for the first time?
No. I had initially refused it. I didn't know what the hell Homi (director Homi Adajania) had written.
It was madness. The script was quite different. It was complete insanity.
I questioned how we can possibly make the film funny. Later, Homi read the script to me and then I realised where he was coming from.
Still, I had lots of doubts about the film. But it was a joy to do this film and I guess Homi has done a fine job.
Homi has mentioned in an interview that he wouldn't have made the film without you.
He was supposed to make it about three years ago, before he made Cocktail. At that time, I was busy with other things and I said I wouldn't be able to act in it.
He says he postponed it because of that. Ultimately, he ended up making Cocktail.
I think it's very brave of him, after directing Cocktail, to do a film like Finding Fanny rather than make another film like it.
What was your experience of shooting for Finding Fanny?
It was an enjoyable experience.
The film had a combination of experienced as well as young actors. Deepika (Padukone) and Arjun (Kapoor) are of a different orientation altogether, but they never stood out at all.
It is more Pankaj (Kapur) and my kind of film than their kind of film. They were on our territory but they fitted in quite beautifully.
They have both given sincere performances. They don't look fake. It's quite an achievement, particularly for Deepika, whose whole business in life these days is to appear impossibly beautiful.
In Finding Fanny, she didn't use make up and looks completely like an ordinary Goan girl. Deepika deserves the success that she is getting.
Did you learn anything from working with the young actors?
Oh yes. I find their company very enjoyable and I am interested in working with more and more young actors.
I find it rewarding to work with them. It so happens that a lot of the time I don't have anything in common with them, but just to talk and listen to them, and understand their point of view, is pretty interesting.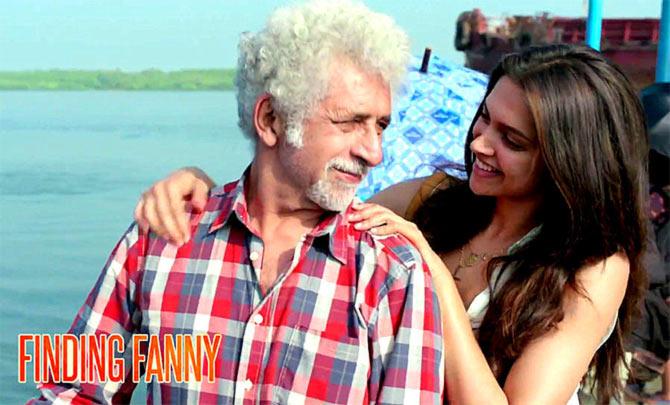 Image: Naseeruddin Shah and Deepika Padukone in Finding Fanny
On one hand, you do a quirky film like Finding Fanny and on the other, you are doing a slapstick comedy, Welcome Back. How do you adjust your sensibilities?
You ham well in films like Welcome Back (laughs).
With a film like Finding Fanny, you stay true to the character.
You are releasing your autobiography (And Then One Day) very soon. It is said that it's cathartic writing about one's own life…
I had many doubts while writing my autobiography. I wasn't sure if anyone would be interested to read about my life.
I wasn't sure whether I had any business telling people about my life because they are not all pleasant memories. I needed to come to terms with those events in my life, which left a bad taste and bothered me. But at the same time, I cannot deny that they also influenced me in a positive way.
And then I thought what the hell! A person takes his own path. My father tried to guide me the best way he thought I should go and it didn't work. I went the way I wanted to.
I shared a very bitter-sweet relationship with my father. I haven't made the mistake of guiding my children the way I think I want them to be. I have given them the freedom of finding their own path. I have faith in them that they will.
What have been your greatest discoveries while writing the book?
My greatest discoveries were that I realised I could look back at my relationship with my father and look at it anew, and at the (relationship with) the woman I married when I was 20 and look at it anew.
I could look back at relationships with various women I loved and look at them anew.
A lot of people who have read the book say that they are struck by how honest it is. I didn't set out to be honest or to tell everything (laughs). There are plenty of things that I haven't told.
Can we expect a second part to the book?
No (laughs).
Even at this age, I haven't told all. I have told what I felt would be engaging and the events that have helped to shape me the way I am.
Generally, the untold stories are more interesting than the ones that are told. Does that hold true in your case?
Yes, it's possible. Maybe I will tell those stories as part of a fiction book. It will have everything about the film industry.
So a fiction book will be based on facts (laughs) and any resemblance to real characters is purely unintentional.
It's an interesting time for your family. After your film Finding Fanny, your wife Ratna Pathak Shah's film Khoobsurat and your son Vivaan Shah's film Happy New Year are releasing. What is the atmosphere like at home?
It hasn't changed our way of living in any way. Viv (Vivaan) is very excited as he is leaving on a world tour with the cast of Happy New Year.
I can understand his excitement. I hope he learns the right lessons from it. I hope he learns the business of how to act in these popular movies because I never learnt it.
I think with Shah Rukh and Farah Khan, he is in good hands.
I have my own excitement about my book. I am also going to Dubai to shoot for Welcome Back so I guess it's a good time for the family.
Are you happy with the way Vivaan's career is shaping up?
I am glad that his career is not following the same path as mine. He won't have to carry the baggage of being known as a serious actor's son.
He'll be judged on his own merit because the films that he is doing are far from the films that I am known for.
He needs to get out of my shadow. In fact, all my children need to get out of my shadow. I think they will because they have substance in them as performers. There will come a time when I will be known as their father (smiles).
As a father, would you be critical about Vivaan's work?
Of course I will, and I guess he knows it. He many not enjoy the criticism, but it will be more useful to him than praise.
Taarif karne waale bahut milte hai (there are many people who will shower praise) but I wish he finds an equal number of people who will analyse his work and tell him how he can be better.
Personally, I appreciate criticism. I like people who tell me they did not like my work and tell me why.
It takes more effort to criticise than praise someone. I pray for Vivaan's success and hope I don't have to criticise him.