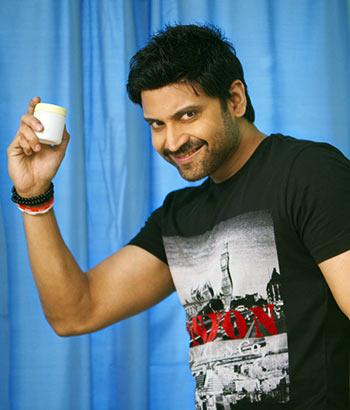 'I was surprised by Vicky Donor's universal appeal. Even my grandfather (the late Akkineni Nageswara Rao) saw Vicky Donor on television and loved it.'
'I had a dip after three flops and had to get it right in my own way.'
Sumanth feels his Vicky Donor remake -- named Naruda Donoruda -- is just what his career needs.
Telugu actor Sumanth has been rather selective about his films. His last release Emo Gurram Egaravachu came out two and a half years ago.
Now, he returns with Naruda Donoruda, the Telugu remake of the Hindi film Vicky Donor. It releases on November 4.
In this exclusive conversation with Rediff.com contributor Radhika Rajamani, Sumanth lists his reasons for doing the remake and working with seasoned actor Tanikella Bharani.
Why did you sign up for Naruda Donoruda, the Telugu remake of Vicky Donor? You are also coming back with a film after quite some time...
Yes, it has been two and a half years.
I saw Vicky Donor in 2012. I was surprised by its universal appeal. Even my grandfather (the late Akkineni Nageswara Rao) saw Vicky Donor on television and loved it.
I had a dip after three flops and had to get it right in my own way. I felt Vicky Donor is a romantic comedy and edgy too. We spoke to (producer) John Abraham and got the rights.
What did you like about Vicky Donor?
So many things.
It had a mischievous side and a heart as well. It was quirky with universal appeal. There were so many nuances of the story. I would refer it as a romantic comedy.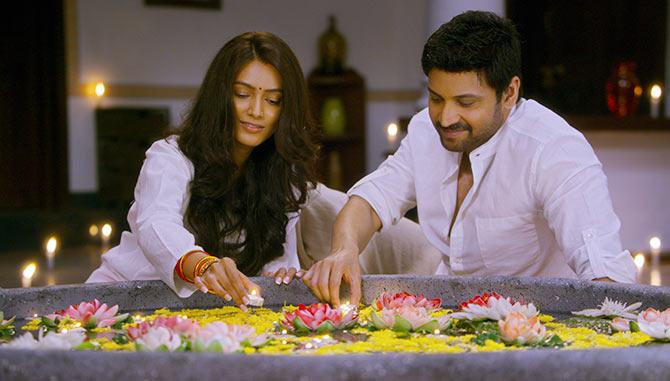 IMAGE: Pallavi Subhash and Sumanth in Naruda Donoruda.
Do you think the Telugu audience is game to receive such a film?
It is a universal topic. There are sperm banks and infertility clinics all over the place. Fifteen per cent of the couples cannot have children and 70 per cent of that 15 per cent require sperm donation, as even IVF does not work. People are touchy about this issue.
Is Naruda Donoruda a frame-to-frame remake or is it adapted?
Some fundamental screenplay changes have been done. The humour between Bharani garu and me has been upped in a natural, organic way. There is freshness in the film.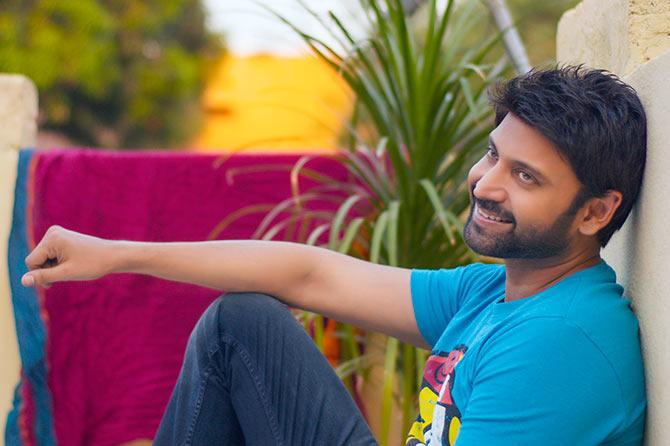 IMAGE: Sumanth in Naruda Donoruda.
How was it to act in such a film?
My close friends and family know that I am a playful guy. It was one of the easiest characters to play. Films like Godavari and Golconda High School were difficult to do. In real life too, I talk that way!
Vicky Donor had Ayushmann Khurrana working in his mother's beauty parlour. Do you have the same scenes in the Telugu remake?
Yes, we do have the beauty parlour in the Telugu film. We haven't missed out the essence in the remake. Such characters are here too.
Was acting with Tanikella Bharani fun?
Yeah. We go a long way back having worked in Satyam, Gowri and Godavari. I was a young boy playing on the sets of Shiva -- produced by my father -- which Bharani garu wrote. He is such a wonderfully gifted actor; he brought so much to the role.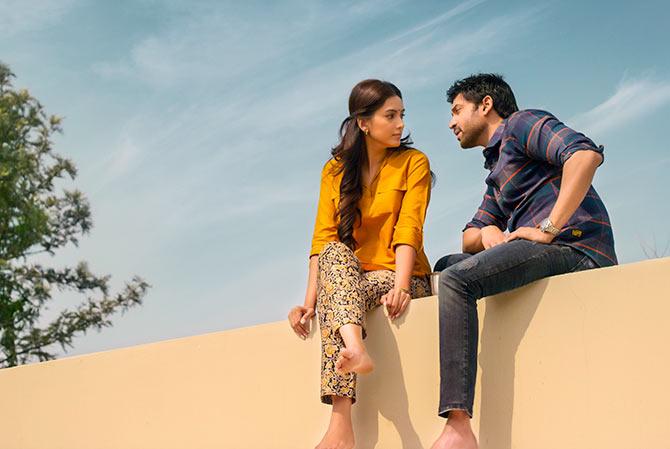 IMAGE: Pallavi Subhash and Sumanth in Naruda Donoruda.
How was Pallavi Subhash with whom you were acting for the first time?
She is a seasoned actor, having worked in TV and Marathi films. She is classically beautiful. It is a shame we did not discover her earlier. We needed someone with strength and maturity and yet be a little 'touch-me-not.'
Do you think this film will work like Vicky Donor?
Yes, as it is in the romantic comedy space. This story has a soul, drama. It is a romantic comedy with boldness and edge.
Naruda Donoruda is directed by first-timer Malik Ram.
He was an assistant director in Golconda High School. I have known him since then. He has worked with directors like Indraganti Mohanakrishna and Avasarala Srinivas. You need that kind of sensibilities to make this quirky film.
Will we see more films from you?
I am selective but hopefully, I will not take so long to do my next one.
Also Read: