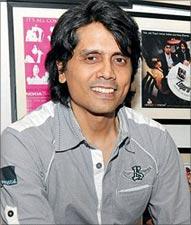 Filmmaker Nagesh Kukunoor remembers being floored by the actor Dev Anand and later, when he met him for the first time, the charismatic person that the star was.

I wasn't influenced by the kind of cinema Dev Anand made, but his movies are a huge part of my growing-up days. His movies were inescapable though my father's generation was more directly in touch with his films.

Listen to Dev Anand's songs here.

When I was growing up, we saw his performances in films such as Jewel Thief and Johny Mera Naam. I was in awe of him and can't think of anyone who wouldn't be in awe of Dev Anand. He would eat, drink and live cinema. He was so stylish yet so simple and was a brilliant actor.

My favourite Dev Anand film is Tere Mere Sapne. I liked it better than Guide. It was a simple story of a husband and wife and how a simple thing can derail an entire relationship. I think he gave his best performance in the film. His honesty as an actor was so evident in the film. You didn't have trademark dance steps or the shaking of his head.
The film was backed by beautiful music; it was like from another planet.

I was always blown away by his ear for music. Being a director myself, I know that a director has a lot of control over what should be added in the film. His music was outstanding. People like R D Burman, S D Burman, Kishore Kumar and Mohammed Rafi had a huge part in the success of the music of Dev Anand's films. Even his obscure films like Bullet and Joshila had some good music. In those days, I would blindly go and buy the audio-cassettes.

The first time I met Dev Anand was in 1998. It was a brief interaction. Hyderabad Blues was showcased at the Mumbai Academy of Moving Image (MAMI) and Dev Anand was going to be felicitated for completing 75 years in Hindi cinema.

Then, in 1999, I was dubbing for my movie Rockford at Navketan. I came to know that he was in the office and I didn't want to miss out on the opportunity of meeting him. I went to his office and introduced myself and he remembered meeting me at MAMI.

The Dev Anand moment I cherish most is when I met him at the International Film Festival of India (IFFI) in 2005. I was there with my film Iqbal. At one of the parties, we were all hanging around and suddenly a Goan music band came up to his table and started singing Phoolon Ke Rang Se. He got up and started singing and dancing and all the people joined him!

I have a very special attachment to Phoolon Ke Rang Se because that was the first ever song that my father taught me to sing. I was just three and father, being a good singer, would sing the song and I would repeat it. It was a surreal moment to sing the song with Dev Anand in Goa.

Please post Your Tributes to Devsaab here.