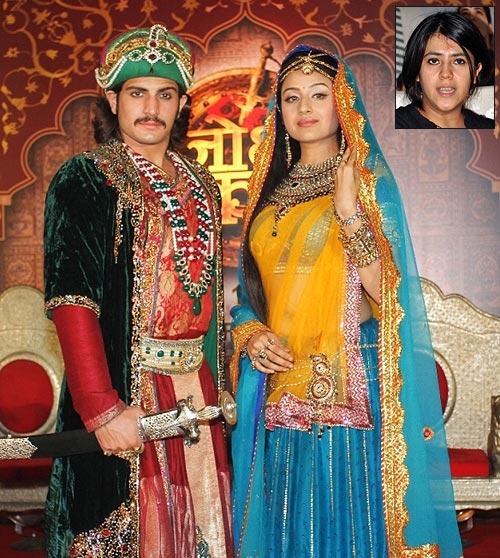 Television czarina Ekta Kapoor is now venturing in the period drama format with her new show Jodha Akbar, set to premiere on Zee TV on June 18.

"I am coming out of my comfort zone for this show. I have never done historical shows before," the Balaji Telefilms head, who has produced hugely popular soaps such as Kyunki Saas Bhi Kabhi Bahu Thi, Kahiin to Hoga, and Pavithra Rishta, says.

"The beauty about history is that it's open to perception. I know I will be putting myself up to a lot of ridicule, a lot of appreciation too, but a creative person scared of that will never grow in life," she says.

Comparisons are bound to be made with the film Jodha Akbar, but Ekta says, "My Akbar is different from Hrithik Roshan in Jodha Akbar and Prithviraj Kapoor in Mughal-E-Aazam.

"I am showing Akbar's younger version who is wild, someone who got immense success at a very tender age. My Akbar is all about madness, power and how Jodha, with her love, makes him humble."

Rajat Tokas, best known for Dharti Ka Veer Yodha Prithviraj Chauhan,
will play Akbar.
"For Akbar, I wanted an actor who is a boy-man. Although Rajat has the innocence of a 19-year-old, he is mature as an actor. Akbar became a soldier and a king at the age of 14, and by 17, he had already won a battle on his own.
"Rajat is an expert in martial arts and horse riding. So, he was perfect for me," Kapoor says.
Ekta held some 7,000 auditions in a nationwide hunt for Jodha, before choosing Paridhi Sharma.
"I wanted someone who possesses the radiance and dignity to portray the loveliest Rajput princess Indian history's seen. I'm told Jodha was someone whose eyes conveyed humility, simplicity, courage and conviction. Paridhi embodies everything I had in mind for Jodha."
Summing up the serial, Kapoor says, "It's a story of love at the time of hate, love that changed humanity. It's a story about a religious and cultural battle that was won by love.
"I really find Jodha-Akbar a fine example of a couple, true or not, that people need to see today," the producer signs off.
Photograph:
Rajat Tokas and Paridhi Sharma as Akbar and Jodha. Inset: Ekta Kapoor