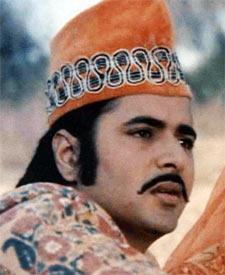 Filmmaker Muzaffar Ali, who worked with Farooque Sheikh in Umrao Jaan, Gaman and Anjuman, remembers his long association with the late veteran that goes back way before their days in the film industry.

I knew Farooque from our days in the aviation industry -- both of us worked for Air India -- he as a flight purser and I as a part of the ground staff.

We shared a mutual passion for cinema which, we didn't know at that time, would become such an integral part of both our lives.

I worked with him in three of my films -- Gaman, Umrao Jaan and Anjuman.

I cast him in those films because I needed a certain kind of vulnerable quality in the characters and he seemed
to be the only one who could portray that perfectly.
Gaman
turned out to be the first break as a leading man -- before that, he had played a part in MS Sathyu's widely acclaimed
Garam Hawa
.
I saw him in the film and cast him in
Gaman
immediately.
Farooque was pitch-perfect as the migrant from a village in Uttar Pradesh earning a living in Mumbai by driving a taxi. He actually mingled with
taxiwallas
for his role in the film.
In
Umrao Jaan,
I cast him as a Nawab. Though the role was culturally far removed from
Gaman,
he excelled in the role.
In
Anjuman
too he played a naive man free of a manipulative streak.
He was like that in real life as well.
Was he trapped in playing only a certain kind of roles? I wouldn't know.
I could only see him within the parameters of the characters that he played for me. We had a wonderful time working on all three films.