Yes, it's all mumkin in Amin Hajee's world!
Amin Hajee -- Lagaan actor and brand ambassador for Panchgani -- is so inspired by the hill station and its #SwachhBharatPanchgani initiative that he has made a 15-minute film on it.
Amin worked on the lyrics with friends Sanjay Dayma and Ajit Avadhani.
On hearing the song -- Mumkin Hai -- wife Charlotte advised Amin to do a flash mob in Panchgani market.
Local schools agreed to send 25 students each.
Dance teacher Amruta Pore took care of the choreography and the video is here for you to watch.
Aamir Khan, Amin's close friend who owns a home in Panchgani, posted a message, below: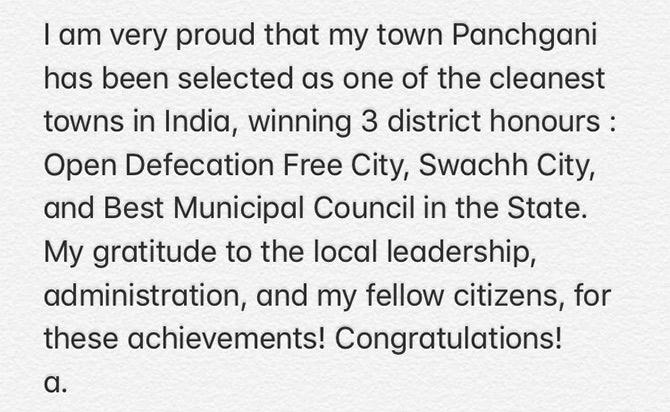 Amin, who has worked in Ashutosh Gowariker's Pehla Nasha, Lagaan, Jodhaa Akbar got an endorsement from the director who tweeted: 'My friend Amin's great ENDEAVOR #SwachhBharatPanchgani CONGRATS @hajeeamin for being the Brand Ambassador of Panchgani! GREAT WORK!!'
Mumkin Hai Credits:
Concept: Amin Hajee
Lyrics: Amin Hajee, Ajit Avadhani and Sanjay Dayma
Singer: Ravi Chaudhury
Music: Satya, Manik, Afsar
Studio: Leitmotif Records
Sound engineer: Satya
Funded by PHSMC (Panchgani Hill Station Municipal Council)