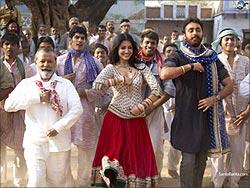 Raja Sen feels Matru Ki Bijlee Ka Mandola is a short album but boasts of top-shelf songs.

There are so few consistently excellent creative collaborations in our cinema that we must celebrate the ones that always overreach -- and always deliver.
The Vishal Bhardwaj and Gulzar duo remains one of the most thrilling partnerships in modern-day cinema, between our finest, most cinematic composer and our wiliest, wickedest poet. And make no mistake, their latest -- for Bhardwaj's upcoming
Matru Ki Bijlee Ka Mandola
-- is as saucy a soundtrack as we dare expect.
The title track that starts off confounding (whatever is a Matru? Or a Mandola?) pulsates with raucous enthusiasm and gets relentlessly madder, complete with increasingly violent vocals (from Sukhwinder Singh and a cleverly chosen Ranjit Barot) and even some Afrikaans thrown into the mix.
It's an uproarious onslaught, a runaway bull of a song that has broken out of its pen, and while I'm sure every bit of lyrical looniness will be explained as we see the film, for now it feels sufficient to embrace its good-natured masala roots and hang on for the ride.
Gears shift very abruptly as the next track, a heartbreakingly wistful song called
Khamakha
, takes over.
I'm of the tribe that believes Bhardwaj is a spectacular singer, a soulful crooner who makes great poetry even more magical, and he works his mellow, emotionally-laden voice perfectly here too. It is a haunting song, with Gulzar's words longingly lamenting and celebrating love all at once, saying that whatever it may be, it isn't for nothing.
"
Jo nahin kiya, kar ke dekh na / Saans rok ke, mar ke dekh na
," Bhardwaj sings, almost echoing
Bekaraan
from last year's
Saat Khoon Maaf
soundtrack, which worked on similarly breathless themes.
This one, however, is more of a justification for love; the poet calls being in love madness, and yet decides that -- by, say, worrying about it and talking about it -- we render it substantive, relevant, make it more than meaningless. Gorgeous.
Things get ridiculously playful immediately after with
Oye boy Charlie
, an earworm so rambunctious you can almost taste it.
Rekha Bhardwaj teases hotly while a slew of male singers gamely try and keep up, the lyrics ranging from curvy women to late night phone calls. This is an old-school song of flirting and oneupmanship, and while the dholak and harmonium melody seems deceptively simple, it drills right into the head. And the feet. Such fun. And calling a woman 'my Timbuctoo' has never felt righter.
Made for rabble-rousing,
Lootnewale
sounds
like the cross between an aggressive crowd chant and the kind of thing you'd hear at a smalltown wedding.
Bhardwaj, never content keeping things as simple as most might, throws in some rock with harsh guitars and a killer bassline. With borderline Socialist lyrics, its the kind of thing that works for a revolutionary mutiny. This is either a furious song of revolution or one helluva taunt, and it works either way.
Shara-rara-ra
, played with manic energy by a
shaadi
-style brass band and sung by the irresistibly named Prem Dehaati, is a short but insanely catchy burst of
desi
hooch-addled punch. As interludes go, pretty damned heady.
Bhardwaj and Co have gone from the shotglass of the last song to a decanter with the beautiful
Badal uthiya
. Inimitable as ever, Rekha Bhardwaj pours this one out slowly, singing of clouds and rain and rusted doors. It's a sitar-propelled track with semi-classical roots, the sitar accompanied by a constantly underscoring bassline.
The vocals are sublime and it's a bewitching song, but I can't help feeling it ends too soon, right after it genuinely starts to soar.
The legendary Pankaj Kapur duels enjoyably with an earnest Imran Khan in
Chaar dina ki
, a face-off between two actors turned into a song with the addition of Prem Dehaati. There's much vigor here -- and characteristically quirky lyric -- but we'll wait for the visuals on this one.
Pankaj's own madcap
Chor police
, a smalltown version of freestyling, is far more satisfying, even if it lasts but a minute. Phew.
Bhardwaj turns to Umoja for
Nomvula
, a Zulu track with much life-affirming spiritedness. It's all drenched in sunshine and birdsong and is very pleasant indeed, and Google tells me that Nomvula, fittingly enough, means 'after the rain' in Zulu.
What Zulu's doing in this highly rustic film, though, I have no idea -- but Bhardwaj's made sure I'm curious.
There are a couple of reprises to round the album off. A version of
Badal uthiya
by Prem Dehaati serves as an interesting counterpoint to the original track, but might not have worked as well without it.
The
Lootnewale
reprise, by Sukhwinder Singh, is more pained and distinctly darker than the original track, sounding most ominous.
There we have it, then. A soundtrack with five top-shelf tracks -- the title track, the immaculate
Khamakha
, the supremely fun
Oye boy Charlie
, the intriguing
Lootnewale
and the enchanting
Badal uthiya
-- and a few pieces of music that will doubtless work better once the movie's been seen.
It is a short album, clocking in at less than 35 minutes -- but, well, that just means you have more time to loop what you love.
And love it you will.
Rediff Rating: