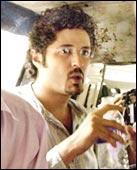 A lot has been said and written about Nadia Khan's death on the sets of Kaizad Gustad's third film, Mumbai Central.
The 27-year-old British national died on May 25 at Mumbai's Mahalaxmi station.
Khan, an assistant director, was on the tracks talking on her mobile phone when a speeding train knocked her dead.
The accident occurred on the very first day of shooting.
Gustad and his associate Ashish Udeshi were arrested on charges of causing death due to negligence (Section 304 of the Indian Penal Code), and were granted bail a month later.
This is when the ink seemed to stop flowing.
What has happened to Mumbai Central?
Has it been shelved or will it get made eventually?
| | |
| --- | --- |
| | Also Read |
| | |
Prashant Narayanan (Chhal, Waisa Bhi Hota Hai Part II), one of the actors in the film, says Mumbai Central is definitely on.
"I met Kaizad a few days ago," he says. "He was not in a position to tell me when the shooting would resume, but I think it should start by the end of this year or the beginning of next year."
His co-star Piyush Mishra (Maqbool) is also confident that the film has not been abandoned. But he feels it may be a while before Mumbai Central gets released.
"The film ends with rain sequences," says Mishra. "I don't think shooting will start now, so we may have to wait until the next monsoon to shoot those parts."
Both actors don't feel the litigation will affect the film.
"So many people have cases slapped against them," says Mishra. "That does not mean they stop living their normal lives. The only problem is we may not get permission to shoot at that location again."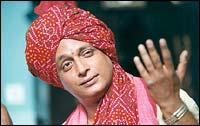 Mishra (left), who was present on the sets when the accident occurred, feels very strongly about the incident.
"It was shocking," he says. "We were not supposed to shoot on the tracks, where she was standing. I don't know what she was doing there, talking on her cell. We were supposed to shoot on the first track, which was an unused one. Most of the crew members were on the first track."
"None of us actually saw the accident. She was two tracks away and I could not see the spot from my angle. It was only when the train passed that everyone rushed to the spot and realised what had happened."
"This happened during the rehearsal of the first shot for the film. I think Vijay Raaz was supposed to walk across the tracks to come to my office, which was situated on the first track. We were just experimenting with the shot."
"I don't know how Kaizad was dragged into the mess. It is not like he intentionally killed her," says Mishra.
Also starring Victor Banerjee and Lilette Dubey, the film takes place in a single day and has five parallel stories.
Mumbai Central tells the story of a day in the life of Mumbai, with typical Mumbai characters like the dabbawala, the organiser of beggars, policemen and politicians.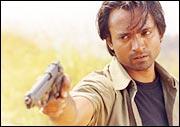 While Narayanan (right) plays a struggling actor, Mishra plays Mumbai Central.
"Yes, my name in the film is Mumbai Central. This is a man who knows every detail about local (suburban) trains. If there is a rape in a local train, he knows about it instantly. He is the one reporters talk to for information. He is a very shrewd businessman and very materialistic. He deals with Dalal Street and the share market. He can also arrange dharnas for politicians. He has a very colourful character, but it is not a negative role," explains Mishra.
Gustad made waves with his first film, Bombay Boys, in 1998. His next film, Boom (2003), starring Amitabh Bachchan, Zeenat Aman, Jackie Shroff, Gulshan Grover, Javed Jaffrey, Madhu Sapre, Katrina Kaif and Padma Lakshmi, bombed at the box office.
But that did not stop Mishra from taking up Mumbai Central. "I had seen Bombay Boys and liked it," he says. "I have not watched Boom. I did not get a good impression about the film from media reports and audiences. I took up Mumbai Central because I liked the script. There were a few blanks in it at first. But that is okay. I found some blanks in Maqbool and some other films as well. Kaizad and I worked on the script a bit and the result is great. It is a unique script."
Narayanan says Gustad wrote the script with him in mind after being impressed with his performance in Waisa Bhi Hota Hai.
"You know, I liked Boom!" exclaims Narayanan. "Actors like Amitabh Bachchan, Javed Jaffrey and Gulshan Grover came up with deadly performances. They put in a personal effort."
Click here for More Features