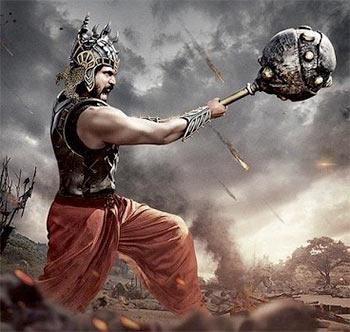 War is as grand and consummate as love in Bollywood.

In Indian cinema's larger-than-life outlook, not only love but war too is depicted on a grand, exciting scale.
Be it the battles fought between rivaling kingdoms, across the border or plain medieval fiction, the emphasis is on drama, thrills and opulence.
S S Rajamouli's hugely anticipated and expensive two-part epic fantasy Bahubali, the first installment of which released last Friday in Telugu, Tamil, Hindi and Malayalam across the country, is full of such electrifying fight scenes.
Meanwhile, here's recalling some of the most powerfully shot wars in Hindi cinema.

Pick your favourite.

Mughal-E-Azam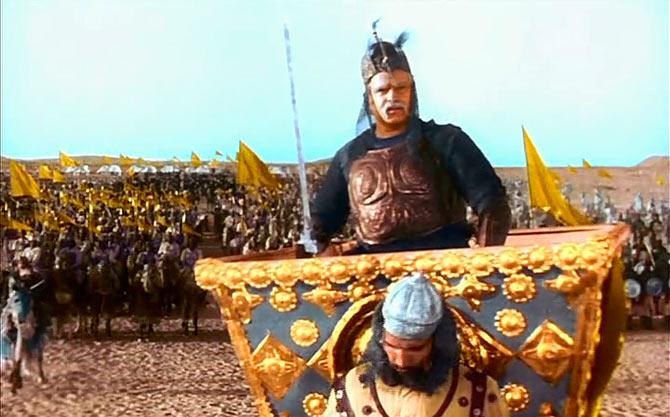 Image: Prithviraj Kapoor in Mughal-E-Azam
In K Asif's magnum opus, Dilip Kumar's Salim rebels against his father Emperor Akbar (Prithviraj Kapoor), disapproving of his romance with court dancer Anarkali (Madhubala).
The father-son face-off happens in battlefield against a magnificently choreographed spectacle involving mighty sword fights atop horses.

Anand Math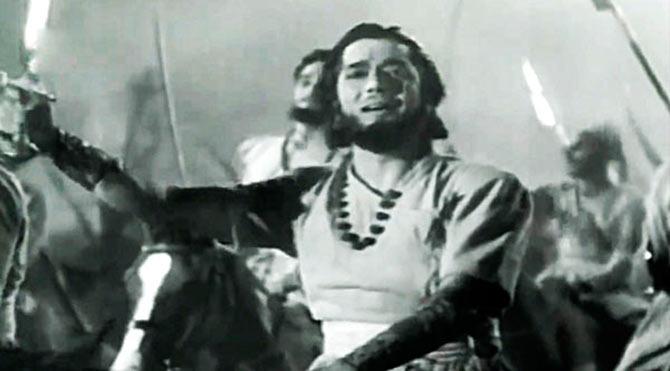 Image: Pradeep Kumar in Anand Math
The patriotism in Hemen Gupta's Anand Math is laced in spirituality, though it's best remembered for Hemant Kumar's immortal composition of Vande Mataram.
Its plot centers around post-Battle of Plassey developments, especially the Santan cult's revolution against the British.

Most notable is its striking imagery of war featuring horses and tanks during the exhilarating finale.

Sikandar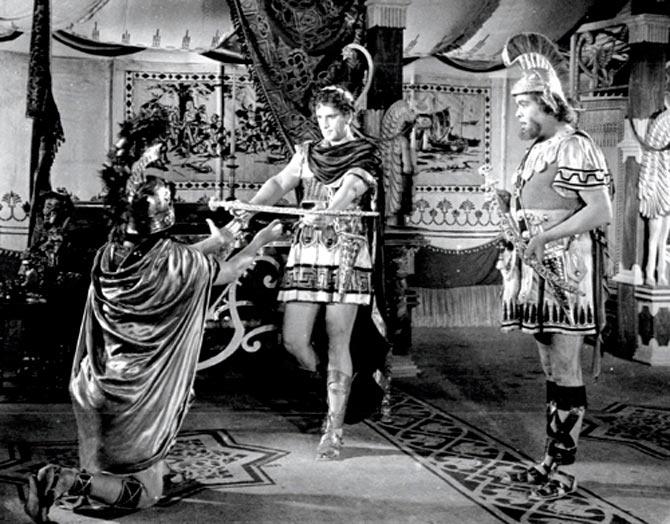 Image: Prithviraj Kapoor in Sikandar
Sohrab Modi's Sikandar came out while India was still under British rule but its commitment to the significance of freedom is most inspiring.

Considering the story revolves around the renowned Macedonian conqueror Alexander, Sikandar is obviously all about large-scale battle.

Yet the one he wages against Modi's proud King Porus against an elaborately staged cavalry is easily the best takeaway of this theatrical epic.

Jhansi Ki Rani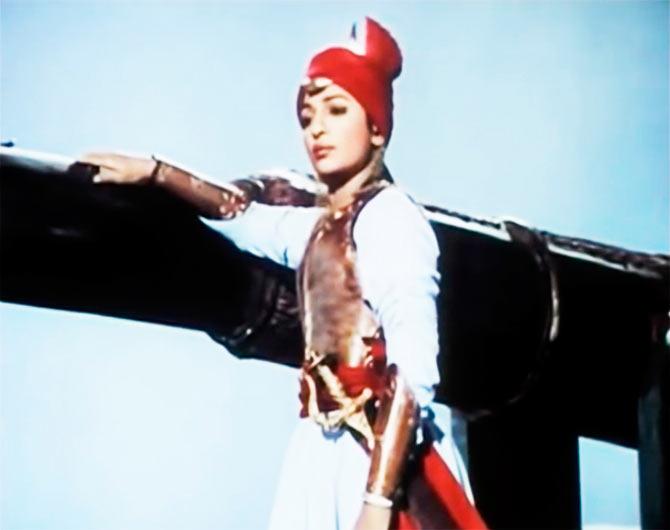 Image: Mehtab in Jhansi Ki Rani
Set against the mutiny of 1857, Sohrab Modi's Jhansi Ki Rani chronicles the courageous tale of Rani Laxmibai.

How she led an uprising to end British reign continues to be a source of inspiration in the pages of history, a detail narrated with dramatic conviction in the lavishly produced Jhansi Ki Rani.
Boasting of Hollywood technicians, the period drama dubbed in English as The Tiger and The Flame, sadly, was a box office failure.

Haqeeqat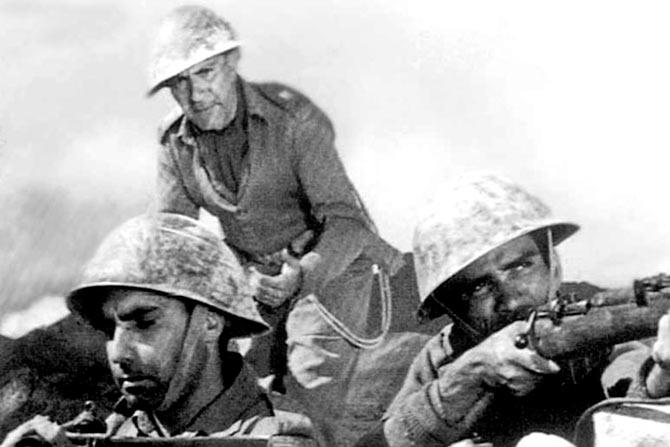 Image: Balraj Sahni in Haqeeqat
Chetan Anand's National award-winning Haqeeqat is considered one of our best war films and with good reason.

Based on India's war with China in 1962, the war drama shot extensively in Leh, high on sensitive performances, insightful direction and poignant melody, isn't some glorious saga of triumph but the reality of defeat and fighting in trying conditions.

Amrapali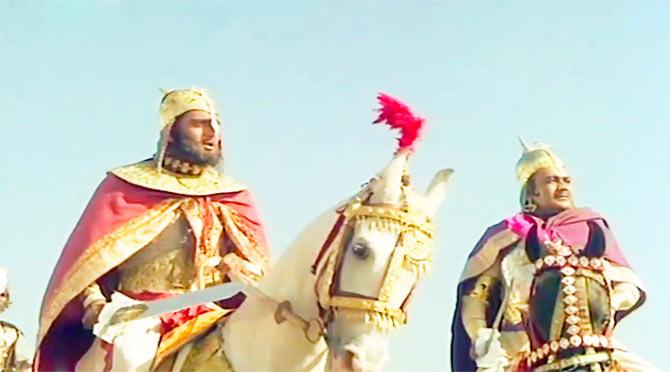 Image: Sunil Dutt and Prem Nath in Amrapali
Lekh Tandon's Amrapali is one of the most underrated gems among Bollywood's costume dramas.

Enriched by Vyajayanthimala's ethereal presence as a courtesan deeply in love with the rival kingdom's monarch pretending to be a commoner, Amrapali boasts of a splendid battle scene in the beginning wherein arrogant Magadh King Ajaatshatru (Sunil Dutt) declares war on the peace-loving Vaishali to quench his thirst for absolute power.

Hindustan Ki Kasam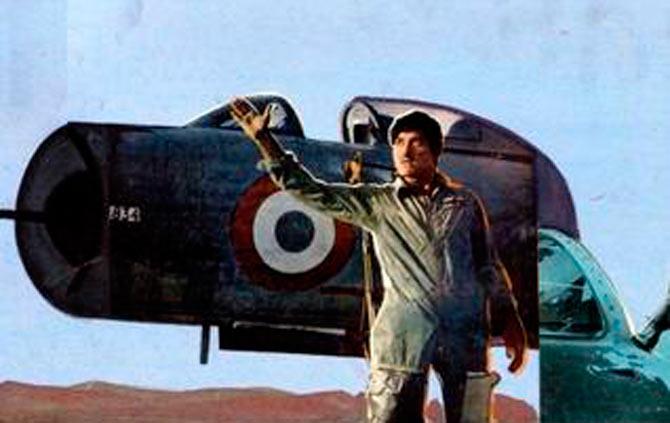 Image: Raaj Kumar in Hindustan Ki Kasam
Again, Chetan Anand returns to same genre with Hindustan Ki Kasam, where examines the role played by Indian air force in its war against Pakistan in 1971.
Though the film was a lesser success, its combat visuals bear the striking realism expected from Anand's brand of cinema.

Border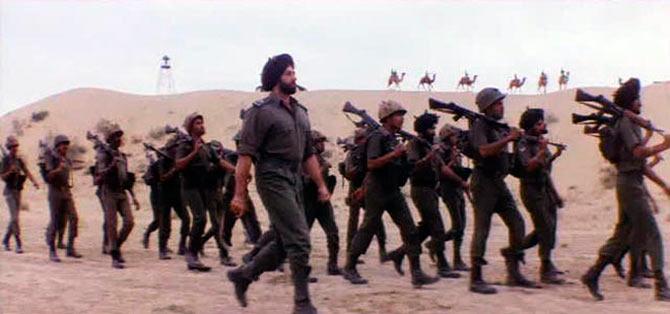 Image: Sunny Deol in Border
J P Dutta's acclaimed multistarrer focuses on the Battle of Longewala fought between India and Pakistan in 1971.
How our brave soldiers take on the enemy across the border through spontaneous strategies and unwavering grit but lose their lives in the process is documented most vividly in Dutta's Border.
The filmmaker tried to recreate the hard-hitting nature of conflict on a bigger canvas in LoC Kargil but failed miserably.

Asoka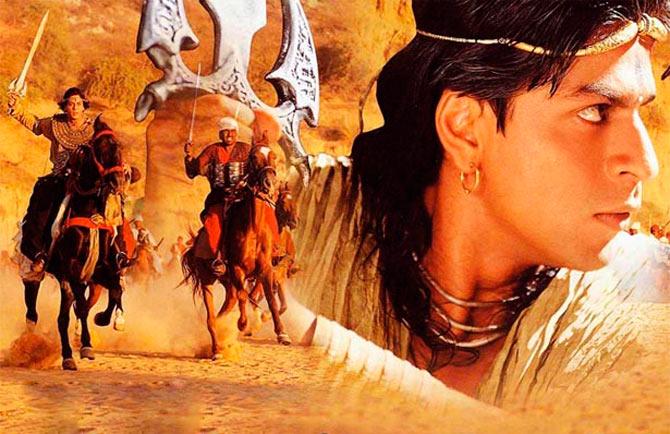 Image: Shah Rukh Khan in Asoka
Although it's a standard Hindi masala in the garb of a historical, Shah Rukh Khan does hold his sword well as the conceited, power hungry Emperor Asoka in his adaptation of the mighty warrior king.
Before he renounces it all to embrace Buddhism, Asoka spreads havoc with his furious army conquering land after land as part of his reign.

Mostly though, director Santosh Sivan highlights the famous battle of Kalinga and the crucial role it played in Asoka's change of heart.

Jodhaa Akbar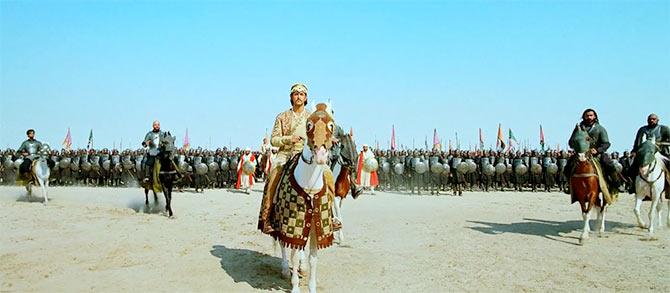 Image: Hrithik Roshan in Jodha Akbar
Set in 16th century India, Ashutosh Gowariker's ambitiously mounted Jodhaa Akbar is predominantly a historical romance between a Muslim ruler and his Rajput wife.
Yet it doesn't shy away from showcasing the Azeem-O-Shaan Shahenshah's grand victories on the battlefield employing a whopping army of '80 elephants, 100 horses and 55 camels' around a galloping Hrithik Roshan for authenticity.

VOTE NOW!