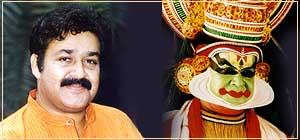 1978. September 4. Mohanlal the actor is born. Though he acted in school and college plays, his baptism as a film actor comes about because some college seniors get together to make Thiranottam and ask the 18 year old to act in it.
1980. He acts as the villain in Fazil's Manjil Virinja Pookkal. Shankar and Poornima Jayaram play the lead. In a few years, Shankar is doing small roles in films where Mohanlal is the lead.
1984. After playing villain and second lead, Mohanlal acts in Priyadarshan's first directorial venture, Poochakkoru Mookkuthi (the recent Hungama, directed by Priyadarshan, is a Hindi remake). Priyadarshan, Mohanlal's senior at school and college, knows where the actor's strengths lie and exploits it.
1985. Mohanlal sings for the first time in Onnanam Kunnil. Later, he sings for films like Chitram and in the 2003 Onam release, Balettan.
1986. He wins his first State Award for T P Balagopalan M. A. The role? An unemployed youth who shoulders the responsibility of his family. T P Balagopalan M.A., Sanmanassullavarkku Samadhanam, Gandhinagar 2nd Street endear him to the public.
1986. Along comes Rajavinte Makan, in which Mohanlal plays an action hero. With its success he is labelled a superstar.
1987. Srinivasan, Satyan Anthikad and Mohanlal come together and the result is the hilarious black comedy, Nadodikkattu. Dasan and Vijayan, enacted by Mohanlal and Srinivasan respectively, are such huge successes that two sequels follow. Even today, many Malayalees ask the actors: 'When can we see Dasan and Vijayan again?'
1988. The Priyadarshan-Mohanlal team comes up with a comic tragedy, Chitram. The film runs for 365 days in a theatre in Kerala. In 1951, the Malayalam film, Jeevitha Nauka, had run for a whole year. After 37 years, Chitram creates history.
1988. Mohanlal marries Tamil producer Balaji's daughter Suchitra in Thiruvananthapuram.
| | |
| --- | --- |
| | Tell us! |
| | |
1989. Even today, audiences watch Mohanlal as Sethumadhavan in Kireedam with a lump in their throats. They feel his pain and helplessness and cry along with him. The National Award committee bestows on him a Special Jury Award, his first National Award.
1990. He launches Pranavam Arts and produces His Highness Abdullah. It is a runaway success. At a time when music is disappearing from Malayalam films, His Highness Abdullah focused on music. Nedumudi Venu wins the Best Supporting Actor Award at the National Awards.
1990. Mohanlal acts in G Aravindan's Vaasthuhara. Till then, he had only acted in the so-called middle cinema.With Vaasthuhara, he rises to a different plane.
1991. Bharatham, the second film from Pranavam Arts, written by Lohitadas and directed by Sibi Malayil, is considered a landmark in Malayalam cinema. Mohanlal's performance as the younger brother of a famous singer wins him the 1991 National Award for Best Actor. The State Award also goes to him.
1991. Another huge hit from the Mohanlal-Priyadarshan team, Kilukkam. Mohanlal and Jagathy Sreekumar are unparalleled in their comic timing.
1992. He acts as a classical dancer for the first time in Kamaladhalam. He also plays a sculptor in Rajasilpi and a painter in Sadayam. He also has two comedies this year: Yodha, in which he again creates magic with Jagathy Sreekumar, and Siddhique Lal's Vietnam Colony.
| | |
| --- | --- |
| | Also Read |
| | |
1993. Shobhana wins the National Award for Best Actress in Fazil's Manichitrathazhu, but Mohanlal's psychiatrist Sunny Joseph steals everyone's hearts.
1995. Sphadikam marks the emergence of a new Mohanlal -- the omnipotent, moustache twirling, tough, anti-hero with a heart of gold.
1997. For the first time, Mohanlal acts in a language other than Malayalam. It takes a lot of persuasion from Mani Ratnam to make him agree to do Iruvar. He plays MGR in Iruvar. Aishwarya Rai makes her film debut in Iruvar playing Jayalalithaa.
1998. Though he has a huge hit in Harikrishnans, which he produces, it is nevertheless poor stuff for a production house that made quality films like His Highness Abdullahi, Bharatham, Kamaladhalam, etc. Mohanlal later says he could complete Shaji N Karun's Vaanaprastham only because of the money he earned from the success of Harikrishnans.
1999. A bad year for Mohanlal. Only two releases: Olympian Antony and Ustad. Both eminently forgettable films.
2000. Shaji N Karun's Vaanaprastham is the highest point in his career. As its producer, he loses a lot of money, but wins both the National and State Awards for Best Actor. If it is a commercial disaster, his other release Narasimham, where he plays a superman, is one of the biggest successes in Malayalam cinema.
2001. The Padma Shri is conferred on him.
2001. He acts in a Sanskrit play, Karnabhaaram, written by poet and theatre personality Kavalam Narayana Panicker.
2002. He act in Company, a Hindi film directed by Ram Gopal Varma. The role wins him the Best Supporting Actor Award at the International Indian Film Academy Awards.
2003. Mohanlal completes 25 years as a film actor on September 4. His Onam release, Balettan, opens with a bang at the box office. After a long time, he portrays an ordinary man, not a superman.