With the future of her Johnny Depp starrer-Shantaram hanging in the air, director Mira Nair will start shooting another acclaimed novel The Reluctant Fundamentalist by the end of the year.
She revealed her plans while answering a question from the audience at a conversation with novelist Abraham Verghese (Cutting for Stone) at New York's Asia Society. She will take it up soon after the October release of her biggest film yet, Amelia. Amelia takes a look at the life of legendary American pilot Amelia Earhart, who disappeared while flying over the Pacific Ocean in 1937. It features Oscar winner Hilary Swank in the title role. It may open in over 2,000 theatres in North America, giving Nair the widest release of her career. Her previous film The Namesake, a hit, was shown in some 600 theatres in North America.
Nair said that she will turn the post-9/11 novel Fundamentalist set in America and Pakistan into a thriller, with the writer Moshin Hamid guiding her. She added that she looked forward to shooting the film in Pakistan, especially Lahore, where her father was raised.
The book is a brisk monologue of a young Princeton-educated Pakistani Changez, who has had a good life in America but whose life is turned upside down by the September 11 attack.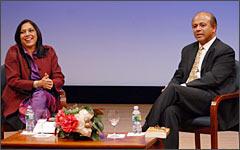 Among other things, we learn how his relationship with an American woman has unsettling effect on both of them, especially when the ghosts of her past are resurrected. Slowly, Changez's own identity is startlingly changed, leading to an allegiance more fundamental than the material world.
Nair was considering making a film out of Hamid's first novel Moth Smoke when she received the manuscript of the Fundamentalist. She found the book utterly riveting, and she gave it a blurb: 'A searing and powerful account of a Pakistani in New York after 9/11.'
Nair, whose movies especially The Namesake have looked closely at the questions of identity and allegiance, will widen the monologue while keeping the edginess and enigma of Changez's character intact.
The surprise ending of the novel has been widely commented on as being cinematic. Hamid confesses he wrote it without thinking of a movie possibility.
'It was always intended to end as it does,' he had said in an interview. 'For me, the reader is a character in a novel, and the way one reads it shapes the outcome. So a reader who is more suspicious of Pakistanis might read it differently from one who is more suspicious of Americans. But it is the fear we are all being fed, the sense that something menacing lurks in the shadows of our world, that has the potential to make the novel a thriller. In reality, we should be much less frightened of our world than we are. When two people meet and disagree on this planet, the result is almost invariably a conversation -- nothing more and nothing less.'
Photographs: Paresh Gandhi