'Salman sir hears everyone out.'
'I felt Karan sir hears girls out more then the men.'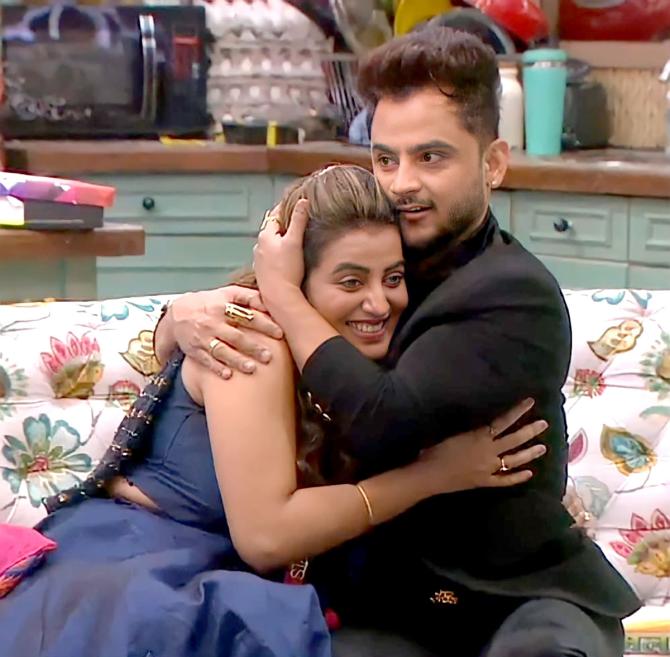 Popular singer Millind Gaba and his connection actress Akshara Singh have been eliminated from Bigg Boss OTT.
Milind admits he did not know a lot about the show and hence was almost invisible during the first week of his stay. But he picked up from the second week.
He tells Rediff.com Contributor Mohnish Singh, "One thing I have learned the hard way is that one should not trust everybody blindly. You cannot open your heart to everyone because they can use your vulnerability against you."
Did your elimination from Bigg Boss OTT come as a surprise to you?
I think my elimination was unfair.
I was playing the game really well, and was willing to play it with more vigour. I was in full mood to use my whole bag of tricks and do even better on the show.
I participated in the show because I wanted to earn a special place in people's hearts, something that I believe I have done successfully.
That's all I wanted from this show.
Do you have any regrets about your time in the house?
No. Having said that, I took an entire week to just understand the other contestants and the game, which is a lot of time, considering how fast things change inside the house.
See, I come from a different background.
I am an artist.
I perform across India and overseas, so I never got the chance to binge-watch Bigg Boss. So I took a week to just understand the game.
Had I seen the previous editions of the show with dedication, things could have been far different for me.
My personality, however, still would remain the same.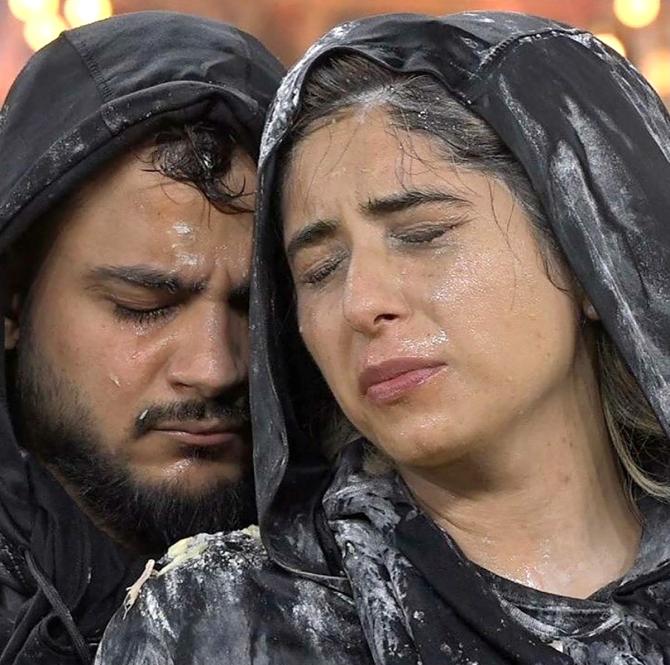 Do you think you were often misunderstood by some of the housemates, especially Neha Bhasin?
Yeah, she misunderstood me. I always tried to help her and correct her wherever she was wrong.
I was just expressing my opinions but she returned the favour by calling me 'judgemental'.
I felt she was making her own unfounded assumptions about me. She should have not done that.
If I could listen to everything that she had to say, she should also have had the guts to listen to what I felt. That, unfortunately, did not happen.
For other contestants, I was always this positive guy in the house.
Do you think your stint could have been longer had Akshara Singh not been your connection?
I do not think so.
If you have noticed, in every connection, one contestant is stronger than the other one. But when it came to our connection, Akshara and I were pretty strong.
Our friendship was based on a solid foundation and now the whole world is praising that.
Our genuine friendship was our plus point, I believe.
So I cannot say that my stint could have been longer had Akshara not been my connection.
I, in fact, had a good time playing together with her.
Who will you keep in touch with after the season ends?
I will definitely keep in touch with Zeeshan Khan. We became really good friends in the house. He is like my younger brother.
Zeeshan played really well till as long as he was inside the house.
Our equation is never going to change no matter what.
I would also like to keep in touch with Nishant Bhat. He is a really nice human being.
Even if he had to go against me during any task, he would tell me in advance.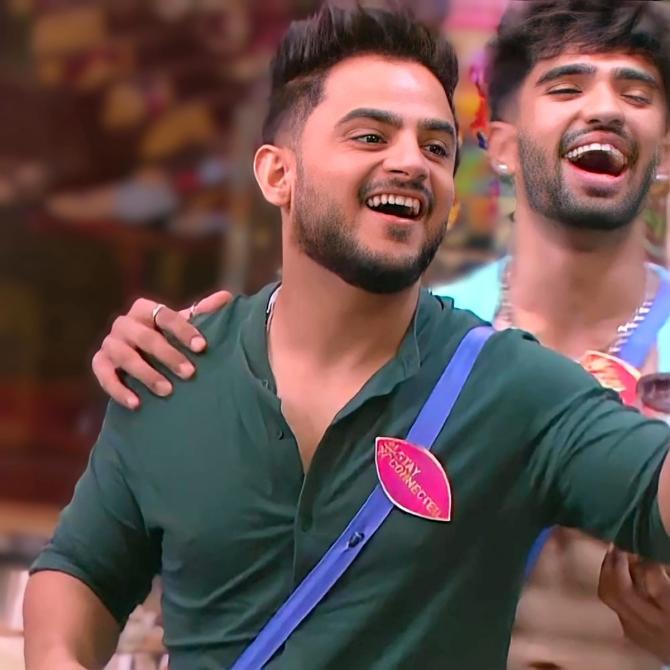 What was your favourite moment in the house?
I sum up my whole journey in the house as my favourite moment.
I loved making people laugh.
I loved bringing smiles to their drooping faces in that insufferably negative, stressful atmosphere.
There is no favourite moment as such but I do remember one moment quite often... when I read the letter that my family had sent. I broke down after reading that letter.
I was missing my family.
On the whole, the journey has been very exciting, very exhilarating.
Shamita Shetty has been termed conceited and arrogant from the very beginning of the show. What do you have to say about her?
Shamita is playing really well. She is very well-planned and focused.
She is playing her best game in a very planned and focused manner.
I would like to see her in a proper TV show.
Nishant, Pratik and Divya have a major benefit going for them and that is that the three of them have binge-watched Bigg Boss. They know how to perform a task and influence others to side with them.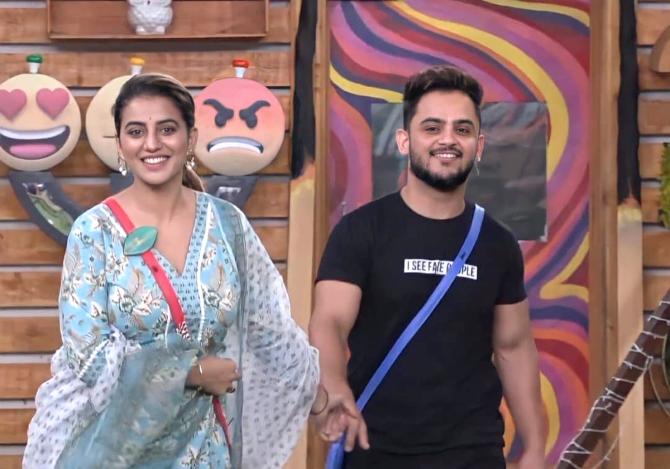 Do you feel that Raqesh Bapat is getting overshadowed by Shamita?
Yes, I feel that it is true to a great extent.
Raqesh is yet to show his true self to the world.
Even after so many weeks, he is still being taken as someone who is trying to understand the game.
I do not feel he is really that slow.
I would always tell him that my mature version is going to be like him.
He is as subtle, quiet and intelligent as I am.
Unfortunately, he has not been able to put those attributes at display for the world to see. He is yet to show what he is capable of.
Now this might be because he is being taught by somebody.
Who do you think is in the show for the long haul?
To be honest, I always considered myself a lambi race ka ghoda, but I do not know what went wrong.
Now that I am out, I think Divya is there for the long haul.
How have the four weeks in the house changed you as a person?
Nothing has changed at all.
I was the same person inside the house as I am outside.
People liked me so much, and that's my biggest achievement.
They got to know the real man behind the singer.
Having said that, one thing I have learned the hard way is that one should not trust everybody blindly.
You cannot open your heart to everyone because they can use your vulnerability against you.
You always have to be on your guard while playing the game.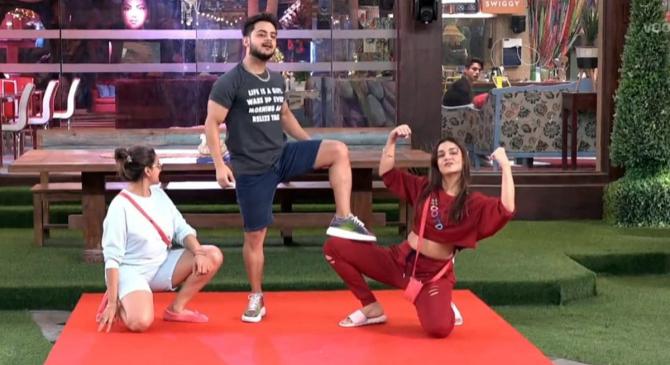 Rate Karan Johar as the host of Bigg Boss OTT on a scale of 1-10.
I think he is 9 on 10.
Karan sir is someone who I have been an admirer of since my childhood.
His style statement has always been so different.
I learned a lot from him.
But comparatively, Salman (Khan) sir guides everyone individually.
He praises every contestant if they have done something right.
He scolds them if they do something wrong. Basically, he hears everyone out.
Here, I felt that girls were heard out more as compared to the men in the house.
What are you looking forward to doing now as you are back home?
I am looking forward to spending some nice time with my family.
It was the first time I stayed away from my family for such a long time.
A vacation may follow. And after that, back to work.
Let's finish with some rapid-fire thoughts about your fellow contestants.
Shamita Shetty: She is a stunner. Very beautiful and well-planned.
Raqesh Bapat: Big Brother.
Nishant Bhat: He is like a younger brother to me. His sense of humour is incredible. He is a brilliant choreographer. My best wishes to him.
Neha Bhasin: I do not know what to say.
Pratik Sehajpal: What do I say? He is verbally loud.