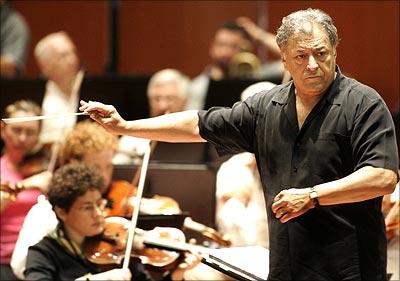 Western classical music conductor
Zubin Mehta
and the Israel Philharmonic Orchestra will begin an American tour on Tuesday, January 30, at New York's famous Carnegie Hall.
Mumbai-born Mehta, who trained in Vienna and lives in Los Angeles, first conducted the Israel Philharmonic in 1961, when both he and the orchestra were 25 years old.
Image: Maestro Zubin Mehta during a rehearsal with the Israel Philharmonic in Valencia, Spain, in 2005.
He received a telegram, says a report in The New York Times, which invited him to direct a concert with the 'Pal. Phil. Orchestra.'
'I didn't know who the orchestra was,' Mehta told The New York Times. 'I had to ask around.'
Also read: 'India is in his marrow'
The telegram was about the Palestine Philharmonic, which was the original name of the orchestra before the founding of Israel as a Jewish State.
In 1948 during the Arab-Israeli war, another legendary conductor Leonard Bernstein -- who Mehta succeeded as conductor of the New York Philharmonic in the late 1970s -- performed in Jerusalem with the Israel Philharmonic for the soldiers.
Among the orchestra's other landmark concerts -- almost always closely linked with the fate of Israel -- is the 1991 concert during the Gulf War, when Mehta conducted the orchestra to an audience wearing mostly gas masks in protest against Saddam Hussein's firing Scud missiles at Israel.
Mehta was appointed the orchestra's music advisor in 1969 and music director in 1977. Four years later, he was made its music director for life.
The same year, he ruffled a few feathers when he conducted the music of Richard Wagner, the German composer whose music is said to have inspired the Nazis.
But the Indian-born Mehta remains a cultural icon of Israel.
'Ask any taxi driver in Israel who is Zubin Mehta, and he will tell you,' Zeev Dorman, bassoonist and chairman of the orchestra's executive committee, was quoted as saying in Newsday.
Photograph: Jose Jordan/AFP/Getty Images