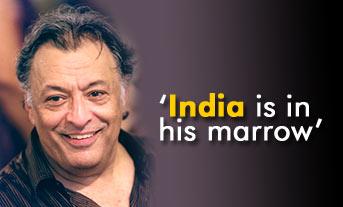 T P Sreenivasan, among India's most distinguished diplomats, continues his column based on his encounters with some of the world's most famous people.
ALSO READ: A colossus who died lonely
In Vienna, a conductor is known by the length of the applause he gets.
Maestro Mehta, as Zubin Mehta is known in Vienna, gets a long, long applause whenever he performs there, making him come back to the stage again and again. His faithful Viennese admirers do not seem to be in a hurry to get back home for a delayed meal even after a long concert.
We continued to join the applause for him at the Musicverein, after he conducted the Vienna Philharmonic Orchestra with a gnawing suspicion that he would be too tired to join us for dinner after the concert.
Quite the contrary. He not only offered us a sumptuous meal at the Hotel Imperial, once the headquarters of the occupying Soviet garrison, but both he and his wife stayed on for a couple of hours for a delightful conversation, not just on music, but on politics, economics, peace and war, Iraq and SARS.
A popular line in Indian-American speeches came to mind. You can take Indians out of India, but you cannot take India out of Indians. When the gourmet meal, cooked by Austria's best chefs arrived, Zubin Mehta's hand reached his pocket to pull out a small silver box from his Italian suit. Out came a dozen dried red chillies, crispy and hot. He proceeded to crush a chili into his delicately flavoured grilled salmon, much to the astonishment of us all.
Inevitably, the conversation turned to the joys of hot food and how hot it should be. The fact that he left India a good fifty years ago made no difference to his palate. He explained that he grew these chillies in his garden in Los Angeles, dried them in the sun and carried them everywhere he went to add the Indian touch to his food.
Another guest at the table, Anita Pratap, the celebrated journalist, who had named her son after Zubin, seemed to agree, though she had turned to Norwegian food after she married Norwegian Ambassador Arne Walther. The second time he invited us to dinner, it was to a Thai restaurant in Vienna, which was known for its devastatingly hot food. The Maestro did not need his chillies, but most of his guests, except the Indians, had tears in their eyes.
Mehta told me how his silver box with red chillies helped him to have a conversation with then prime minister Vajpayee. He was seated pretty close to Vajpayee at a banquet in Munich, but Vajpayee took no notice of him as he was not introduced to him.
When the main dish arrived, out came the silver box and Mehta started distributing the red chillies to his neighbours, including Vajpayee. It was only then that Vajpayee noticed that his neighbour was none other than the Maestro himself. Then they had a delightful conversation.
Zubin Mehta's concert at the Musicverein in the heart of Vienna was in preparation for the visit of the Philharmonic Orchestra to Mumbai to participate in a charity show. Mehta was very critical of many minor officials in India, who were giving his friends in Mumbai a hard time in getting the clearances for the concert. He could not understand why the central and state authorities constantly interfered in the arrangements and claimed various amounts as taxes and other charges.
He was critical of my embassy also as he was told that the consular section was difficult in the beginning till I intervened at his instance.
Clinton's travails delay Zubin's case against ex-employee
My explanation that it was not easy to process a hundred visas all at the same time, particularly when no notice was given for it, did not make any impression on him. He was like other non-resident Indians who had no respect for the bureaucratic requirements of India. He conceded that his people were treated well after he spoke to me. But that did not change his impatience with the bureaucracy.
The concerts in India were a great success. Even those who knew little about Western music, (some of them called 'the philharmonic' 'the philanthropic') welcomed the celebrity son of India who had made good abroad.
Mehta returned to Vienna again, this time leading the Israeli orchestra. Vienna celebrities flocked to the Israeli ambassador's residence to meet him. The head of the Vienna Philharmonic waxed eloquent on the many human qualities of the man, not to speak of his gift of music. He said that every time he came to Vienna, Mehta took the whole team to an Indian restaurant in Vienna to give them a flavour of his home. "Music is in his blood, but India is in his marrow", he said.
Zubin Mehta is a great conversationalist, but he hardly speaks of his many accomplishments. Only on repeated questioning does he reveal some of his biographical details. He was hardly 30 when his first biography was written. He is proud that his father Mehli Mehta founded the Bombay Symphony. His father sent him to Vienna to learn medicine, but at the age of 18, he abandoned his medical career to attend the Academy of Music in Vienna. Seven years later, he conducted both the Vienna and Berlin Philharmonics.
The rest is history.
In 1994, he realised his long time ambition to bring the Israel Philharmonic to Bombay and New Delhi, bridging a political gap that had prevented the Orchestra from playing in India. He mentions this as one of his most memorable moments. After thousands of concerts around the globe and having been appointed Director for Life of the Israel Philharmonic Orchestra, he still holds an Indian passport.
Mehta's fortunes go on a rollercoaster ride
It was on the initiative of one of my predecessors in Vienna that he was given a diplomatic passport as an expression of India's pride. He now divides his time among Munich, Los Angeles, Tel Aviv, Vienna and the rest of the world. He never forgets to contact the Indian ambassador, whenever he visits Vienna. Perhaps, he does that in other cities too, but meeting Zubin Mehta is indeed a perk that successive Indian ambassadors in Vienna have cherished.
Maestro Mehta engaged in a bit of India-Pakistan diplomacy in Vienna, when he accepted an invitation to dinner from Ambassador Sarwar Naqvi of Pakistan on condition that I would also be invited.
He did not know that in Vienna, the Indian and Pakistani ambassadors were on best of terms as they had identical positions in the IAEA as non-signatories to the NPT. He wanted to bring us together as he thought that we would not be on speaking terms.
He was perhaps disappointed that he did not have a role in bringing us together, but the evening was delightful with fabulous Pakistani cuisine and engaging conversation with the greatest conductor of Western music that India has ever produced.
T P Sreenivasan was India's Ambassador to Austria from 2001 to 2004.
Previously in the series:
Dixit was short, his presence was gigantic
Photograph: Santosh Varma