'Without even knowing me, people have trolled me for being the person I am, for the way I look.'
'Why put myself in a negative space, you know?'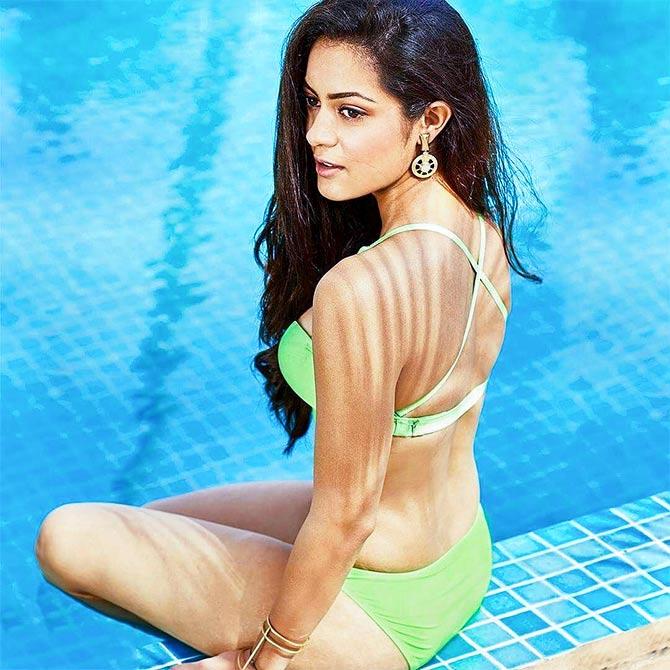 Photograph: Kind courtesy Anya Singh/Instagram
Anya Singh gets ready for her 'world audition' this Friday, August 25, with her debut film Qaidi Band, produced by Aditya Chopra and directed by Habib Faisal.
Unlike co-star Aadar Jain, who is Raj Kapoor's grandson, Anya comes from a family far removed from Bollywood.
She may be on the cusp of stardom, but her life hasn't changed much.
"I live with four girls, and a dog. I make my own bed, and my own food," she says.
She still has no friends in Bollywood, she tells us, except Aadar.
"We have become very good friends. We have spent so much time together. We have fought so much. We have had the worst arguments and the best times together," she says, as she settles down for an interview with Rediff.com's Jahnavi Patel.
Wearing a white crop top and lemon yellow skirt, Anya has minimal make-up on her face. Her hair is neatly braided.
Anya opens up about her life, and, of course, her first film.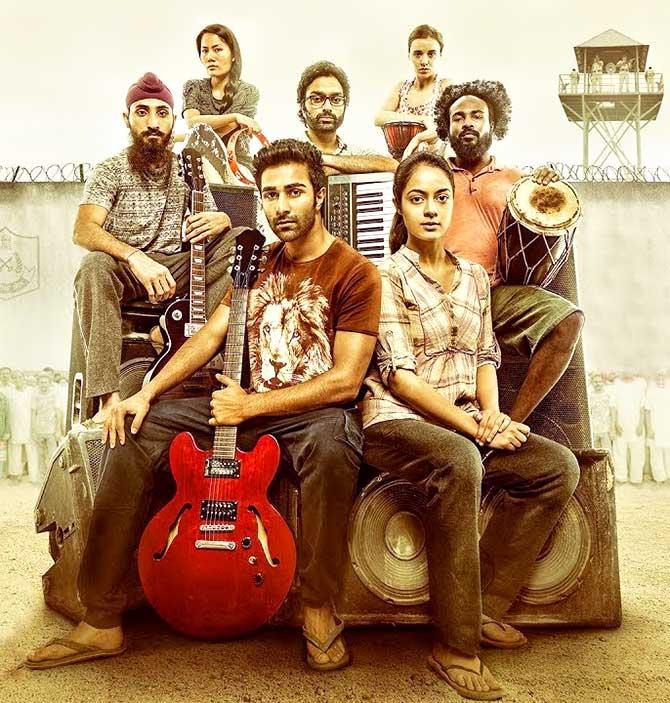 IMAGE: Meet the Qaidi Band.
Your film will be released alongside Babumoshai Bandookbaaz, A Gentleman and Sniff. Any pressure?
We didn't expect anything, honestly, be it a solo release or with other movies.
The director (Habib Faisal), the cast and the crew have put in our best. What happens beyond this is not under our control.
So whether there are five movies or just one, if it isn't a good film, it won't do well.
If it is a good film, it will do well, no matter how many releases there are.
It might pick up slowly, but it will do well.
Today, people have a lot of choice and that's a good thing. It's not like there's just one movie coming every Friday.
What kind of genres are you looking to explore?
When you are a creative person, you must always excel because that's the only way you will enhance your art, right?
The moment you keep doing the same thing, you become stagnant.
As an actor, you can't afford to do that.
I want to experiment and try my hand at every genre. That's when you learn the most.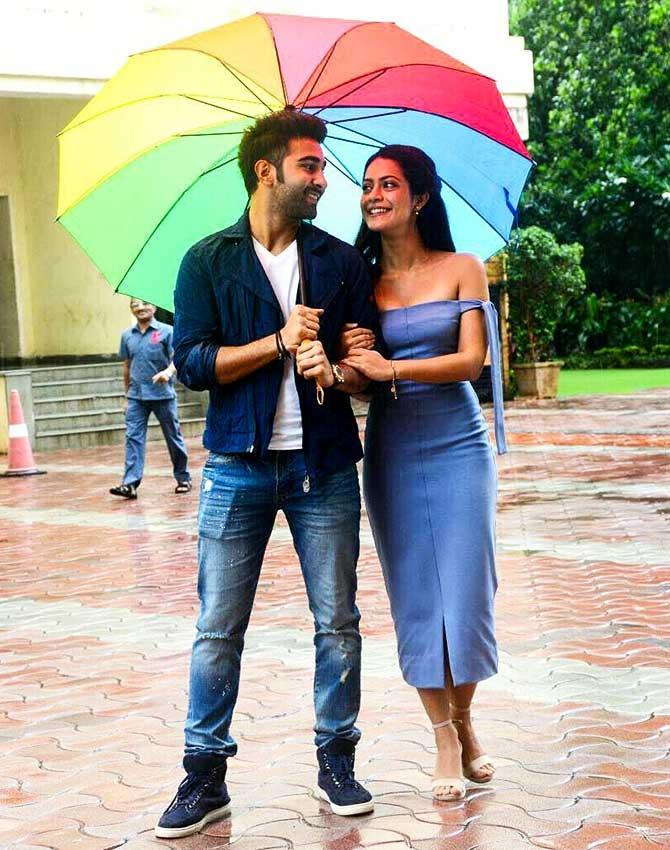 IMAGE: 'We have become very good friends,' Anya says of Aadar Jain. Photograph: Kind courtesy Anya Singh/Instagram
What made you take up acting?
While growing up, I wanted to do a lot of things.
I wanted to be an astronaut. My best friend's bua (paternal aunt) was Kalpana Chawla.
I had a chance to talk to her. So for years, I wanted to be an astronaut.
The first film I ever watched was Dil Toh Pagal Hai.
I was too young to understand love, but I really enjoyed the song and dance. That stuck with me.
I was in Chandigarh till I was five, and then moved to Delhi.
After that, I moved to Mayo College, a boarding school in Ajmer.
We didn't have television there; our Walkmans were given to us every weekend.
I loved the weekends for that!
I am a big Hindi music fan. That's the only thing I listen to.
Later, I learnt dance, drama and performed on stage. I enjoyed it.
But for the longest time, I didn't have the guts to say that I wanted to be an actor.
A lot of people would say, 'Only dumb people become actors or models.'
Secondly, my family is very far from this profession.
My nana is from the army, my nani is a principal, my dad is a doctor, my mother has a corporate job...
When I asked them, they said no.
My mother thought it was a passing phase.
I tried to suppress it, and so I worked as a wedding planner.
Then I realised I just could not. I asked my mother to give me one year, and let me do what I wanted to do.
So she gave me a year. I moved to Mumbai in December 2015 and bagged the film on July 6, 2016.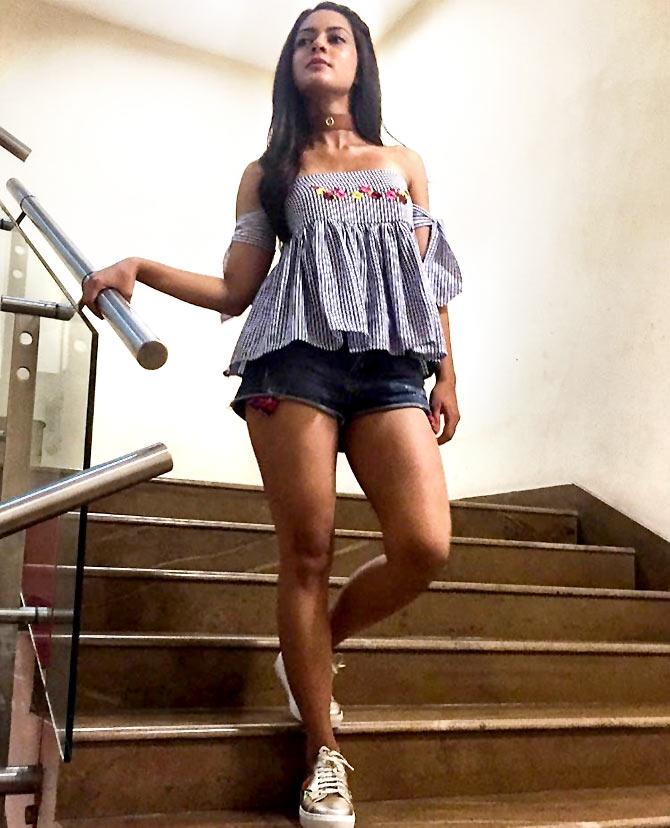 Photograph: Kind courtesy Anya Singh/Instagram
How much has life changed since the trailer came out?
Life has not changed for me.
I live in a flat with four other girls and a dog.
I make my own bed, make my own food... There's a lot of work to do when I go home.
Sometimes, somebody may recognise me on the street. It's a nice feeling, but nobody really does! (laughs)
Who is your acting inspiration?
I really admire Kajol ma'am and Anushka Sharma. They are very similar, effortless and real actors.
I am a huge fan of Vidya Balan and Kareena Kapoor.
The way Priyanka Chopra has taken herself to another level altogether, it's her confidence that has pulled her through everything. I wish I have that.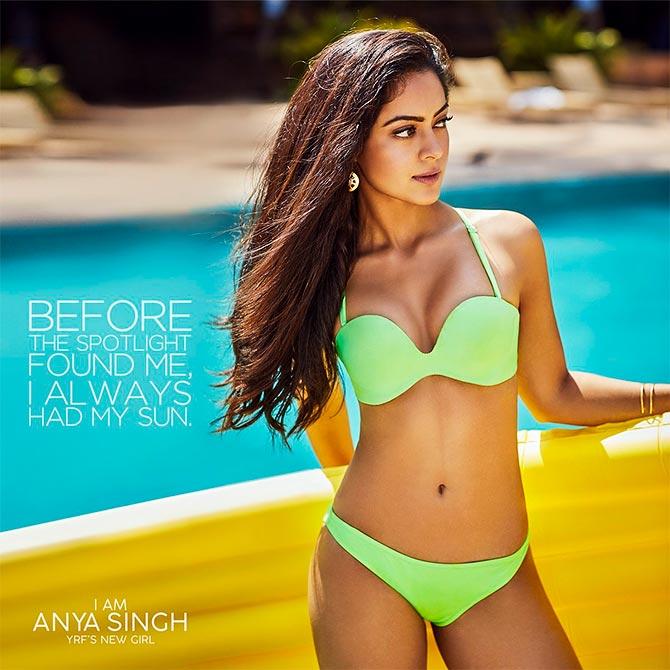 Photograph: Kind courtesy Anya Singh/Instagram
You will always be in the limelight on social media and may get trolled. Will you voice your opinion on social media or be cautious about it?
No matter who you are, if you say something, you will get trolled.
People get offended very easily.
I will be very careful because without even knowing me, people have trolled me for being the person I am, for the way I look.
Before the trailer came out, I got a lot of nasty comments about skin show.
Why put myself in a negative space, you know?
As of now, I will be very careful.
Do you think your performance in Qaidi Band will be like your audition for the world?
In a way, yes.
We know we are out there to be judged. But like I said, we have done whatever we could.
We hope people enjoy it because a lot of hard work has gone into it.
My gut says it's a good movie.
For the sake of us and Habib sir, who I am fond of, I just hope it does really well.