'My father thinks I'm not ambitious and too slow. He wants me to work in Hindi films with big superstars.'
Meet Baahubali director, SS Rajamouli.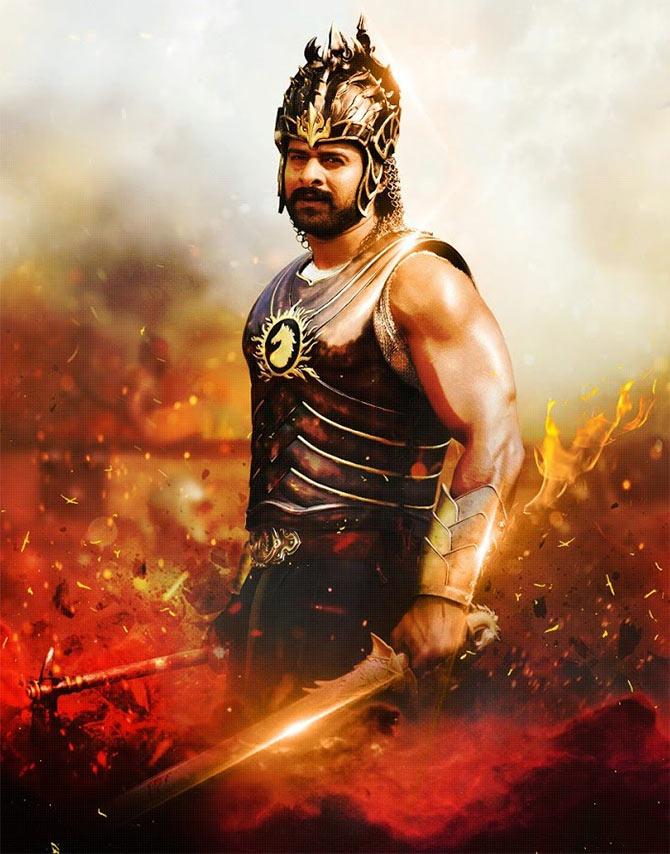 Image: Prabhas in Baahubali
Midway through Baahubali: The Beginning, a person seated next to me in the theatre tells his friend: "Yeh toh Hollywood ko takkar de sakta hai." (This film can give Hollywood a run for its money).
Director SS Rajamouli has done it again.
After making brilliant blockbusters like Magadheera (2009), Marayada Ramanna (2010) and Eega (2012), his latest Telugu film Baahubali has shattered box office records by getting the highest opening ever in India, defeating such films like Happy New Year, Dhoom 3 and Ek Tha Tiger.
Hyderabad saw two kilometer long snake lines at ticket counters; tickets that were sold for more than Rs 2,000. The server of a popular online movie booking website crashed within half an hour of starting is online booking.
And the movie experience is totally worth it.
Baahubali looks stunning on screen, especially the 30-minute climatic war sequence that can easily be compared to Hollywood films like 300, Troy or the popular television series Game Of Thrones.
"The man is a sheer genius," says Karan Johar, who is presenting Baahubali in Hindi. "Every time he comes up with something that we cannot even even imagine in our wildest dreams."
While the film appears larger-than life, Rajamouli himself is very down-to-earth.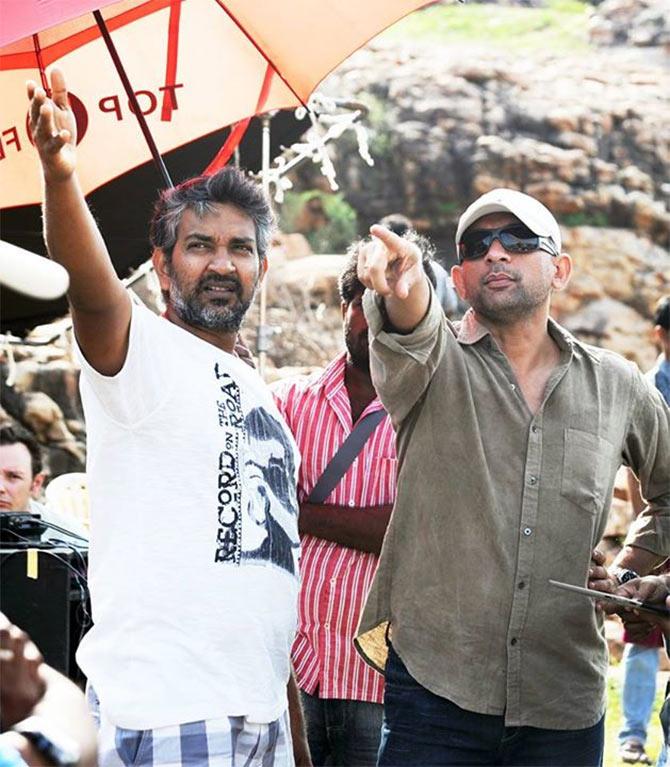 Image: SS Rajamouli with producer Shobu Yarlagadda. Photograph: SS Rajamouli/Facebook
"I have lived with Baahubali for so many years. It's an emotional journey for me. I must thank my entire cast and crew, who stood by me and worked tirelessly. Without them, I couldn't have built the world of Baahubali," he says.
Rajamouli especially credits his producers Shobu Yarlagadda and Prasad Devineni for carrying his dream forward. "They never let budget pressure and deadlines come near me," he says.
"There are two approaches I can take," the 41-year-old director says, revealing his game plan. "After making a hit, I could make more money by signing five films or better my previous work and make something unique. I always choose the latter."
"Almost eight years ago, my father told me about a character called Sivagami (who is played by Ramya in Baahubali), who carries a baby in her hand while crossing a river. The character stayed with me. Later, when I was making Magadheera, my father told me the traits of another character called Kattapa (played by Sathyarj). That's when I decided I wanted to tell this story," Rajamouli explains.
His father incidentally is noted screenplay writer K V Vijayendra Prasad, who has written the story of Salman Khan's mega movie, Bajranji Bhaijaan.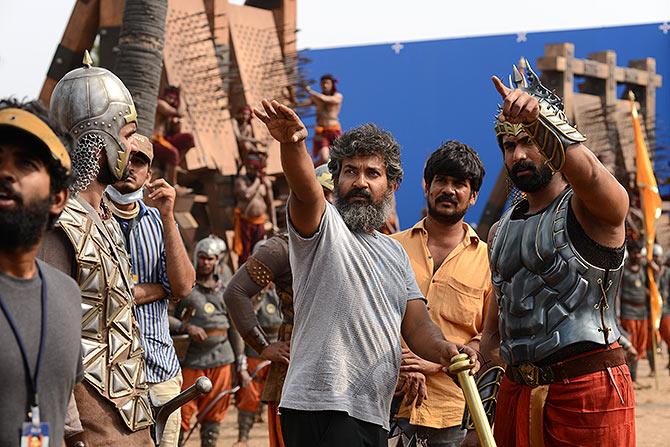 Image: SS Rajamouli with Rana Daggubati on the sets of Baahubali.
Baahubali has been written and filmed in two parts, at an ambitious budget of Rs 250 crore.
The first part has been in the making for more than three years; the actors have shot for more than 380 days.
"It took us three months to finalise the story. Doing the concept sketches, building the sets and other preparation took two-and-a-half years. At one point, we were shooting with 2,000 extras, with 500 technicians assisting them with costumes, makeup and other things," Rajamouli says, giving us a picture of what he's been up against.
"We always had two ambulances on set, a medical camp and a vet on standby for the animals.
"Then, there were hundreds of metres of Chroma screens (green screens used for VFX). Around 50 people ensured they did not get blown away. Visual Effects supervisor Srinivas Mohan and art director Sabu Cyril have dedicated the last three years of their life to this film. We collaborated with over 15 VFX studios and 600 artists, who spent many sleepless nights to complete the film," he explains.
Rana Daggubati, who plays the antagonist in the film, also calls it a tough shoot. "I was required to weigh 126 kilos, and maintaining that weight was not easy. Action choreographer Peter Hein brought five men from Vietnam, who trained us in different forms of martial arts for six months in Hyderabad. We also trained in horse and chariot riding and the use of Indian weapons."
Superstar Prabhas, who plays the title role, adds, "Baahubali drained me physically and mentally. In the beginning, one is in awe of the big sets and the grand visuals. But after 250 days, I was so drained out that I once told Rajamouli, let's just release the film and watch it (laughs). At one point, I wanted to quit. Shooting the war scenes was torture. A shot in one of the songs required me to jump from a hill into a waterfall! The shot alone required 25 days of shooting since we had to train for rock climbing."
Did Rajamouli ever feel frustrated? "Just before the shooting started, the sheer canvas of the film and the logistics to put it together hit me. For a few days I was contemplating on quitting but somehow I gathered my courage," he says with a smile.
The fear of failure also crossed his mind. "I always fear failure as this industry is very tricky. No one can guarantee a success. But I feel if I have to fail, I would do it by trying rather than not trying at all."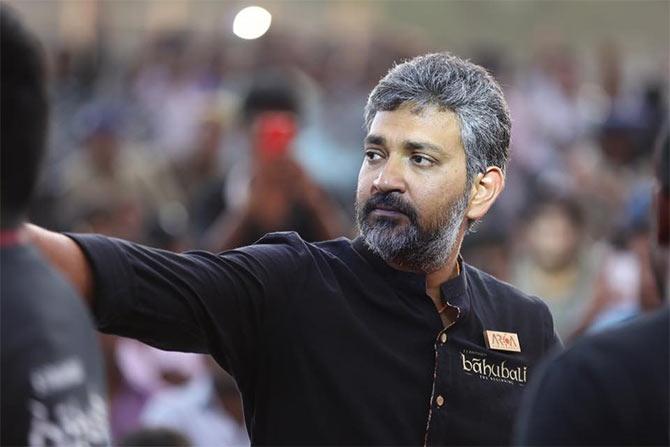 Image: SS Rajamouli. Photograph: SS Rajamouli/Facebook
So who is S S Rajamouli really?
"I belong to an agricultural family," says the director, whose full name is Koduri Srisaila Sri Rajamouli. His grandfather was a rich landlord. His father was also a landlord before he joined films.
Born in the Raichur district of Karnataka, he studied in the small town of Kovvur, Andhra Pradesh, till fourth grade before he shifted to a town called Eluru.
The love to tell stories started at a very early age. "As a kid, mythological stories and folklore really interested me. My father would take me to the government library. He introduced me to the Amar Chitra Katha comics. For hours, I would be lost in those books," he says.
"After reading them, I would narrate the stories to my classmates," he adds.
After completing his second year of college, he quit his education to get into the movies.
Inspiration for his work, he says, often comes from books and movies. "I did not continue my education due to financial reasons. But this never stopped me from reading and learning new things. My parents always encouraged me to read. I am an avid reader. From popular Telugu fiction to serious novels, I make it point to read. My favourite authors are Jeffery Archer and Ayn Rand. In fact, Ayn Rand's philosophy has influenced me greatly."
"I started my career as an assistant to (editor) Kotagiri Venkateswara Rao. Then I worked at AVM recording theatre for a few days, before I started assisting my father. For six years, I used to give narration to film directors on behalf of my father. When I would see the output of those films, I used to feel bad that none of them shaped up the way I had imagined," he explains.
His father decided to direct and produce a film called Arthangi (1996), which was a disaster. "Our family was in a debt trap. We were shattered. It took us many years to recover from that loss. The memory still haunts me," he says.
It was during that time that the family decided to move to Hyderabad from Chennai.
Rajamouli then started working with K Raghavendra Rao on commercials and a television series, "I got the opportunity to direct my first film (Student No 1 with Jr NTR) under the supervision of K Raghavendra Rao. Luckily, the film was a superhit. I haven't looked back since."
Rajamouli went on to make 11 movies, in various genres, and all of them were superhits. Some of his films have been remade in Hindi, like Vikramarkudu was remade as Rowdy Rathore, Marayada Ramanna was remade as Son of Sardaar.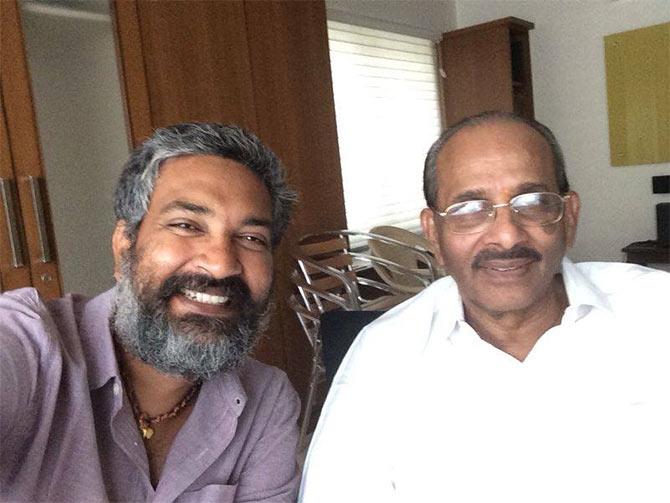 IImage: SS Rajamouli with his father K V Vijayendra Prasad. Photograph: SS Rajamouli/Facebook
Much of the credit for for Rajamouli's success goes to his family members, who have been his biggest pillar of strength.
His father has written all his films, his wife Rama has been the costume designer and recently, his son Karthikeya has joined him as an assistant director. Rajamouli's cousins M M Kreem and Kalyan Malin compose the music and background score respectively.
The director says that his family is very critical about his work: "My father has seven brothers and we are 13 cousins. All of them take care of me because I am the youngest! My family doesn't hesitate to tell me if they find something wrong with my work. They are very honest, and that's a good thing."
What does his father think about his work? "He thinks I'm not ambitious and too slow," Rajamouli says, with a smile. "He wants me to work in Hindi films with big superstars."
Talking about superstars, Rajmouli says that he made a career working with them. Yet, he feels story is far more important than the star cast.
And that's validated in his last film Eega, where a housefly (created by VFX) was the star of the film. The film was a blockbuster and won a lot of awards as well.
The fly and the brilliant movie did not go past Karan Johar. "He made an entire film on a fly. Here in Bollywood, it is difficult to make a good film by casting superstars also!" Johar had joked at the trailer launch.
Baahubali is Rajamouli's first film to be officially dubbed in Hindi, and Rajamouli admits that his association with Karan Johar was needed to recover the film's high costs.
"Half-way through the film, we knew that we had take it to the all-India level. And for that, we needed a big brand and presenter. Rana (Daggubati) approached Karan, who agreed to take our film everywhere in North India. His sensibilities may be different from mine but I think we share the same passion for cinema," Rajamouli says.
Then, he adds: "I have always wanted to make a Hindi film. I would be lying if I say I want to make only Telugu films because as a filmmaker, you want your story to be told to a large audiences. For the next year, I will be busy making the Baahubali sequel (almost 40 percent is complete)."
The director has developed a rapport with his starry cast. "Prabhas is a big star and yet, he gave two and a half years of his time to me for Baahubali without asking any questions. So have all the other stars I have worked with."
Now with the first epic film behind him, the director wants to take off on a holiday with his family.